With a name like Vibe God, the name speaks for itself. The Houston native describes himself as a matter of space, someone who's "been walking this Earth trying to be one with everything." 
He states, "That's how I can put it: anything I'm around, I'm adapting. That's where I'm at. I don't know where I'm going. The wind blowing's anywhere and everywhere, I'm there adapting."
The rising artist lives by the mantra: "when I drop, lightning strikes hit the ground." With an unwavering passion and love for creating music, the "Lights Off" recording artist prides himself in doing everything independently for the time being. Having gone through the struggles that come with life, which includes surviving a car accident in which his Volvo flipped over 5 times and getting robbed and losing all his music, Vibe God is proof that as long as you stay positive and spread good vibes, you're doing the right thing.
Most recently releasing his new single "Backend," he continues to push his movement with Internet Candy while being a good father to his daughter Juney.
https://www.instagram.com/p/CE7GJO9gsrX/
AllHipHop: You say when you drop, lightning strikes hit the ground. Can you expand on that?
Vibe God: It's like power. That power comes from a honing space, I haven't been moving around lately. I'm still at the spot, smoking, getting my mind right and tight. That's the power. I'm not really in a rush to drop stuff, but I know what I have. Boom, I'm out here right now. I haven't been in LA in the last 3 months. I came out here to do this, then I'm back gone. 
AllHipHop: We could've done this virtual!
Vibe God: I'd like the experience better, that's why I made it that way. We could do virtual anytime after this but the first initial vibe, that's what I wanted to create.
AllHipHop: Being from Houston, what were you seeing growing up?
Vibe God: There's a little of everything in Houston. I grew up with my grandparents, more the religious type vibe. Wasn't really going outside too much, sheltered environment. On the flip side, we're able to get outside and see some stuff going on you weren't accustomed to seeing. It's a little balance of how Houston was.
AllHipHop: Biggest influences coming up?
Vibe God: Mainly myself because I'm in a bubble. Not musically, but I used to look up to Wiz a lot. I actually got to meet him, which was cool. Coming up with my little team or putting my own stuff together, doing and building my own thing, looking at him do that. He's the first one I watched to do the whole Taylor Gang vibe where it wasn't so much of a competition, but everybody's having fun. Enjoying themselves, smoking. Any time with a vibe, that's what I generally wanted to create with what I had going on. Literally the only person I was looking towards for structure, not really music because I'm really good on that.
AllHipHop: At what point did you realize you could do music for a living? 
Vibe God: When I first noticed things were happening. I've always done music way back then. It was never any force to do it, it was "oh it's fun." Even when people are telling you "it's fun, that's cool," it got to a point where I was actually moving. I got to LA, I was in Houston, I went to Sweden. Music was doing things that other things couldn't take me. I focused on staying with that and letting it bring whatever it brings to me. If it's good, I stayed on it. If it wasn't, I moved around from it.
AllHipHop: You released "Lights Off last year," how have you evolved since? 
Vibe God: "Lights Off" was a happy time, it was a happy place. I was meeting the Swedish, it was such a good feeling meeting somebody across the country yet we shared the same passion and same goals. Putting the video together at the beach in Venice, it was so lit! That was dope. We're in the learning stage at that point, vibing together and trying to see. Obviously I went to Sweden after that, got to spend a couple months out there. It was the best feeling ever, that enhanced whatever we got going on. These projects coming will show the level's increasingly going crazy, definitely some evolution in there.
AllHipHop: What is internet Candy?
Vibe God: Internet Candy gang, that's the movement we created. We can call it the indie label, it's something we literally created as far as fun. The kids always like candy, people like and eat candy. We had the Internet Candy where we're putting out stuff like that on the internet and people are eating it up. We named my first project Internet Candy because that's what we're all about, throwing stuff out there and getting people to bite on it. It's actually good music, that's the catch of it. When you caught on, "oh yeah candy, you gon' need that."
AllHipHop: How was going to Sweden to record with Jonas?
Vibe God: Ah, Sweden! That's literally my first place out the country. I got my passport 3 days before flying out. It was an experience. The flight sucked:16 to 17 hour flight to London then 3 more to Sweden. I hated the flight, but the experience was real good. Real humbling. The culture was a lot different. People genuinely showing love. I had an Airbnb there, stayed with a guy who's hosting it. He's from Arabia, man! The dopest host I ever came across. He's cooking every day. "You need anything? Let me get you some coffee." I couldn't believe it, laughing and smiling everyday. It was a whole vibe because the love people be showing out there. The studio was great, for the 2 months we're in there every day. It was dope, the food was great. Everything about Sweden was great.
AllHipHop: How long were you there for?
Vibe God: Almost 3 months. I made a good amount of music, we did another 20 to 30 songs. We actually pushed out 40 in a week when we first came. We did about 20 to 30 nice ones along with visuals, along with the festival show which was the real reason why I was out there. I got my first official booking in Sweden, so that's how that came about. It was lit.
AllHipHop: Talk about getting robbed and losing all your music back in 2012. How did you bounce back?
Vibe God: Oh man, that was years ago. This was before Vibe God knew he was Vibe God. Right before, I was making so much music. I'm self-taught. I engineer, I produce on the side. I was doing my own little thing. I literally was pushing the issue with dropping music: "I need to put something out." 2 days before I put music out, I was happy — then that happened. I got robbed, I lost all my stuff. They took everything, I literally lost everything. Didn't have anything to my name, but I'd released music 2 days before. I was so happy. Damn, I'm glad I got that out because I was okay. I wasn't even worried about my stuff. I only got one thing back out of 100 things gone, but I wasn't worried. I was more happy I got the music out there, it didn't get taken before I lost everything I ever worked on.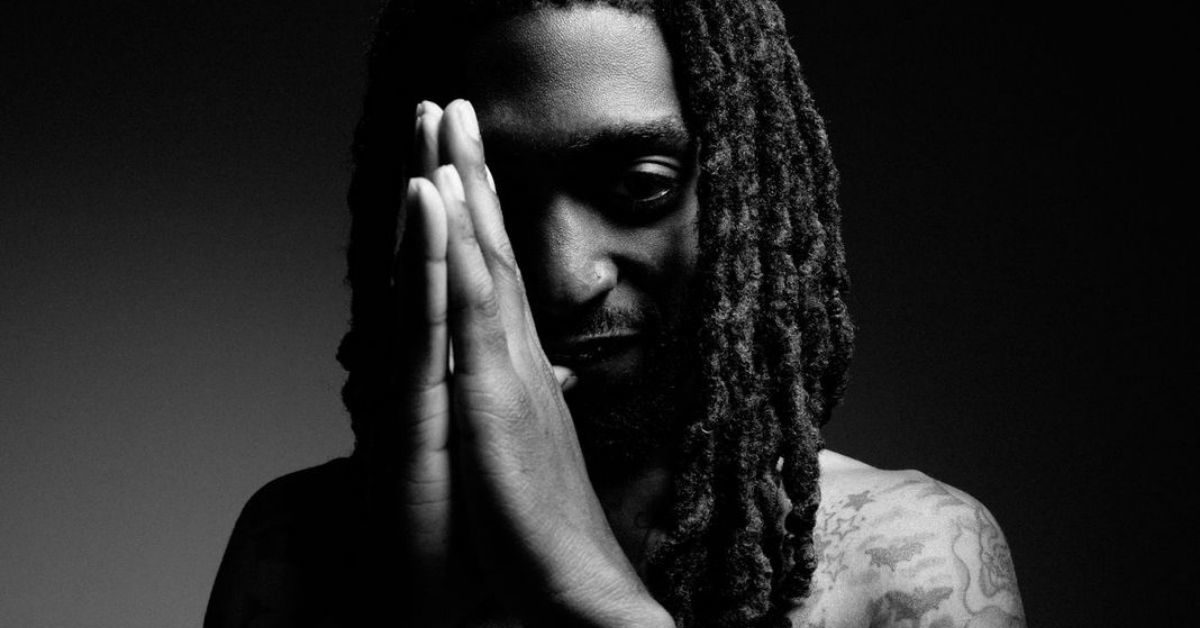 AllHipHop: What happened 3 years later when you crashed your Volvo in Houston? 
Vibe God: My tire fell off on the freeway while I was doing 70 to 75. I was coming home from my partner's birthday party who I came to LA with. I was picking him up. We came back from the club, I dropped everybody back at home. I dropped him off. I was going back home literally 10 minutes from my house, the tire came off on the freeway. Boom, I flipped 5 times. The tire was missing on the car. No traffic, no cars were coming. I drove my car on 3 wheels off to the side of the medium. Sat there until somebody got me. I was untouched, unhurt, nothing. I didn't have a scratch.
AllHipHop: What can we expect music-wise?
Vibe God: New energy. New vibes. You got to really know the lifestyle and not just be around it. All the stuff that's coming right now was definitely made during quarantine. Sitting in the house, nothing to do all the time, in the studio recording stuff. All this was made on the basis of everything we went through: Corona happening, Black Lives Matter, all this going on. Music was created through all that time, there's so much power in that. Just be uplifted, it's a feeling.
AllHipHop: Talk about being a father and your daughter Juney.
Vibe God: Juney! I just got off FaceTime with her. All I can think about is her. She's 6 years old, so big and grown. She thinks she's 18 already. That's my baby, I think about her everyday. One of the hardest things being out here is she's back at home in Houston, but I've made this a temp. Several years ago, I moved to LA. Been out here for 3 years now. At first, it was real hard because I wanted to be back home all the time to see her. I couldn't make the groundwork I needed to make here with that going on so I told myself when I come out next time, I'ma do it right and better. I had to remember that my daughter's my everything. I talk to her everyday, the love she gives me everyday is why I do what I do. As long as that's in the back of my mind in every step, I'm okay to make the moves I choose to do. 
AllHipHop: Does she know daddy's a rapper?
Vibe God: Oh, she knows. She pulls my YouTube videos up, all my music. She can do all that. She calls me and tells me "I listened to your videos, I showed my friends." She's my big #1 supporter.
AllHipHop: Talk about spreading positivity and good vibes, with a love for cannabis too.
Vibe God: That's all I'm about, I'm real big on that. My very reason for coming to LA was supporting my weed addiction. I love weed so much, I wanted to know more about it. The depths, the touching and the process. That's why I'm in the mountains right now, growing stuff. I'm loving the way it makes me feel every day. I used to be in LA, on the scene a lot. Now I'm so off the scene, but in a very good space to breathe and work. I'm away from social media half the time because there's no service up there. I got everything up there I need to work.
AllHipHop: Anything else you want to let us know?
Vibe God: We got the new single called "Your Reflection," so dope. One of the joints from the upcoming project, dropping soon. It's hot! It's not what y'all used to, but definitely going to hit you in the chest.