Typhanie & Co is here to bless the rap game with her talents and beauty. The New Orleans, Louisiana native is a rapper, model, graphic designer, and entrepreneur all in one, who prides herself in being a versatile lyricist. What sets her apart from all the other female rappers is her knack for hip-hop and all its elements, pulling from the greats such as Missy Elliot, Drake, and Lil Wayne. 
In describing herself, she simply states, "I'm a super creative person across the board, and I keep trying to find different ways to get that creativity out to the world."
Being a Howard alum and savvy to many political issues in the world, Typhanie & Co is a strong, black woman who isn't taking no for an answer. With her focus on self-growth and wealth, she continues to put in the work behind-the-scenes as she climbs her way to the top.
With her newest project Double Tap, she unleashes 6 of her hardest freestyles — fan favorites directly pulled from her Instagram page. 
AllHipHop: What sets you apart from other females?
Typhanie & Co: In general, there are some female rappers that try to incorporate diversity but I do a way better job at showing the different types of rap that can be presented. It doesn't always have to be hardcore, doesn't always have to be stripper music. Even though I love that music, I present a variety of different elements that goes into making a rap song. It's lyricism that goes with that, trying to tighten up my vocals, even adding a little R&B mix into the rap to make it sound a little different. Some of the women find their lane and stay in it, and props to them for that, but I want to be able to do everything across the board when it comes to rap. 
AllHipHop: Being a military brat from New Orleans, how does that play into your life and career?
Typhanie & Co: I was born originally in New Orleans, Louisiana, lived there for a few years while my mom joined the air force. I ended up moving up a lot growing up. Every 3 or 4 years we're packing to move into a new place. That really helped me be able to adapt to meeting new people, taking in the diversity of all the different areas I've been at. It makes it easier to recognize there are different things that people are interested in, so it's easier to tap into.
AllHipHop: Who would you say is your biggest influence?
Typhanie & Co: Definitely Missy Elliot, she's one of those artists that really didn't try to stay inside of a box. She always thought outside of the box, she's a big influence of mine. Drake because he did a really good job combining the rap and R&B sound, he's a really big influence. Those are my top 2 people that really had an impact on how I go about making my music. Lil Wayne is always my favorite rapper, especially old Wayne.
AllHipHop: Favorite Wayne song?
Typhanie & Co: It's hard to pick. I like his freestyles. I like all his older stuff, even past No Ceilings. His song "Seat Down Low," his freestyle on that is one of my favorites. Obviously everybody likes the Carter 3, that whole tape is really good. I still play that to this day for sure. [laughs] 
AllHipHop: At what point did you realize this music thing was forreal?
Typhanie & Co: It started out as a hobby, I wanted to see if it's something I could tackle. Once I got into the booth and realized I can actually really write, now we got to work on delivery. Once I got to the point where I could really put a whole song together. Putting out my first single a little over a year ago, the feedback I got from that: people really enjoying it. People liked what I was doing, I'm like okay great. I wasn't imagining I was good, people actually really do think I'm good. That's when I started to put more effort into everything I was doing and making sure I was taking criticism constructively because if you're trying to make music for the people to consume, you have to listen to what the people say.
AllHipHop: What was the inspiration behind your name?
Typhanie & Co: My real name is Typhanie. I came up with Typhanie & Co years ago back in MySpace days. I needed a social media handle, okay I can do a play on the Tiffany & Co jewelry company and make it for me. Typhanie & Co encompasses a lot of me because yes I'm a rapper but there's always more things that I want to do. I want to rap, I want to have a clothing line. I want to have my business that's launching, Canna Rosa, to be successful. I want to be a graphic designer, there's so much. So many and's I can add on for what Tiffany wants to do, Typhanie & Co stuck.
AllHipHop: What's the premise of Canna Rosa?
Typhanie & Co: Right now, I'm in my final stages of launching Canna Rosa. I'm taking organic rose petals and drying them out, getting them prepped so people can smoke out of them. They can smoke whatever herb of choice, but mostly weed. People usually smoke weed. My shipment of roses came in today so I can finalize that and get my website up and running.
AllHipHop: Double Tap out now! How are you feeling?
Typhanie & Co: It's really exciting to have a full project finally out on streaming platforms, something to really promote for people to hear. It's not one song, there's a variety of things you can listen to now. It's been great, we've been getting excellent feedback. Getting a lot of good coverage on it. A really good feeling to finally have a project out there. People were asking for it for so long, "when am I going to be able to stream…?" Double Tap is mostly comprised of freestyles that I've posted on my Instagram. Most of the songs I have were streaming directly through Instagram and nowhere else, people were asking "when am I going to be able to listen to this on iTunes, Tidal, etc.?" Came up with the genius idea to package them all up and put them on one EP called Double Tap. You double tap on Instagram, now you can double tap and listen to the song in your car. 
AllHipHop: "Reloaded" is super motivational, what were you going through recording this one?
Typhanie & Co:  "Reloaded" is definitely my favorite song on the project. My most vulnerable song that I ever recorded, even though I know I can be more vulnerable than that. I was going through a time where I wanted to quit. I didn't want to do music anymore, didn't even know what I wanted to do. I was at a point in life where what is for me? Because it seemed like nothing right now is for me.
I woke up one day, found a beat and started writing to it. It felt like God was guiding my pen and trying to give me advice through the words he's telling me to write. On "Reloaded," I talk about procrastination and how it could really be conflicted with a lot of different things. It could be you needing to slow down and reevaluate before you keep pushing yourself further, so you can understand what it is that you need to be doing."Reloaded" is a song I wrote that motivated me to keep going and keep trying.
AllHipHop: What's the reality of the independent grind?
Typhanie & Co: It's hard, but I can understand how it'd be harder for people who don't have such a good team like me. Yes I'm independent, but my team does such a good job in helping me get things done. If there are days where I'm not as productive as I need to be, they'd make sure I get up and do what I need to do. They help push the music, get it in the right hands, recruit more people to join our team so it can be pushed. A lot of independent artists get overlooked because a lot of people are looking for what's already trending on social media, what's already trending on Spotify. Really trying to get numbers on your own is a lot harder than I anticipated, but still possible.
AllHipHop: What songs mean the most to you and why?
Typhanie & Co: Definitely "Reloaded" because that's the one that pulled me up out of that slump when I wrote it. "Departing from London" was a song that literally got its name because I wrote it on the plane right back from London. My first feel-good song I wrote that's uppity, it genuinely felt like a complete song once we finished that.
AllHipHop: Talk about being an overall creative, even in your music videos. 
Typhanie & Co: Me having a creative eye, I always know what I want things to look like. Thankfully I'm a graphic designer so I'm able to create my own cover art. Create something that can help everybody else see what I see, so my vision comes to life. It can be annoying because the creativity in me makes me a perfectionist on the low. When my videos aren't coming out the way I want them to or little things can get me wanting to be super hands-on, when really I have a team that knows what they're doing. I have to be more willing to trust that they're going to execute my vision perfectly. It can be hindering in some ways trying to relinquish that control, but it's definitely helpful when I need to get something done on my own. 
AllHipHop: How does it feel being a Howard Alum? What did you study?
Typhanie & Co: I'm so glad to be able to say I graduated from Howard University. That's my dream school in high school so getting in and attending was definitely amazing, such a great experience. It really taught me a lot about the diversity within the black community itself. Even though it's an HBCU, there are a lot of types of different black people that grew up with different backgrounds, that come from different countries. People overlook that often. Going to Howard made me realize there's a lot more that the black community has to offer.
View this post on Instagram
It made me more confident in being a black woman altogether, I don't have to try to hold back from my blackness when I'm in diverse crowds because that's not what we're put on earth to do. We aren't put on earth to hold back any part of ourselves. It taught me how to dress because if you cannot dress, you can't walk around the yard. [laughs] I had to get a better fashion sense. It's a really empowering school that you can go to. The administration can be difficult so you really learn the art of finessing, I got really good at finessing my way through stuff because of Howard. 
AllHipHop: What is it you want fans to get from your story?
Typhanie & Co: Even if you're unsure of your path in the beginning, you have to trust it's going to reveal itself to you eventually. You can't really rush the process. You got to make sure you're learning along the way, don't get frustrated. Don't quit at anything before you really see yourself in the big picture. You have to be able to envision it before you can achieve it, so you really shouldn't quit before you can really envision that. Applying creativity, you don't have to be cookie-cutter. Be creative, approach things with a different mindset than what you see everyone else is doing. Even if it's minor, don't do it the same as everybody else.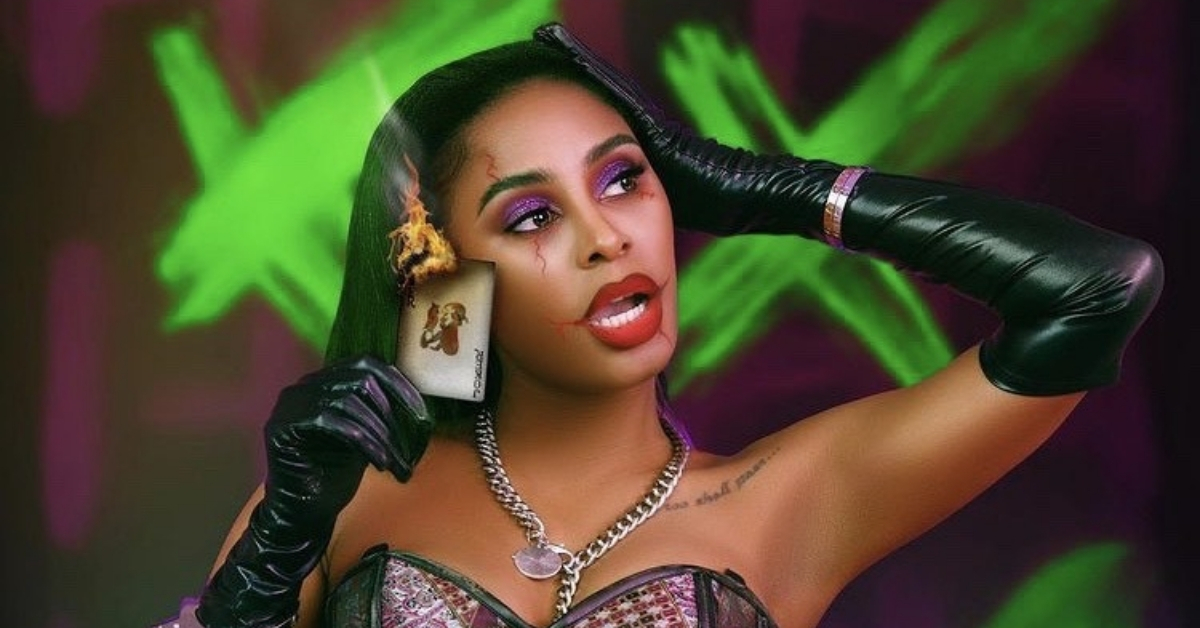 AllHipHop: What's your favorite scene in Dark Knight?
Typhanie & Co: I honestly like the scene where The Joker is walking away from the hospital as it was exploding. I read somewhere that him walking away from that hospital blowing up, something faulty happened in the explosions. He had to improvise on the spot to make sure they could catch the scene of this explosion that's supposed to happen. He's looking around and kept going. Knowing that and rewatching the movie so many times, he did such a good job as acting as The Joker the whole movie. I've always been on the side of The Joker because you're making valid points, there's a lot of corruption in the world. [laughs]
AllHipHop: How many times have you seen the movie?
Typhanie & Co: Over 50 times honestly. It's super long, but I love it. It's so good. 
AllHipHop: 3 things you need in the studio?
Typhanie & Co: Red Bull, alcohol preferably whiskey or tequila, and vibes. I need good vibes, I can't write if there's not good vibes around me.
AllHipHop: Goals yourself as an artist at this point of your career?
Typhanie & Co: I want to get some great placements on different outlets. Video game placements would be dope, TV placements on different Netflix, Hulu, Showtime shows, movie placements. I want to be able to watch a show and say "oh that's my song playing!" That'd make me feel really excited. Of course getting my streams up, everybody wants to establish a bigger audience. I really want to be able to manage my music career and my business I'm starting because I really believe they're going to take off at the same time. I have to be prepared to make sure I can balance all of that.