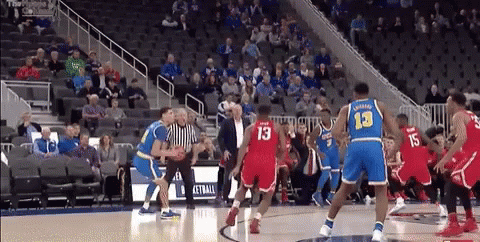 (AllHipHop Editorial) As one who has taught in urban environments throughout the last three decades, I've personally watched the peril of our community through the actions of our youth. It is indisputable that the black community is a farce of what it used to be. Collectively we no longer have the same spiritual reverence for GOD, we're morally insufficient, educationally uninspired and vulnerable to our antagonist. When I ask our children, "what could make the greatest difference in our community," they all say in unison, "the presence of our fathers."
LaVar Ball is a married man with 3 sons. He met his wife, the mother of his children, on the campus of Cal State Los Angeles, where he was a student. His oldest son, Lonzo Ball, just completed his first year of college at UCLA, where he led his basketball team to the Sweet 16 of the NCAA Tournament, as a freshman point guard. In less than thirty days, he's projected to be the first round draft pick of his hometown team, the Los Angeles Lakers. Lonzo's younger brothers are destined to follow in his footsteps. LiAngelo Ball and LaMello Ball have already committed to UCLA.
Mr. Ball's sons all appear to be well mannered and respectful young men. From hearing them speak, it's apparent that they are educated and extremely articulate. Lacking self-confidence does not appear to be an issue for Mr. Ball, nor his three boys. And it's obvious that they are just as academically capable as they are athletically because if they were not, they would be academically inadmissible to the University of California Los Angeles. So I ask, who are all of these positive traits and influences in these young men attributed to?
On Wednesday May 17, 2017 I listened to a sports talk radio host on Sirius XM Radio call Mr. Ball a "buffoon." This diction was chosen by the speaker who felt that Mr. Ball had disrespected Kristine Leahy, a white journalist and female cohost on the ESPN Colin Cowherd show The Herd. I was infuriated from hearing a white man call Mr. Ball a clown in defense of his professional peer. Immediately I was curious to know, "what did LaVar Ball say that was so disrespectful to Ms. Leahy to have all of white America and a few unwittingly black folks enraged?" So I listened to the snippet of the verbal jousting between Kristine and LaVar which did nothing, but leave me even more confused and baffled. You see, I am intelligent enough to know the games of people with influence who purposely have agendas to damage the imagery of black men, by creating the worst narrative of our lives imaginable using edited soundbites, angled photos, dicey headlines, planted black gloves, etc., and I dig deeper.
The segment of The Herd Show featuring LaVar Ball was about fifteen minutes long; however, most media outlets are only playing a few edited minutes. And it's in these minutes that he's being vilified for being disrespectful to Ms. Leahy. I watched the interview in its entirety with two of my professional colleagues. And do you know what all three of us educators said after viewing it? If we had a dad like LaVar Ball growing up as children, nothing in this world would have seemed impossible, unimaginable or unattainable. As a collective, could you imagine our community full of fathers who believed in and inspired and protected and defended and provided for their children as LaVar Ball is doing for his?
What did he say to Kristine? I implore you to watch the video in its entirety and then you can formulate your own opinion on whether or not he was being disrespectful. However, I will tell you this. On March 29, 2017 on a FOX Network sports show called Speak for Yourself, Ms. Leahy made a comment alluding to LaVar's son Lonzo being scared of his dad. I ask you, what impact or ramifications could such an opinionated and unsubstantiated comment have? How would you engage someone who has made such unfounded and unprovoked public statements about you and your children? Not to digress, but did they say the same things about Archie Manning with his boys Peyton and Eli because he encouraged and supported them in following in his footsteps to the NFL?
Initially, like so many other black folks, I accepted the depiction of LaVar Ball based on the way the media purposely misinterpreted and projected him to the world. I chose to ignore his reality and to accept their perception of him. Well I've concluded that we should not allow you all to attack LaVar Ball in the manner that you've chosen to defile him. In all honesty, he should be commended for having the victor and tenacity to do what he's doing. He should be celebrated and applauded for having vision and the fortitude to attempt to manifest his and his family dream of building an empire. More people should be inspired to do the same thing. Hell, it's the American way. The American Dream. Who can't applaud that? Phil Knight? Kevin Plank? Adolf and Rudolf Dassler descendants? Next time, let's talk about the real reason why people are trying to discredit and devalue LaVar Ball.
This is not about his antics, and a disrespected white woman, but more about business, control and freedom. Things we, yes we, including black folks, should aspire to have.