The 2023 BET Awards were off the chain (yes, the chain) and had a whole different vibe compared to previous years, and it was lit (another word OGs still use)!
So, I was blessed enough to attend with my daughter. I also sat next to two lovely, industrious young ladies from The Shade Room. Behind me, to my right was AHH senior contributor Rea Davis, and over my left shoulder were three guys I did not know. More on that later, but all of this plays a factor in this op-ed. The BET Awards underscored how varied, diverse, and colorful we are, and all of the conversations are layered and nuanced.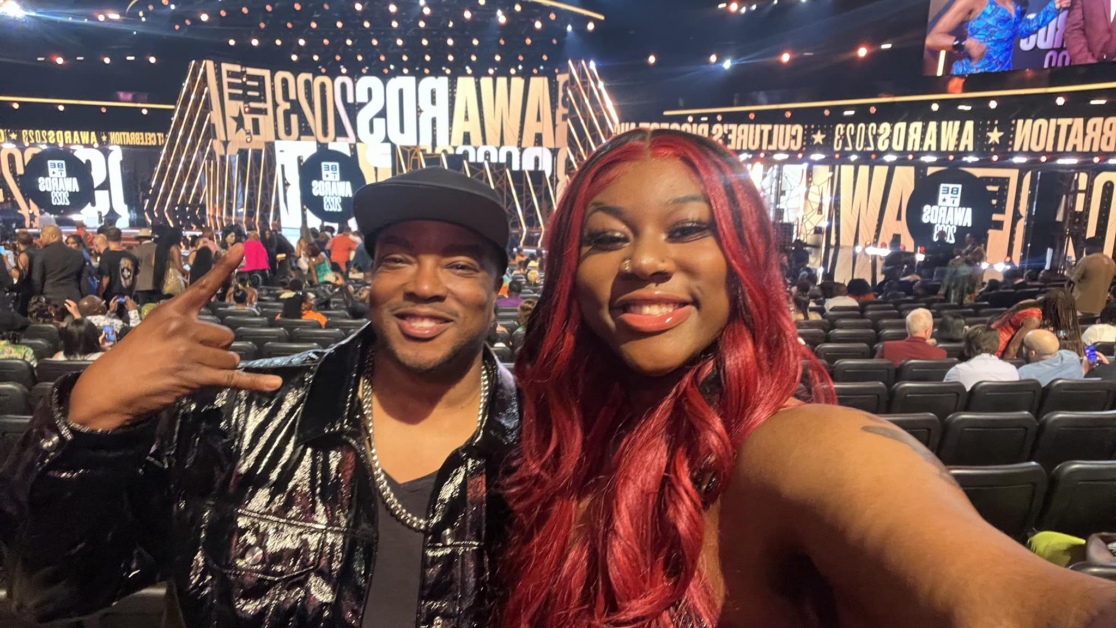 First things first, this year was all about celebrating Hip-Hop's 50th anniversary and the ratings reflect the excitement people entered the Microsoft Theatre on Sunday. The show was packed with rap performances from all kinds of rappers and MCs, representing different generations and regions. They were straight-up celebrating the music and culture that we love. There were a few deviations, but it was mostly Hip-Hop heaven depending on who you talk to.
Because of the writer's strike, there was no host this time around. All of this was accomplished without a master of ceremonies and a formal script for the presenters. Most folks made it work, and there were even some hilarious instances like the interaction between Cynthia Kaye McWilliams and Malcolm Barrett. We also got to bear witness to G-Herbo's amazing reading skills and Ray-J's raging insecurity with his wife. But I digress.
The 2023 BET Awards gave us some unforgettable moments, despite some very unique circumstances. MC Lyte, DJ D-Nice and Big Daddy Kane tore it down on the stage, while newer acts like Lola Brooke and Ice Spice spit rhymes with crazy set designs. Mad Skillz dropped knowledge bombs in his "Wrap-Up" edition about the history of Hip-Hop. Quavo and Offset from Migos reunited out of nowhere, offering a public peace treaty in the name of the late Takeoff.
There was more. Busta Rhymes' Lifetime Achievement Award and subsequent speech with a rapid-fire succession of performances that yielded Bia, M.O.P., Rah Digga, Coi Leray, Remy Ma, reggae and more. She might not be considered Hip-Hop, but we have to mention Coco Jones, y'all. She won the Best New Artist award and everybody fell in love with her after a heartfelt acceptance speech. For the record, she does a mean Busta Rhymes (click here for that).
With all of this Pitch Blackness, what is there to be mad about?
There was a mixed bag of responses to the awards that I began to notice on social media. So, I posted queries on both Facebook and Instagram to get some idea of where people stood. I know for a fact the live show was lit, so I went and watched the televised live show. To me, it was still dope with a few deviatons. I have come to realize that Hip-Hop's 50th Anniversary really underscores a conundrum that the culture faces. The quintessential dilemma that Hip-Hop faces: how to make everybody happy.
First of all, this is impossible, even conceptually. But that seemed to be the goal of the awards. As Hip-Hop continues to age and progress, there is work to do (younger people). Also, there is space to allow the youth to be the youth and move the culture forward (older heads). Together, there's no reason why brute creative forces, the infinite wise minds and hardcore cultural capitalists cannot fully realize Hip-Hop's greatness. To me, it was all on full display at the BET Awards 2023.
Yes, there were a few moments of extreme ratcheness (shout out to the very pregnant Chrisean Rock and Sexyy Red), but that's Hip-Hop and it always has been in some shape or form. Old heads, most of you have danced to "I Wanna Rock (Doo Doo Brown)" or "Nann" with Trick and Trina. If you didn't, you likely boogied to something like it. So, with Hip-Hop aging, there's a huge range between who we are and who we are. The divide is clear and present, but there's also opportunity there.
Growing up, my dad and I often wore matching Adidas outfits or I would wear his sneakers, even though those suede Pumas were too big. This BET Awards, I went with my teenage daughter. The generational exchange was appreciated. The experience was enhanced for me. At times, I was asking her "Who is that?" Other times, I am introducing her to pioneers like Play from Kid N Play, who had performed on that very stage at the Microsoft Theatre. And then there was Rea, the Shade Room girls and the guys behind us that were hilarious. A time was had, the jokes flew and the night was epic. Period.
By the way, outside of the BET Awards, there was a whole activation in Los Angeles for Hip-Hop's 50th Anniversary that BET put on. That display included live performances from Crime Mob, Jadakiss, Bow Wow, Snoop Dogg and others. It also included a full pop-up museum, Rap City set up and other IG-able installations. The giant boombox was my favorite. Nevertheless, the effort was there and I appreciated it.
Before I go, one last thing. Stop hating on "yourself." Stop using Euro standards and trying to apply them to our culture. We are the standard and we are the culture. When you go back far enough, you will understand we are the source. Every music genre that is born in America has Black roots. Are we perfect? No. We need a lot of things, starting with love. Love us and the rest will take care of itself.
Long live Hip-Hop and shout out to Texas.