2014 is coming to a close, and with the close of another year comes a time where people argue and debate all December about what were the best albums of the year. Many have said that 2014 wasn't a good year for Hip Hop, due to the lack of huge releases and the overuse of DJ Mustard's beats. But don't be fooled, 2014 was a year where many young artists flourished under the spotlight, production-rap collaborations set their social media timelines on fire (We're talking to you Run The Jewels), and seasoned veterans made their outstanding return to Hip Hop. If it wasn't any good, we wouldn't have a top 10 to post.
Like every year, AllHipHop will be giving you the best albums of 2014. Unlike other sites just giving you their best albums, the albums below were recommended by the AllHipHop community. That's right, You made this list, And you'll get to decide which album tops the rest. So check out what the AllHipHop community recommended as AllHipHop's 10 Best Albums of 2014.
YG – My Krazy Life
Let's be real, a lot of people were very skeptical about YG's debut album before it released. Sure, the Cali rapper's singles "Who Do You Love" and "My N*gga" were two big hits, but no one knew what he had in store for his major label debut. On March 18, 2014 My Krazy Life dropped, and surprised both critics and listeners alike. With an interesting "day in the life" concept, diverse instrumentals from the like of producers like DJ Mustard and Ty Dolla Sign, and a rap style reminiscent to classic West Coast Rap, My Krazy Life was another album that proved that the West Coast was back in 2014. If YG hasn't taught you anything else with his album, he did teach you to never judge a project by just their singles.
Best Tracks – Really Be (Smokin' and Drinkin), Meet The Flockers, Just Wanna Party, My N*gga, Who Do Ya Love
J. Cole – 2014 Forest Hills Drive
Nobody was expecting J. Cole to drop an album in 2014. We were still singing "Crooked Smile" on the radio and grooving to "Forbidden Fruit" from Cole's 2013 album Born Sinner. The dude was even touring during the summer. But when that announcement trailer dropped last month, we were excited to see what the Carolina rapper had in store for us. On December 9th, 2014 Hills Drive released, and it is still getting played while also earning the largest first-week sales 2014, beating Rick Ross' Mastermind album. What made 2014 Forest Hills Drive so special is that the album was built solely off of Cole's raw talent. There weren't any big features, no superstar producers, no radio singles or even album promotion. This made the spotlight bigger on J. Cole throughout his project, and he didn't disappoint by far. 2014 Forest Hills Drive showed a more humble side to Cole by compiling a string of stories through mesmerizing hooks, complex lyrics, and dope beats in order to illustrate experiences and life in Fayettville, NC. 2014 Forest Hills Drive was the album that put smiles on new listeners' faces along with those who were there since The Come Up.
Best Tracks – Fire Squad, A Tale of 2 Citiez, Wet Dreamz, G.O.M.D, 
Freddie Gibbs x Madlib – Pinata
Long before Pinata was thought about, Freddie Gibbs and Madlib were dropping singles like "Thuggin" and "Shame" all the way back in 2012. It wasn't until early 2014 that we saw the entire collab album in it's beauty. Pinata is a fine example of how two opposites can attract. Madlib supplied the smooth and soulful beats, while Gibbs told listeners stories of drugs, women, guns, and more women. The album only got better with an explosive posse cut to end the album. With interesting features from artists like Raekwon, Scarface, Ab Soul, Earl Sweatshirt, and Danny Brown, Pinata became an album that made Freddie Gibbs a force to be reckoned with, without the help of someone else on this list. With Pinata being both critically acclaimed and loved by fans, Gibbs and Madlib have a high set of standards that they can only build off of.
Best Songs – High, Harold's, Bomb, Shame, Lakers

Run The Jewels – Run The Jewels 2
It looks like Hip-Hop collab  Run The Jewels wins 2014, huh? On October 24th, he duo released Run the Jewels 2 for free via Twitter before the scheduled release date, and social media was set on fire.  Killer Mike and El-P creates a unique sound that combines aggressive electronic beats with rhymes of chaos. The album Run The Jewels 2 starts out with "Jeopardy", an explosive yet highly lyrical track that illustrates the hard-hitting vibe of the album. With "Oh My Darling Don't Cry" and "Blockbuster Night Pt 1" after that, it's like a three punch combo. Run the Jewels 2 includes features from Gangsta Boo, Travis Barker, and Diane Coffee to name a few. They all fit in well with Run the Jewels' strong personality throughout the album. Run The Jewels wins the year again, but how about a 3-peat?
Best Songs – Oh My Darling Don't Cry, Close Your Eyes (And Count to F###), All My Life, All Due Respect
Big K.R.I.T. – Cadillactica
Ever since Big K.R.I.T.'s major label Live From The Underground, the Mississippi rapper has risen to the higher ranks of the Hip Hop game. Many people were surprised when K.R.I.T. first released the track "Mt. Olympus", and he left with a trail of bangers that would all lead up to Cadillactica. This album shows the lyrical talent of KRIT, with a complex theme that is very reminiscent of the mixtape 4 Eva N A Day. There are features from OG's like E-40 and Raphael Saadiq, with Wiz Khalifa and Lupe Fiasco as the younger generation of Hip Hop to fit the album. But don't be fooled, songs like "King of the South", "My Sub Pt 3", and the ASAP Ferg featured deluxe track "Lac Lac" are a few bangers that will keep your speakers knockin' doors down. In the future, when we talk about K.R.I.T.'s catalogue, this will be considered his masterpiece.
Best Songs – My Sub Pt. 3 (Big Bang), Soul Food, King of the South, 
Common – Nobody's Smiling
Although the summer of 2014 with filled with nothing but DJ Mustard beats, Common released a gem that took a roll in uplifting the city he's from Chicago. Obviously, Chi-Town hasn't been the nicest place to go on a vacation, with the city being named as the modern murder capital in the States, and Nobody's Smiling plays a role of illustrating the violence that goes on in the streets of the inner-city. The album is dark compared to Common's previous albums in his catalogue, but songs like "Diamonds" try to keep the a Nobody's Smiling from being an album taken too seriously. What also made Nobody's Smiling a unique album was the reunion between Common and No ID. The beats fits in well with Common's rhymes, to establish a reinvention of their collaborative sound. Nobody's Smiling was an album that brought out the many skeletons that are in Chicago's inner-city, but you'll enjoy every bit of it.
Best Songs – Speak My Piece, The Neighborhood, Kingdom, Real
ScHoolboy Q – Oxymoron
If you've thought the AHH community would not make Oxymoron one of the best albums of 2014, you're trippin'. ScHoolboy Q's debut album was a highly anticipated album that was a both a critical and popular success. The entire album had Q doing several mischievous crimes  throughout the album to raise his daughter the right way – oxymoronic indeed. There were several issues that are addressed in Oxymoron, including drug addiction, murder, gang banging, and even pimping. However, these different topics weren't romanticized like other rappers, Q used his story to show what really goes down in LA's underworld. The debut album featured appearances from 2 Chainz, Jay Rock, BJ The Chicago Kid, Raekwon, Kurupt, and even Tyler, The Creator. Q also had an incredible production staff, including Tyler, Pharrell, MikeWillMadeIt, THC, and Digi+Phonics. Oxymoron  was a successful step for ScHoolboy Q's mainstream start. Let's hope that he can build off of this album in the future
Best Songs – Gangsta, What They Want, Presciption/Oxymoron, Man of The Year, Studio.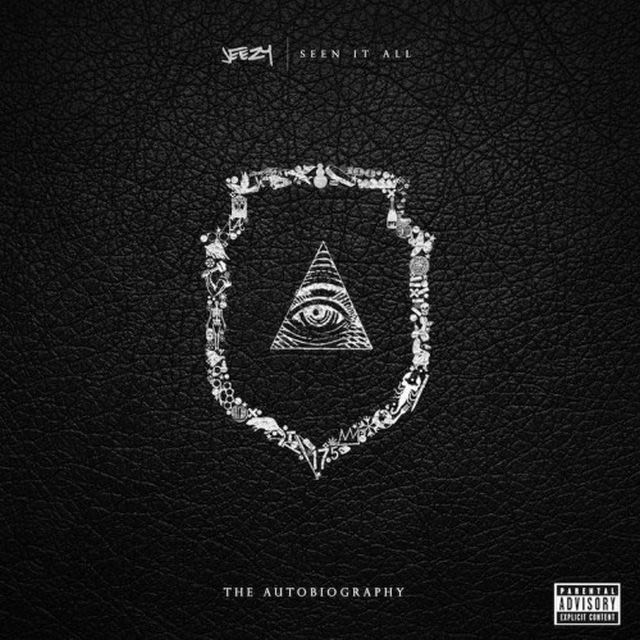 Young Jeezy – Seen It All: The Autobiography
On September 2nd, Jeezy made his return to the Hip Hop industry by releasing his seventh studio album. Seen It All: The Autobiography was a project that reinforced the down-south sound that Jeezy has had since his Thug Motivation  series, and flourishes off of it. With "1/4 Block" to start the album out with a bang, Seen It All continues with a whole half of banging bass beats until a brief intermission with the song "Holy Ghost" before getting right back to blasting singles like "Me Ok" and "Seen It All". Jeezy also adds in the smooth track "Beautiful" to even out the bangers and the riding music, using a sample from the French jazz band, Cortex. Seen It All didn't try hard to catch attention in the Hip Hop industry, but it did make Jeezy's sound popular again.
Best Songs – Seen It All, Me OK, Beautiful, 1/4 Block.
DJ Premiere x Royce Da 5'9 – PRhyme
PRhyme was the album that represented old school hip hop in 2014. With one of the most legendary producers to step in the studio teaming up with one of the most underrated rappers ever, the final product was a reinvigorating return the classic lyrical hip hop. Royce's verses was amazing in PRhyme to the point where features like Ab Soul, Common, Schoolboy Q, and Mac Miller had to step their game up to meet Royce's standards. There were several lyrical punchlines that made Royce's verses not only memorable, but also refreshing to those who has been a fan to 90's rap. Premo's instrumentals were classic in every sense from the boom-bap structure, to the old school DJ scratches that carried on through each chorus. If you though lyrics in Hip Hop weren't important anymore, than you haven't listened to PRhyme yet.
Best Songs – Dat Sound Good, Underground Kings, To Me To You, PRhyme
TI – Paperwork
Paperwork has to be one of the best albums that TI dropped after his release from Prison. Although the ATL rapper has distanced himself a bit from his previous hood rhymes, that doesn't mean that it's completely gone. TI continues to offer a project that both shows growth in his sound and the reinforcing of what made his claim to fame in the early 2000's.  Paperwork already supplied radio's with what may be one of the most popular rap songs of 2014, the Young Thug- featured track "About The Money", but songs like "On Doe, On Phil" are still songs that keep your trunk rattling throughout the album. Paperwork has a ton of guest appearances, from Trae Tha Truth to Iggy Azalea, with production credits from a diverse set of producers including Pharrell, DJ Mustard, and London on Tha Track.
Best Songs – About The Money, On Doe On Phil, Jet Phil, G' S###
What is the best album of 2014? You can decide below