It's official… Wendy Williams finally has her own movie, "Wendy Williams: The Movie."
The Lifetime biopic stars Ciera Payton, who will be portraying the Queen of Gossip as she navigates through the entertainment industry from her days in urban radio to the host of her own syndicated talk show. Payton proudly takes on the lead role alongside co-star Morocco Omari, who plays Wendy's ex-husband Kevin Hunter.
Hailing from New Orleans and growing up surrounded by street performers, artists, and culture, Payton is far beyond just an actress. You may have seen the writer, entrepreneur, and social activist in television shows The Walking Dead, General Hospital, NCIS, and BET's soap opera The Oval, which will be returning for its second season in February. 
Additionally, she's the founder of Sincerely Cosmetics, a vegan cosmetic company catering to health-conscious women.
The crazy part is, the similarities between Ciera and Wendy do not go unnoticed. In fact, people were tweeting that Ciera should play Wendy Williams a year before the film even came into fruition.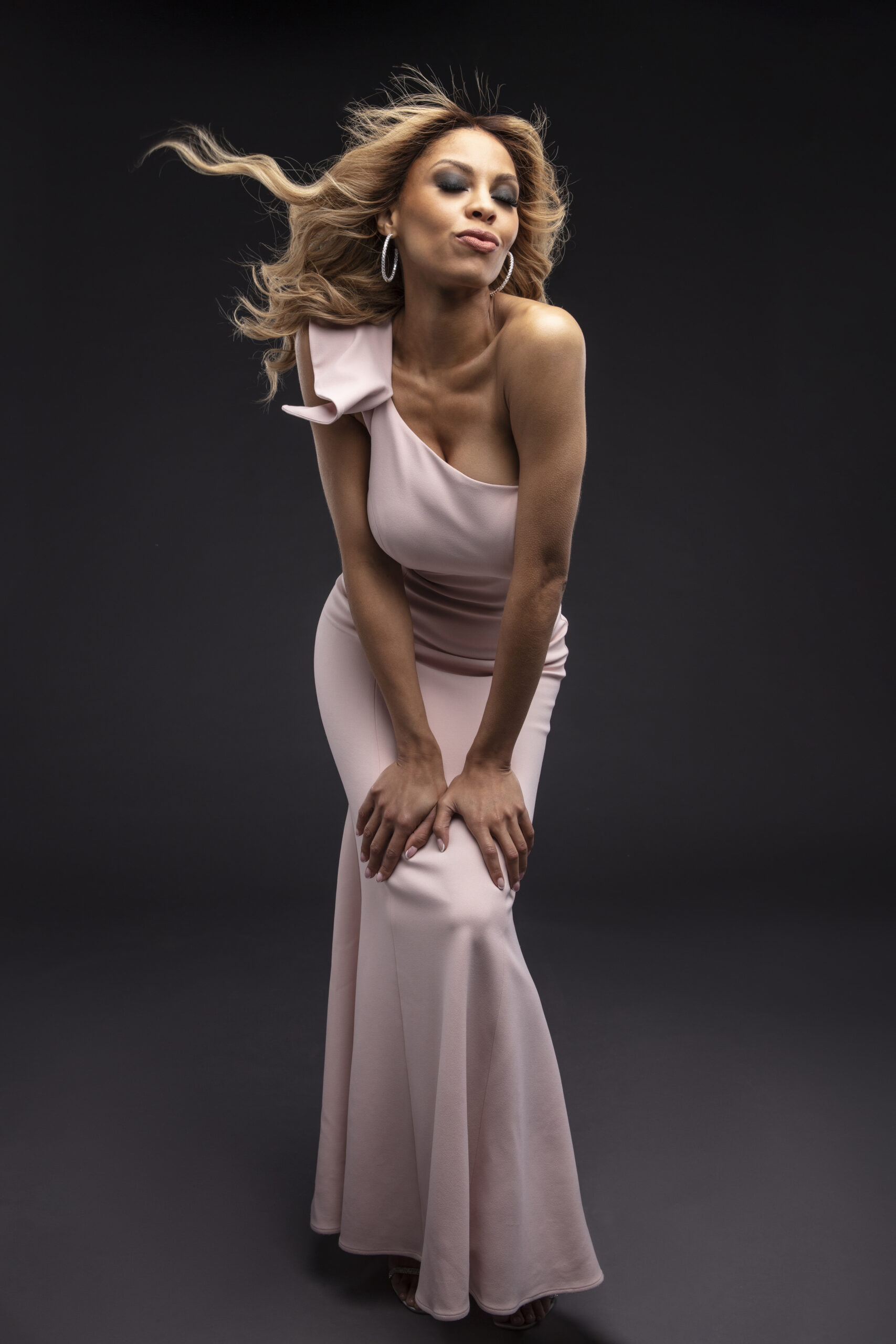 AllHipHop: What was Ciera like growing up in New Orleans?
Ciera Payton: Whoa, all the way back to the beginning. I touched down in New Orleans around the age of 6 or 7. My mother lived in Texas, my grandmother lived in Mississippi, my dad lived in New Orleans with his mother and 2 sisters. I split time between the 2 of them but I ended up making New Orleans my permanent residence and living with my dad. That was everything you could imagine. We lived close to the streetcar line, so close to the Mardi Gras parade routes. Every year walking down the street to the parade, seeing all the craziness and madness. New Orleans kids and people from New Orleans are all old souls and very wise. You have to be in a city like that,so full of culture and life.
Every major metropolitan city has a lot of challenges. A lot of poverty, a large population of people dealing with different substance abuse and alcoholism. I saw as a child my father struggle with addiction, I was very in both extremes of the world living in New Orleans. I remember being a little girl and going to AA and NA meetings, sitting in these spaces and listening to reformed drug addicts talk about their rock bottoms. I'd sit at the little table on the side and play with my Barbies. For me, that's my introduction to make believe and acting because I'm seeing some real heavy stuff. I carved out my own little imagination.
AllHipHop: Do you remember when you fell in love with movies?
Ciera Payton: At the age of 8, my Aunt Peanut bought me a karaoke machine. I was obsessed with Pocahontas at the time so I'd sing that thing until the batteries went out. My dad and my nana saw that, they said "let's try to get her into one of these magnet schools here in the city." Back then, you could only go to the school in your neighborhood, your district. That school for me was a very impoverished school. There were kids in the 4th grade supposed to be in the 8th grade. My dad was working at a restaurant in French Quarter and he asked his boss if he could use his address to let me go to this magnet school in New Orleans, in the French Quarter.
I went there, that's where the bug bit even harder. I took up acting classes, I was in the band, I did visual arts. It really fed me. I wanted to go to a performing arts high school called New Orleans Center for Performing Arts. I got into it and didn't look back. That was my thing. My biggest inspiration and role model was Dr. Maya Angelou, this path of really following your bliss and your passion because that was her whole story. Years later, I got to meet her. That's how I came to step into this world of acting and calling myself an actress.
AllHipHop: What do you feel when you're acting?
Ciera Payton: Oh my gosh, I'm constantly searching for the definition of it. It's one of the only times in my life where I feel so aligned and so attuned whenever I'm stepping into the world of a character. I love it, I get to be people who I'm not. I get to say things that in my everyday life I wouldn't be bold enough to say. I get to dress in different types of ways. Acting is where I feel the most connected to humankind. I get to really learn, explore, and experience that we're all human, we're all connected. We all bleed, we all get up in the morning. We all go through challenges. We all do our best to get back up and go about our lives.
AllHipHop: What did you do to prepare for your role as Wendy Williams?
Ciera Payton: Oh my gosh, I literally watched every single thing I could watch of her and studied her. I was watching all the interviews and her episodes, picked up her audiobooks, then I'm like wait, let me stop here. I don't want to create a duplicate version of what we watch on TV. I want to scale it all back and present a woman who's gone through some things, who's so bold, so fearless, so unapologetic, and just so happens to be in the entertainment industry. At first, let me try to all the "how you doing Wendy?" But nah, I want to go in and show who I think this woman is. I want to present who I see, what I see in her to the world. I hope I'm able to honor her story and show a really incredible woman that no matter what, she dust her shoulders off. She gets up and keeps going, and looks fierce doing it.
AllHipHop: Was it intimidating at all to play someone still living?
Ciera Payton: Heck yeah! [laughs] I was shaking in my boots. We got the world of social media. She's still on TV and she's been around for a while. People know her. They know her catch phrases, how her eyes move, how her hands move, what she says, how she smiles. Knowing I was up against that was so, so, so scary. I felt the weight on my shoulders.knowing "don't you F this up Ciera because they're watching." When I got a chance to speak with Wendy over the phone, she was so gracious, so supportive, so giving. She had my back. She was the one that signed off on hiring me so I knew I had permission to rock it out and do my best with it.
AllHipHop: How supportive was Wendy?
Ciera Payton: We spoke about 4 weeks before we started production. She and I had 2 very, very, very long, deep phone calls. She's super answering any question I asked. Nothing was off limits, an open book. Extremely encouraging, I got a good grasp on that and she was totally hands off after that. She's always available if I had any questions about anything, very much supportive from a distance and gave me the freedom to create my interpretation of her and the world she lived in.
AllHipHop: How was it playing the Queen of Gossip?
Ciera Payton: It was so much fun! It was scary too. She's had some notable moments in the media, reenacting and even creating those as if they're behind-the-scenes was intimidating at times. I felt so alive in her shoes. There was no room for being shy, for being meek, for being quiet, to even doubt myself in any way because those are adjectives that don't define her at all. So liberating and so refreshing to step into that and feel like a rockstar every single time I got on set. It was awesome, I miss playing that character dearly. [laughs]
AllHipHop: How personal was it to relive her life struggles? Whether it's her coke habit or situation with her ex…
Those things were challenging for me, also physically challenging. Going back to my father, I never really got a good understanding or grasp about drug use, I could only love my father unconditionally through all that. To do those things, oh my God. At first, I hated it. I want to put this stuff up my nose anymore. By the way it was crushed up B8 vitamins, but it's not a pleasant experience. I remember asking the director, "how many more scenes do we have? Is there a way to fake it?" But I couldn't, those things were challenging physically and emotionally.
The whole sexual assault scene is a whole different thing, thank goodness we had some really great intimacy coordinators on set. These women Megan and Amanda were there to walk not only me, but the actor through all of it. Keep us grounded and present and just kind of keep us from mentally going to some really dark places. Apparently when you're doing scenes like that, your mind and your body don't know the difference if it's really happening or if you're acting. It's depicted 30 seconds in the movie, but we took 4 to 6 hours filming that. It was a tough day, but we got through it. 
AllHipHop: What was the dynamic with Morocco Omari ?
Ciera Payton: It was great, Morocco brought all the heat and I brought my heat too. So great we're able to handle each other's heat. He's such a great actor, so smart and extremely grounded. It's great to be able to play with another actor like that. He could take my punches, I could take his. Not physically, [laughs] but the emotional hits.
AllHipHop: Talk about the Michael's Daughter show and the creation of the foundation. 
Ciera Payton: It came out of a need. I wrote my own one woman show, my own autobiography. I presented it in theaters around Los Angeles and New York. It depicted my story of being a young woman trying to navigate this business while having a father incarcerated, a father she's really close to. I'm very, very close to my father. What that journey was like to understand my father, seek forgiveness and forgive him. When I'd perform this, they'd invite high schools and kids to come and watch the performance. Young people always came up to me: "oh my gosh, my mom or my dad, my cousin, my uncle, or my brother is in prison. Thank you for sharing your story."
I have an educator background, I work with a lot of high school and middle school youth. You know what? I want to create a platform for young people who have a similar background. I want to create something that's a preventative measure that stops that cycle from the school to prison pipeline, also the cycle of generational addiction or incarceration. I applied for some grants and the city of Los Angeles started funding my program. This last year, we've officially been officiated and become a full nonprofit 501C3 organization. My board members and I are hoping to continue this work more on a national scale of letting young people come together to share their stories and generate original artwork, monologues, plays, and short films.
AllHipHop: What are you most excited for with the Wendy Williams movie out now? 
Ciera Payton: I'm excited to see it. I'm excited for people to get to see Wendy Williams and all that she's been through, be so inspired and humbled by her story. I'm excited, it's going to be a fun weekend. I got my snacks ready to go. I'm looking forward to all of the good and what I hope is love that comes out of it after it airs.