DJ Five Venoms is far more than just a DJ, he's a recording artist in his own right. Making a name for himself as the official DJ for this generation's biggest hip-hop festival, Rolling Loud, a team he's been with since day one, the New Jersey native loves music down to the core. Currently travelling and spinning for biggest clubs in the country, such as LIV and STORY Nightclub in Miami, Venoms is excited as ever to be creating his own original music as a recording artist. 
Living in South Jersey right outside of Philadelphia 15 minutes away, Venoms frequented Philly as a kid. Growing up in the suburbs raised by his mom (who helped him be a DJ), he remembers being sports fans to the Philadelphia Eagles and idolizing Allen Iverson. Spending his summers near Richmond, Virginia, it was his cousin who was a DJ and helped introduce Venoms to the lifestyle and culture.
From riding BMX to touring and playing drums in a band, he moved to Orlando in 2007 and began DJing full-time. After graduating from Full Sail University, he grinded his way into being a DJ and eventually climbed the ladder.
Most recently releasing singles "Too Toxic" and "Laughing To The Bank," Venoms still finds time to be a host of Sirius XM's Rolling Loud radio as well as his own Twitch show. 
AllHipHop: Talk about the moment you realize you could DJ for a living.
DJ Five Venoms: It was a dream, a passion of mine. I enjoy DJing, I have a special skill for it. I have an ear for new music, mixing for different crowds, pleasing crowds. I had a push, I had that thing where I wasn't going to give up on this and just push through. There were times where I had no gigs, times where I had all the gigs. That grinding through the good and the bad and still having that passion for it, I realized this is what I really want to do.
AllHipHop: What's the inspiration behind your name?
DJ Five Venoms: I'm a huge Wu-Tang Clan fan. There's a kung-fu movie called the Five Deadly Venoms, they sampled a lot of the words from that movie into their music. I'd found that movie and liked having a piece of that as a part of me, so I used DJ Five Venoms.
AllHipHop: How did you land to be Rolling Loud's official DJ?
DJ Five Venoms: Back in 2010, Tariq Cherif and Matt Zingler had a touring company called Dope Entertainment. They had seen a void in Florida for hip-hop shows, specifically the underground artists they're listening to at that time. They did a tour with Curren$y, it was Orlando, Tampa, Miami show. This was their first shows at Dope ENT and doing a tour. They booked an artist that I was DJing for his name was Wes Fif. I had got introduced to Tariq at that show, eventually asked "yo let me be the house DJ for your shows." He'd book me for doing all the shows in Orlando. Over time, we built our relationship up.
Around 2015, they came up with the concept of Rolling Loud. They brought in the DJs they used for all the different markets to be the house DJs and DJ for the show. As Rolling Loud grew, I was there pretty much. I was the guy always ready, the opportunity was there. I succeeded at the Opportunity and showed that I cared. A lot of guys didn't care and they fall off, but I showed up ready to work. Showed up on time, showed a passion and held those guys down. They held me down, I hold them down.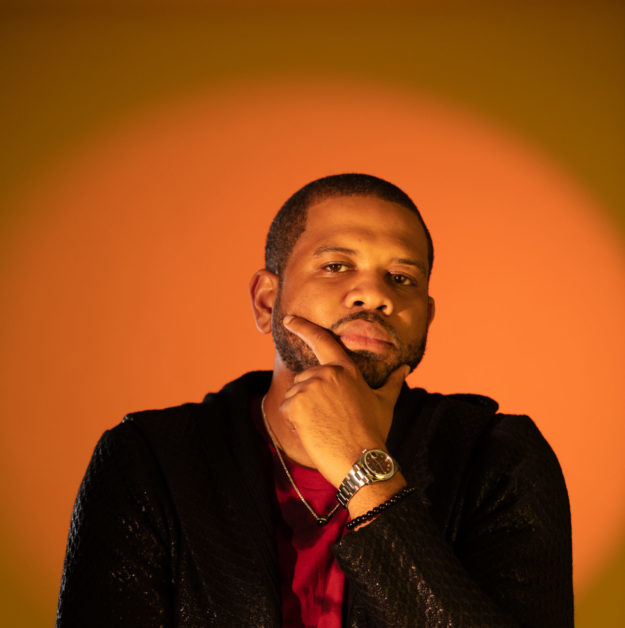 AllHipHop: What are your fondest memories from the festival?
DJ Five Venoms: Whew. Rolling Loud 2017 we did in Miami bayfront, that was really the takeoff moment. What you see as the festival today, that was the craziest lineup. Future, Travis Scott, Lil Wayne, Kendrick Lamar had dropped his project, A$AP Rocky. Name all the big guys right now, they were on it. The show went off amazingly, everyone had a great time. That picture moment of what the festival looks like now, it builds up even from there. Bigger shows, shows all over the country, shows in other countries. The first time I met XXXTentacion the year before, he's performing in a tent and I DJ'd for him. Seeing his growth from that year to the next year was insane. 
AllHipHop: How much do you miss performing?
DJ Five Venoms: A whole lot. [laughs] My last gig was March 11th. In March, it's Spring Break in Miami so it's really crazy. They shut down the clubs right in the middle of the craziest period. I miss it. Friendships I've built in the clubs. I'd check in here and there but people I haven't seen in months outside of a phone call, a DM, a text. Definitely miss it, can't wait to get back to it. For sure hopefully it's sooner than later. Miami has been fighting back-and-forth, there's a curfew on the beach and in the city period that's limiting the clubs for opening late night. The clubs here are open from 11pm till 5am. They have a curfew for 12am so it doesn't work to have the clubs open. The safety things with Corona still being out there and still people getting infected, they're trying to play it safe and make sure it's the right time to come back.
AllHipHop: Have you been DJing the virtual ones?
DJ Five Venoms: Yes, the virtual ones are cool but still not the same energy because you don't have those people there. When you have those people there, it's insane. The festivals and the thousands of people, there's nothing like DJing in front of 40,000 people. Everyone turning up and jumping up and down, crazy. The virtual ones have been dope, a lot of love. We have the screens where we can see the chat, people interacting in the chat throwing up flame emojis. You can talk back-and-forth with them, that's been cool. We have a Zoom meet so fans can sign into a VIP zoom and we can see them from the stage, similar to how the NBA had it on the side of the court. There's some fan interaction, but it's not the same as live and in person. 
AllHipHop: Favorite song to drop in a set?
DJ Five Venoms: It used to be Lil Pump "Boss," but that changed. Future "March Madness" still really goes. "Look at Me!" with X still really goes.
AllHipHop: I feel like that's the Rolling Loud anthem.
DJ Five Venoms: Pretty much, we can't have a Rolling Loud without it. You have all the artists come to the festival, then you'll have their DJs. The DJ will try to do a mini-set before their artist comes on. After 2017, every DJ had to play "Look At Me!" at some point. I'm hearing "Look At Me!" from all 3 stages all day every day during the festivals. A guaranteed turn up song and the kids never get tired of it.
AllHipHop: Let's get into your music, bring us back to when you created "Too Toxic." 
DJ Five Venoms: I recorded it after the passing of George Floyd. I lived in Miami and went to Orlando. Prettyboy Kelsey & Pressure Dommer also live in Orlando. I set up a studio session with them, there was that negative energy in the air from what we're seeing on the news and social media every day. There were protests. Even on my way to the studio, I had to make a detour because there's a huge protest in downtown Orlando.
The song was about coming out of sad times and fighting through bad times. Everyone goes through bad times at some point, being prepared for it and having the right people around you too. Having negative people around you, people that pull you down isn't going to help. You want people that are going to uplift you, you want situations that are going to uplift you. You want to be prepared, you want to strive to uplift other people also. 
AllHipHop: How was it shooting on a rooftop in Orlando?
DJ Five Venoms: Funny story. We'd scouted a few parking garages and the one the videographer scouted happened to be closed that day. I pull in, I grab the ticket and the gate goes up. The lady jumped out the booth like "it's closed!" I take off and go all the way to the roof. Another guy comes in, he does the same thing. They didn't really care, she had to do that to save face. The security guard came up there, looked at us and kept it moving. We shot it around a dusk time, had a cool lighting. We had that Orlando skyline as our background. We did some performance shots, I wanted to reflect a dark mood for the video and that's what we got.
AllHipHop: What inspired "Laughing To The Bank"?
DJ Five Venoms: I recorded half in Miami and the other half in Orlando. The producer's name is Nvbeel, he has producer credit with Wifisuneral, FatManKey, SKYXXX. He's from D.C. but been in the Florida scene for a while. He came to Miami, I took him to the studio because Baby Boys Slimee was in the studio recording already. He gave him that beat. Slime went in the booth 30 minutes, knocked out the hook and the verse. He came out, I said "yo I need that song." He said "cool it's yours." Went in Orlando the next week, got in the studio with Pressure Dommer. He knocked out his verse. A very organic song, happened real easy.
AllHipHop: Talk about the video being inspired by movies The Transporter and Set It Off.
DJ Five Venoms: The intro starts off as The Transporter, where I'm in a parking garage waiting while they're robbing a bank. I pick them up, we go on a high-speed chase. We end up at a mechanic shop where we're counting up the money. A bunch of performance shots there. That song is about the success, getting money. It's a generic hip-hop song in the sense of the content: getting money and keeping away from the opps. A fun song, has a lot of energy. I'm super excited about the video.
AllHipHop: Goals for yourself at this point of your career?
DJ Five Venoms: I definitely want to drop a project by the end of 2021. Another is to do some festivals next year, because I haven't done any festivals this year. We have Miami in February, waiting for the city to say it's okay to have. Portugal is in July next year, I'm looking forward to that. Mainly my focus is pushing music, dropping singles. Another goal will be doing more clubs, seeing that clubs start opening back up soon.
AllHipHop: Anything else you want to let us know?
DJ Five Venoms: We have our Twitch content, I'm a host for a show called the Leak where we interview artists and leak their music an hour before it drops on streaming services. We have a show called Got Bars where an MC battles every week, we have 4 contestants. We're sponsored by Monster Energy, we have a champion at the end who can get an actual record deal based on what type of deal they want from a prominent record label.