Doowop is here to prove he can rap, just like his peers. Hailing from the streets of Chicago's Southside, the rising spitter is a proud member of Chief Keef's Glo Gang, even recalling the epic story of the first time they met as kids. From the early days as part of Keef's first label titled Bang Bang Flintstone Gang to the Chicago drill movement sparked by "Love Sosa" to now celebrating Tadoe's newest album, No Guts No Glory, DooWop is there every step of the day.
When it comes to Doowop's friendships and relationships, loyalty is everything. Last year, he unleashed his debut project titled Cappin' Ain't Dead, with all-star features from G Herbo, Lil Uzi Vert, Chief Keef, Ballout, and Capo. While he didn't drop any new music this year, due to his "business not being right," Doowop plans to flood the gates in the new year.
Most recently, Doowop was on the scene for G Herbo's video shoot for "Statement," a record addressing all the false claims and accusations about the Chicago rapper using fraud. 
AllHipHop: How has your day been?
Doowop: It's alright, not too bad. I woke up late because I went to sleep very late.
AllHipHop: How late?
Doowop: 9 in the morning. I was at Sosa house. When you go to Sosa house, it's no sleep.
AllHipHop: Y'all were celebrating No Guts No Glory?
Doowop: Yup. That's a big accomplishment, we had to celebrate. When it started, f### it we're all gon' get together. Because we don't get to be together most of the time, we figured we'd all get together and celebrate. We went to the mall, Topanga Mall.
AllHipHop: What did y'all cop at the mall?
Doowop: Nothing really. We're looking for certain stuff but we didn't find anything. Everything's gone. We ended up leaving, we went to pick up some weed, went back to Sosa crib, played the tape all the way through. 
AllHipHop: When did ya'll get back to the crib?
Doowop: 9pm or 10pm at night. At Sosa house, you don't go to sleep until 3 in the afternoon. It was me, Sosa, Ballout, Tadoe, a couple more close friends to listen to the tape.
AllHipHop: Were you a part of the creative process on that?
Doowop: Kind of, not really. Tadoe, he's crazy. You never know what to expect with him. He's an unpredictable person.
AllHipHop: Chief Keef too right?
Doowop: Yeah but Keef more linear. you could figure him out a little bit. Tadoe, man he's crazy. How you miss an interview? Tadoe's crazy, the way he operates is different.
AllHipHop: How long have you been knowing all of them?
Doowop: Mostly my whole life. Over the years, we got real closer. We made it a family. Holidays, we spend it with each other now. Sometimes we don't even go home to our family. We take what we got and run with it.
AllHipHop: You're from Chicago, what was a young DooWop like?
Doowop: Damn… different. I was a sports player. I loved sports but there was so much trouble around, I couldn't focus on it.
AllHipHop: What sports did you play?
Doowop: I played basketball and football. I never really had a passion for baseball, it was alright but wasn't my sport.
AllHipHop: When did music come in to play for you?
Doowop: Young, around 2009. Before that because when we're young, me, Keef, my brother, and my nephew had a little label going. We were 14 or 15, it was called Bang Bang Flintstone Gang. Sosa came up with that, I don't know how he did it but it was hard. We ran with it.
AllHipHop: How did y'all meet initially?
Doowop: Our families have always been close through mutual people. It's so crazy how I met Sosa. When we're little on Halloween, you know how people shoot paintballs? In Chicago, we throw real eggs at people. We went to Parkway, we saw Sosa and I hit him with an egg. Ever since then, we're close. 
AllHipHop: Where'd you hit him?
Doowop: He was far so it probably hit him on his leg.
AllHipHop: Was he mad?
Doowop: A little bit because we rode off on the bikes laughing. He's like "man what the f###?" After that, we've been tight ever since. It was crazy. 
AllHipHop: Did you guys know he'd be who he is today? "Love Sosa" was a moment in time, he really put Chicago drill on the map.
Doowop: I wouldn't say we knew, but I had a strong feeling. Because he was determined. When we're young, Bang Bang Flintstone Gang was a real baby label. How did you even think of something like that to try and push it? He made it something big. We had artist on artist, 10 artists. He has the mindset for it, he just needed someone to shine the light on him. 
AllHipHop: When did Glo Gang come into play?
Doowop: 5 or 6 years ago. It was really Glory Gang (GBE), they abbreviated it from Glory Gang to Glo Gang. It was Glory Boys, Glory Gang. They like abbreviating s### I guess.
AllHipHop: Fast forward to 2020, how's it feel to be here?
Doowop: It's crazy, I'll be thinking it's still fake sometimes. Damn, because it's so much s### we had to get through to get to this stage. S###, it's real. 
AllHipHop: What was the highlight from last night?
Doowop: Tadoe period. Everybody was on IG Live while the song's blasting, the mixtape on repeat. He's going to every phone talking crazy, talking his s### in 5 different phones. Damn, this man crazy as f###. That was hard, it was nice promo because we usually don't ever do s### like that. I was f###### with it.
AllHipHop: Why is it that you haven't dropped all year?
Doowop: Getting my business right first. You've got to have your business right before you drop than be all over the place. I'm working on a couple of things, but I'm about to drop early next year. The first quarter, I got some s###. You got to, it's either go hard or go home. Everybody's looking. Can't upset nobody. Especially me after I've taken a whole year off, I gotta come hard.
AllHipHop: Did you want to drop?
Doowop: Yeah I wanted to drop because I was seeing so many people dropping around me. I'm like "damn, I want to drop now," but it wasn't right at the time. I rather wait until everything is perfect rather than drop it and it be half-ass.
AllHipHop: You dropped Cappin Aint Dead last year in July 2019…
Doowop: That was a classic. That's why I really have to drop now because the fans really want another body of work. That was hard, why would you slow down? 
AllHipHop: You don't smoke papers?
Doowop: I tried it before, I can't do papers. I agree it's healthier, but Backwoods are better. I've tried a couple of times because Sosa used to smoke a lot of Raw papers. They used to send him boxes of that s###. He used to smoke 8 foot Raw cones, this long. [gestures with hands] You have to hold them. 
AllHipHop: Why did I think he stopped smoking?
Doowop: Probably because it's not on the Internet like he used to. He can't stop smoking.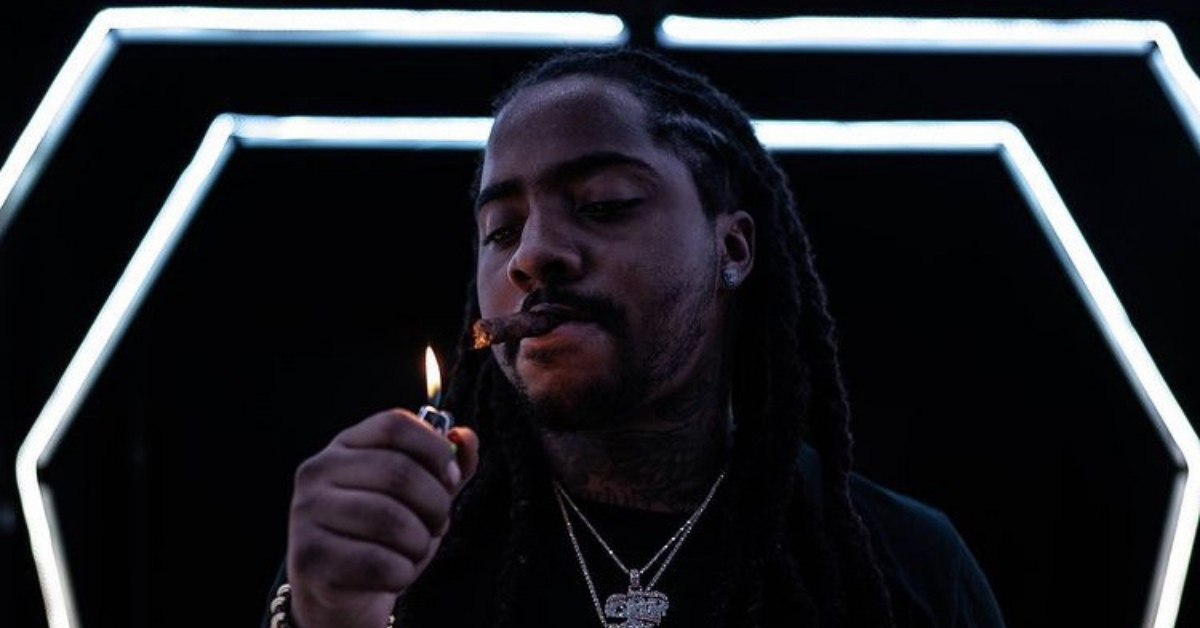 AllHipHop: Why does he hate interviews so much?
Doowop: 'Cause they ask questions that he doesn't want to answer.
AllHipHop: What made him stop?
Doowop: It was multiple. They be asking crazy s### like about his baby moms, all types of personal s###. The people in the beginning f##### it up for everyone, he'd rather not do anything.
AllHipHop: How much do you smoke in a day?
Doowop: Probably an ounce, half ounce. If I'm outside mingling, I'll say about an ounce. Studio time, going to events or hanging out, about an ounce. 
AllHipHop: Everyone rolls for themselves?
Doowop: Yeah everyone smokes their own blunts, they don't pass. When you roll, you have to smoke your own blunt and don't expect to hit someone else's blunt. This was before Covid. Sosa will tell you, if you try to ask him "let me hit your blunt," he'll show you the weed, the blunts and say "here, roll your own." This was way before Covid, 3 years ago or longer.
AllHipHop: I asked Felli Fel what the hottest song of 2020 is, he said "Mr. Right Now" by 21 Savage and Metro.
Doowop: I mess with 21. Me and him, we're cool through my friend Herb. Did you listen to the new song he dropped? "Statement" hard.
AllHipHop: I listened to it 20 times. What was all of that s### in the news? 
Doowop: A bunch of b#######. A bunch of false… it's gon' get cleared up though. That's his way of speaking on it, instead of going to Instagram or any other platform. He figured that's the best way to speak on it. 
AllHipHop: You were at the "Statement" video shoot, how was it?
Doowop: It was hard, the process was hard. He brought all of his cars out. It was in Burbank, Los Angeles, a nice little lot where we could pull all the cars up.
AllHipHop: How many cars?
Doowop: Like 7. He was saying since they said he did fraud, he had to show them. Fraud can't get you this far. Whatever y'all think he's doing, it can't get you this far. It's crazy what the internet can do.
AllHipHop: A huge focus of the show is mental health. How did he deal with that? 
Doowop: He's used to negativity. He's been in the spotlight so long, it's so much that comes out of the blue. Wow, where does this come from? I guess he knows how to cope with his problems now because it really didn't phase him. He knows the s### was false and fake.
AllHipHop: G Herbo's really about the music and has die-hard fans, f### everything else.
Doowop: He had a slow process, but it turned out good in the long run. He's a lyrical rapper. They're like "damn G Herbo can't make a catchy song," but he's hard.
AllHipHop: Y'all got music together?
Doowop: We have a couple songs together, I'll say 4 or 5. There's two on the new one I'm dropping. Me and him have one on my last tape called "19," it was crazy. I was getting booked out in Chicago clubs. It was a nice experience, but it wasn't nothing too… because I'd already been there with them. It was nice, that's why me and him have to put together another one. 
AllHipHop: What were you guys like as youngins in Chicago?
Doowop: It used to be crazy. Me and him, we used to go to high school together. We were bad as f###. We'd have night school, go to my house, try to figure out how we're finna patch up money for weed. That's our everyday routine. Weekends we'd go to the studio, he'd do his songs. I'm in there supporting, that's our everyday.
AllHipHop: Were you rapping then?
Doowop: Nope, I was rapping back when Sosa had the label. I wasn't really hard like them, they're taking it serious. Sosa, my brother, my nephew, a couple of other people were taking it real serious. I'm there because these my people, I gotta be there. They'd like "man go put a verse on this song." F### it, might as well. But I never took it as serious as them. 
AllHipHop: What did you care about?
Doowop: Sports, I was big on sports.
AllHipHop: Did you want to be in the NBA though?
Doowop: Hell yeah! That was everybody's dream, but I faced reality like nah. People like us ain't making It into the NBA. If you're in that same environment I was in, you'd be thinking the same s###. Damn, we're not gonna be able to do this s###. Might as well stop dreaming.
AllHipHop: How does it feel being where you are now?
Doowop: I feel blessed fasho, I wouldn't say any other thing but blessed. I could be anywhere else. I know friends that's locked up, dead, homeless, all types of s###. I'm blessed fasho.
AllHipHop: I was talking to Vic Mensa because he's doing a lot for Chicago. 
Doowop: Him and Herb got together a couple of months ago and passed out food. It was nice, it was real big.
AllHipHop: What did it mean for you guys to do something literally for love? 
Doowop: It feels different because we never really did nothing that big. Herb always wanted to but he had to get around the right people, put it together. Ever since PTSD been emerging, opportunities been coming. He has a school he bought a couple of months back, where he passed out food. That's hard.
AllHipHop: That's the most meaningful s### out of your career.
Doowop: Hell yeah. Buy a school, that's different.
AllHipHop: You got Uzi on "Cap Flow," how did you end up in Philly?
Doowop: I knew Uzi for a long time. Me and Uzi always clicked, we always talking about somebody. He cracks jokes on everybody, he don't give nobody a break. We always clicked because we always had something funny to say about somebody. Uzi was in LA, he hit me "bro I'm at the studio, pull up on me." Bet. We never did a song until 6 months later after we been to almost every city together, we never thought about music.
One night I had a Sosa beat, I'm playing it. I'm listening to it, he said "man we're about to do that beat." I said "man that's not even the whole beat, we can't do anything with this beat." He said "call Sosa right now and get the whole beat, we gotta do it." Damn, this n*gga put me on the spot. All these people in the studio, f### now I have to call him forreal. He answered on the first ring, I'm hoping he wasn't going to answer. He sent the beat over, we did it right then and there.
AllHipHop: What's the energy in the studio with Uzi?
Doowop: His recording process is so different, he makes things easier. One of the easiest people to record, he made the song flow with no problems. We did the song in 20, 30 minutes.
AllHipHop: How did you and Uzi meet initially?
Doowop: In Atlanta. Herb's manager used to mess with his manager, Mikkey and Don Cannon were real close. I met him with Herb, then I met him with Keef again. We always kept in touch on social media: Instagram, Twitter. Sosa ended up pulling up on him to do the song "Bean (Kobe)." I pulled up with Sosa, they did the song. I was in there f###### with him, he steady f###### with me. Damn, this s### crazy.
AllHipHop: You lowkey A&Red that s###.
Doowop: Mmhmm, that s### hard. We been locked.
AllHipHop: What are you most excited about?
Doowop: This tape that's about to drop now. I can't leak the name, it's hard. It's a different flow than the first body of work. It's all different, more heartfelt songs.
AllHipHop: You're around some real spitters.
Doowop: That's what I'm saying, so I have to perfect my craft at the end of the day.
AllHipHop: How much time are you spending on the music?
Doowop: All my time, I don't do anything else. If it's not recording, it's putting together a plan on how I'm about to do a video or how we gon' make this blowup. All types of ways with music, that's my main focus right now. 
AllHipHop: How's the @gascola?
Doowop: S### fire. I need to get up with you another day for an ounce or two.