Ashten, from the sun-soaked state of California, is causing a stir with her freakishly similar looks to the iconic American socialite and reality TV star Kim Kardashian.
As a spitting image of Kim K, this curvaceous brunette rakes in $6000 every time she struts her stuff as a Kim Kardashian clone but admitted her Kardashian-esque appearance comes with a hefty price tag.
Ashten shells out a whopping $3000 every month on fillers, botox, and other "essentials" to keep up with her Kardashian facade. Not only that but she's also spent a whopping $30,000 on surgeries like breast augmentation and butt lift to enhance her jaw-dropping features.
To maintain her coveted curves, Ashten has to sacrifice her cravings and stick to a strict diet. She even squeezes into waist trainers to keep her silhouette in check.
Despite the sacrifices and financial toll, Ashten is still living her best life as a Kim K doppelganger. And with everyone mistaking her for the real deal wherever she goes (including the paparazzi!), who can blame her for loving the glam life?
The influencer, who has 73.3K followers on TikTok and 562k followers on Instagram, shared she had been a dead ringer for the reality queen for years.
Still, it wasn't until she caught the eye of a Clint Eastwood lookalike that she saw the money-making potential in her looks. The stars aligned, and Clint's doppelganger urged Ashten to contact his agency.
"Since my late teenage years, people have been telling me that I bear a striking resemblance to Kim Kardashian," Ashten recalled. "It's a comparison I hear almost every day when I'm out in public. And the truth is, if you look at our baby or teen pictures, we share many similarities. Our parents also come from similar ethnic backgrounds, which could explain our resemblances."
Ashten started out as a fitness model, but around seven years ago, a talent agency approached her to do some double work for Kim. This involved celebrity impersonation, event appearances, and other related gigs. But when the Covid-19 global pandemic hit, everything came to a halt.
"I took this as an opportunity to pursue my own look, which was bigger boobs and a bigger butt, going beyond what Kim has done. So, the money I spend on maintaining my looks or achieving my look is not to look like Kim but to look different," she explained. Ashten revealed she had undergone two major surgeries: a breast augmentation cost $15,000, and a rhinoplasty cost the same amount.
However, she denied rumors she had ribs removed and claimed her tiny waist is "100% natura.l" She also disclosed her breast size is 34E, which varies depending on the bra brand and style.
When asked if she had butt implants, Ashten insisted she has always had a "big natural butt" with a tiny waist. However, she wanted even more projection, so she added some fillers.
As with fillers, she needs constant upkeep. Ashten acknowledged that she looked like Kim K but said she looked almost identical to Kim K before her cosmetic procedures.
She said looking like Kim K gave her the initial jump into the social media online world. However, her fans kept asking her to create her own brand and pursue her ideal look. She desired to look more extreme and be herself, regardless of what anyone else thought and what was considered the norm.
"I believe that the Kim K aesthetic represented my natural appearance before any cosmetic enhancements, and it played a pivotal role in propelling me to success in the realm of social media," she remarked.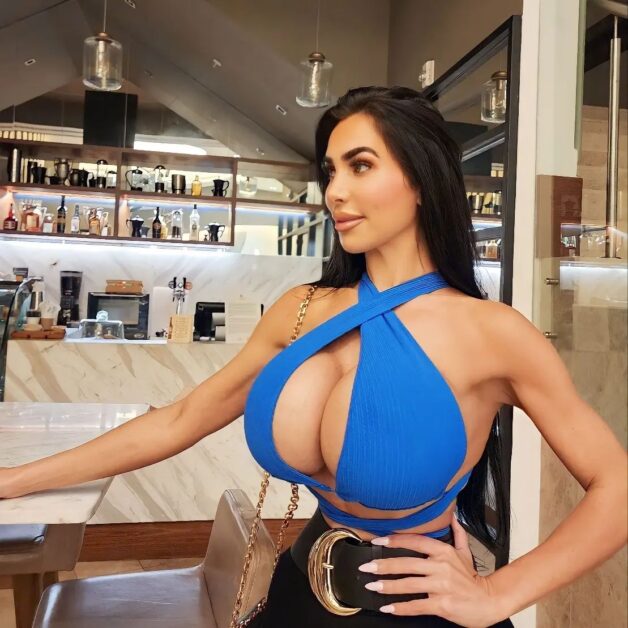 "During the initial stages of my online presence, this awesome lady named Dot from Mirror Images helped me create my online identity in the celebrity lookalike industry. But then COVID came and messed everything up. As I gained more followers, they asked me to start my own brand. I was dead set on going after the look I wanted and staying true to myself, even if that meant being a bit more out there than what's considered normal. I didn't care what other people thought. I just wanted to be me. Move on from the Kim K lookalike label and build my own Empire of fans; hence the internet name of @Ashtens_Empire."
As an international television, print, and fashion/bikini model, Ashten had many exciting experiences. However, the Hooked on the Look episode stands out because of how viral it went.
"The shoot was an extensive process, encompassing interviews and footage, but it opened so many doors for me," she admitted. "I'm so lucky to have had the opportunity to travel worldwide, all expenses covered, to promote lavish resorts, exquisite eateries, and captivating events. I could never have anticipated receiving invitations via email to publicize a high-end resort located across the globe, a Greek restaurant, or host events at Formula 1 racing venues scattered throughout the world."
As for her personal life, Ashten has been dating her fiancé, Jimmy, for five years. She considers him her true best friend and the real definition of a soul mate.
Regarding keeping in fantastic shape, Ashten believes that what we intake is essential. She is a pescatarian, which means she only eats fish and no other meats, chicken, sweets, carbs, or alcohol.
She drinks about a gallon of water per day. She does cardio for about an hour daily, 400 "non-weight resisted" sit-ups, lightweight high-rep arm workouts, and usually wears a waist training corset at night.
As for her future plans, Ashten's goal is to continue growing her fan base and save for the next business opportunity.
"My goal is to get even more fans so that anything I put out there will be a hit. It's not just about posting pictures and waiting for likes and comments; you gotta turn yourself into a business and use your imagination to make your dreams come true," she concludes.