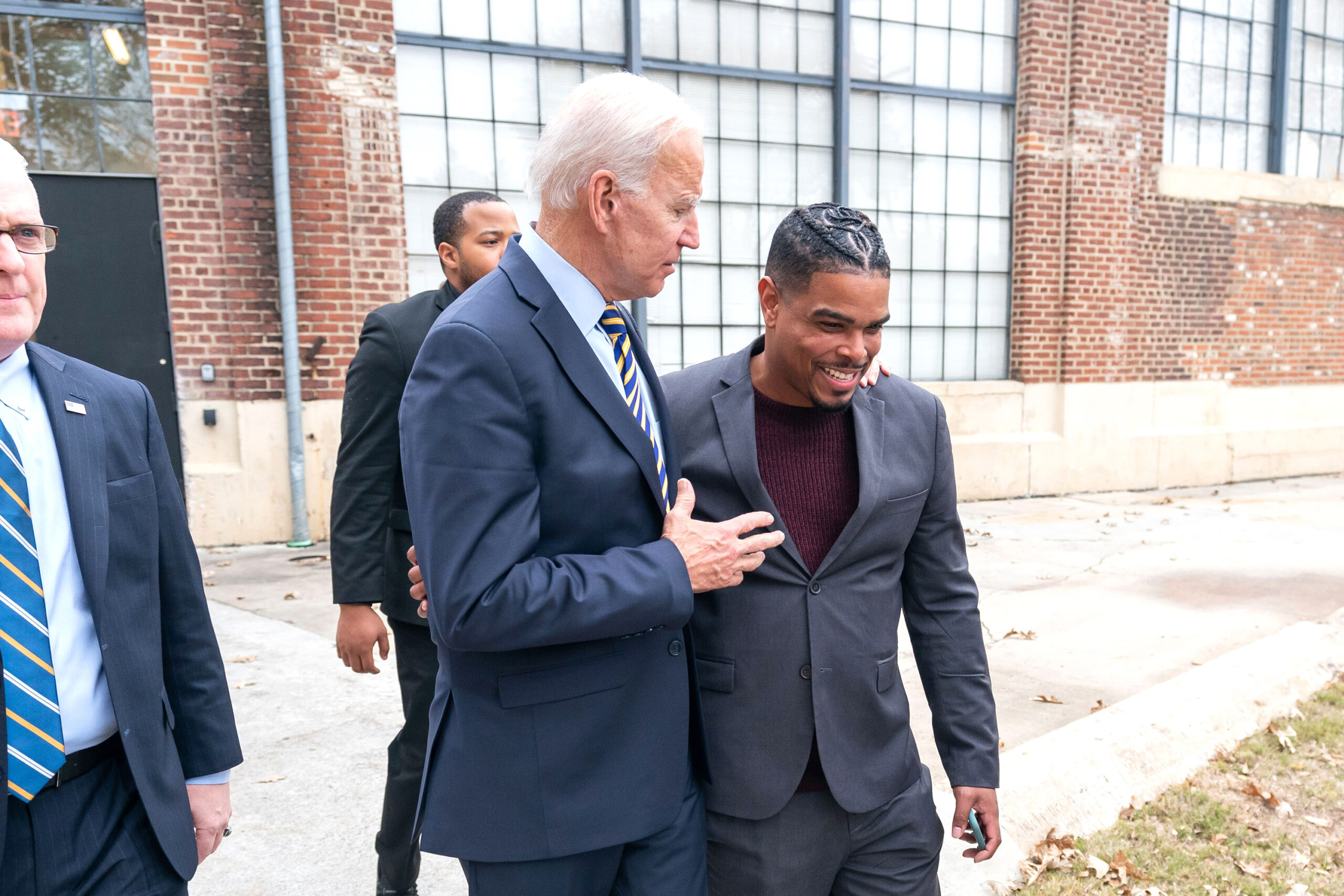 On November 20, 2020, less than two weeks after networks announced President Joe Biden's victory, millions of rap fans tuned into the highly anticipated Gucci Mane vs Jeezy Verzuz rap battle at Atlanta strip club Magic City. But before Gucci dropped his diss records, viewers got a surprise sixty second commercial: it was Democratic superstar and community organizer Stacey Abrams, beaming in virtually to remind Georgians to vote in the upcoming Senate runoffs.
Due to a highly unusual set of circumstances unlikely to be replicated, Georgia's two runoff elections in early January 2021 would determine whether Republicans or Democrats would have control of the United States Senate for the next two years. Democrats feared a repeat of the Obama years, when Republicans held the majority in the Senate and were able to block many of his initiatives.
In order to gain the Senate majority and give incoming President Biden and Vice President Harris a fair chance to bring about change, Democratic organizations took an all-hands-on-deck approach. In Atlanta, long a Hip Hop mecca, it was only natural that the Hip-Hop would be a part of the campaign. "Our culture runs this city," T.I. told CNN. "[We can] use that influence as leverage to support the right people who have a genuine interest in helping the people in our communities."
Many politicians in Atlanta have worked closely with the Hip-Hop community, including the current mayor Keshia Lance Bottoms. She gained national recognition this past summer when she, joined by Killer Mike and T.I., issued a televised announcement pleading with Black Lives Matter protestors to remain peaceful to effectively get their message across. The previous mayor, Kasim Reed, could be seen canvassing the West Side with T.I. during his successful campaign.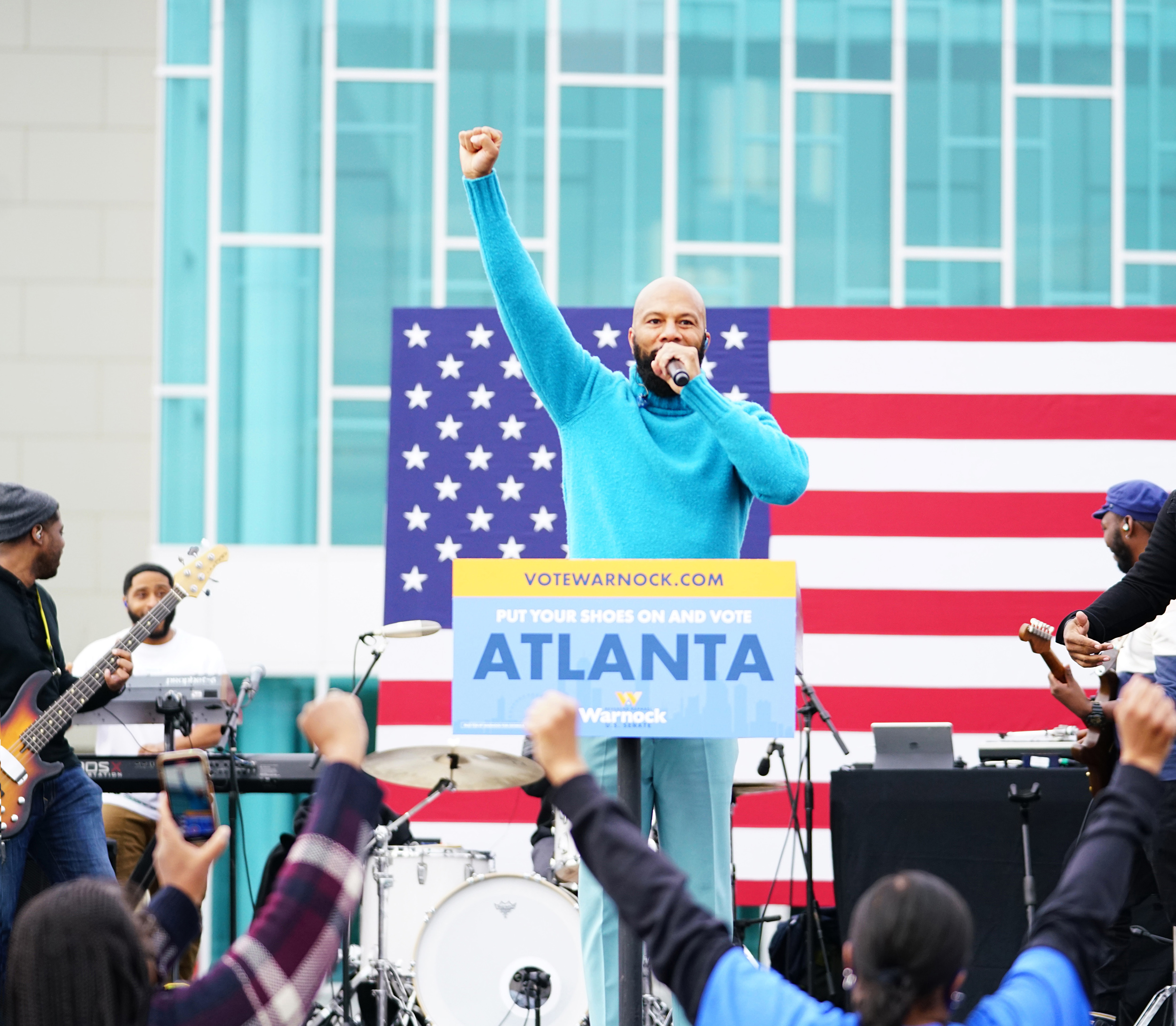 Leading up to the runoffs, 2 Chainz performed at an Ossoff & Warnock rally which featured a special appearance from President Obama. Monica performed a free "get out the vote" Parking Lot Concert. Offset appeared at a Biden event. Rick Ross performed at a "Joy To The Polls" holiday concert. Jermaine Dupri hyped up the crowd in the Atlanta suburb of Conyers. Common graced the stage at Reverend Warnock's campaign events in Savannah and Austell, offering up a custom freestyle dropping Warnock and Ossoff's names. Killer Mike hosted a roundtable discussion with the candidates at popular coworking venue The Gathering Spot. Michelle Obama's When We All Vote organization sponsored a drive-in concert with Rick Ross, Common, Jeezy, Monica, DJ Drama, and more. T.I. posted on Instagram, "We need to Move Mitch Out The Way by electing (Raphael Warnock) and (Jon Ossoff) to the US Senate .. The World is watching."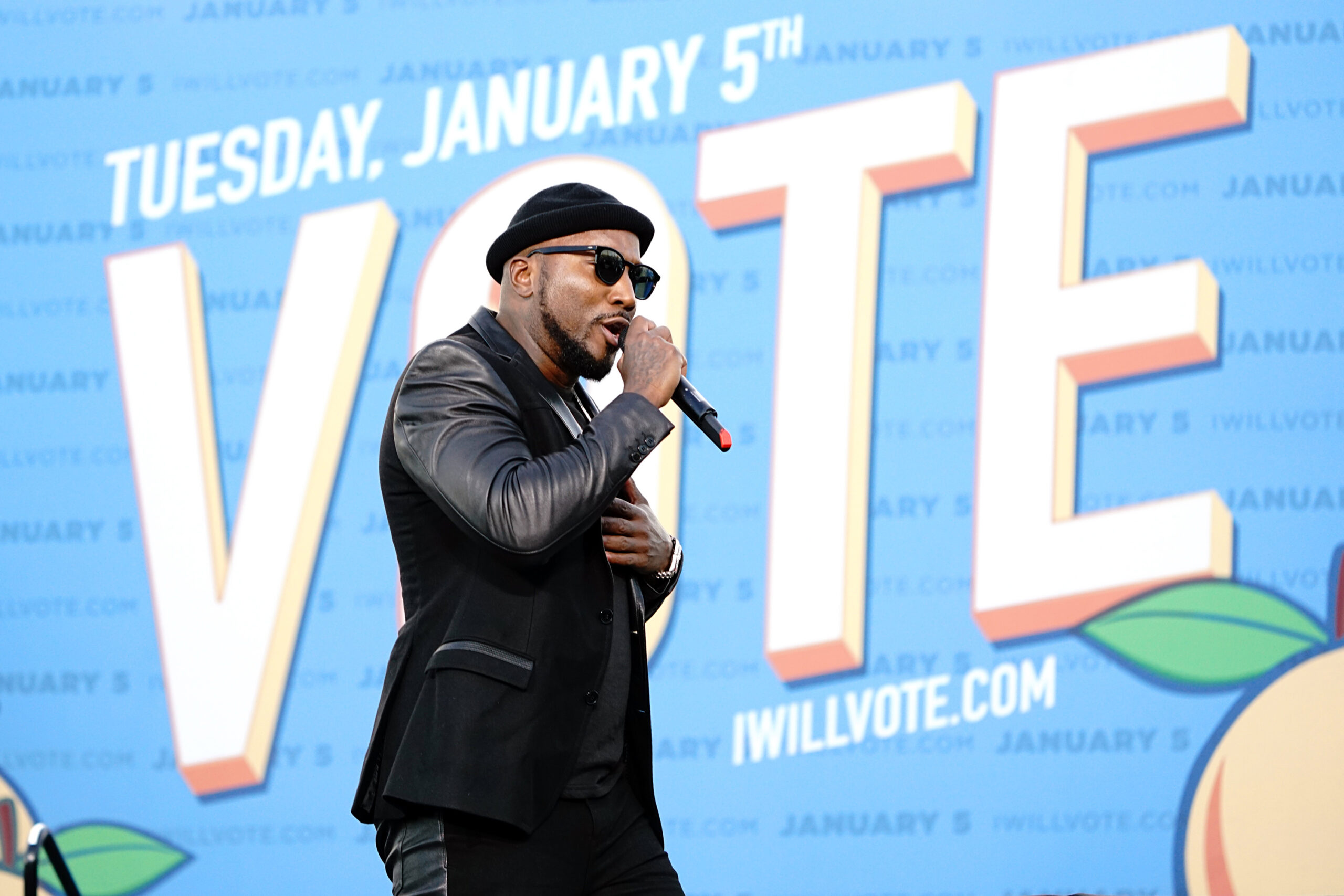 Jeezy penned an editorial for Rolling Stone, with the disclaimer that he isn't a politician, just someone who cares about his community. "If the right people are not in the Senate, it's gonna make it hard for the Biden-Harris administration to do anything they need to do and that they promised to us," he said. "What we did see by Georgia turning blue [in the general election] … it was about people mobilizing. So here with this runoff, we have to continue to do the same thing, because we can't fight half the battle and then not finish the war."
Despite the controversy surrounding Lil Wayne's embrace of President Trump, his daughter Reginae hosted an Ossoff and Warnock campaign event in DeKalb County which also featured performances from J.I.D., Tokyo Jetz, and Shelley f/k/a DRAM. Moneybagg Yo and Mulatto offered a free concert for voters headed to the polls in downtown Atlanta. During the final weekend of the campaign, Jeezy and Ne-Yo graced the stage along with Kamala Harris and Joe Biden to encourage Georgia voters to make it to the polls. Jermaine Dupri and D-Nice, joined by Mayor Keshia Lance Bottoms, performed a special rendition of the Ludacris record, tweaking it as "Move, Mitch, Get Out The Way!"
When the runoff date of January 5th finally arrived, exhausted Georgia voters had been bombarded for weeks with reminders to vote: nonstop television commercials, phone calls, texts, DMs, mailers, and handwritten postcards. But it worked. The runoff election turnout nearly reached the same levels of the general election, with an especially strong turnout among black voters helping to tilt the race in the Democrats' favor. Ultimately both Warnock and Ossoff would emerge victorious over their incumbent Republican opponents.
"Minus the Hip-Hop involvement, we might have had a different outcome," Killer Mike told CNN. "I don't know of one person in hip-hop who did not do something, from Migos to Lil Baby. I've seen everyone from our community take part in some way."
Phillana Williams, who served as Surrogates Director for the Warnock campaign, has a close relationship with the Hip Hop community. She previously worked at legendary record label LaFace and managed singer Ciara. Although she was influential in recruiting many of the artists to perform at the campaign events, she also recognizes that they have more to offer.
"Oftentimes [politicians] call musicians just to perform, but they're more than that," she told Rolling Stone. "They're people, too. They have mothers and fathers; they're parents. They care about health care. They have family that have regular nine-to-five jobs, even if [musicians] don't. [Entertainers are] being affected by the pandemic – actually more than any other business group. The entertainment business has taken the hardest hit, and will be the last one to come back."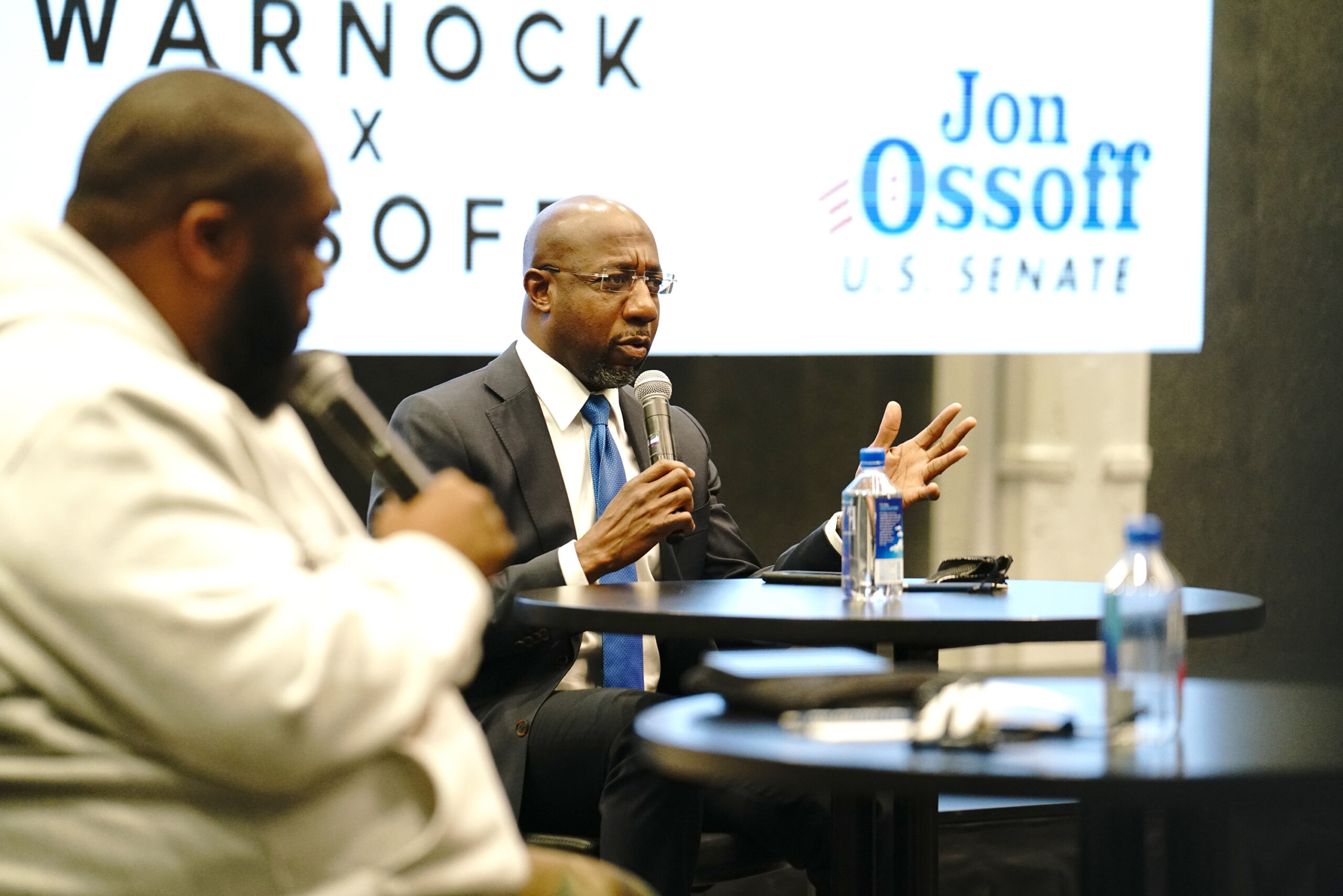 "[When we recruit entertainers, it's] more than just, 'Hey, can you get on the stage and sing?'" she added. "They need to be talking, because they have organic audiences. Not that politicians don't, but politicians talk a certain way. Musicians are very open and honest about their lives." With this in mind, Phillana helped bring together Killer Mike, Common, T.I., Jermaine Dupri, and Big Tigger for a livestreamed roundtable discussion with the candidates. In it, the artists challenged Ossoff and Warnock to provide specific details for their plans on issues such as prison reform and gun control.
Meredith Lilly, a senior advisor on the Warnock campaign, also took a hands-on approach working with entertainers such as Common. After their campaign event in the Atlanta area, Reverend Warnock and Common were spotted at a nearby church handing out generous Christmas gifts such as bicycles and televisions to needy children, with Ms. Lilly on hand to give assistance.
Lucky guests who snagged an exclusive ticket to the final campaign events with Kamala Harris in Savannah and Joe Biden in Atlanta were treated to DJ sets by D-Nice, who was recruited by Reverend Warnock's Director of Advance, Laurence Wilson. Planning campaign events in 2020 was compounded by the additional complication of the coronavirus pandemic, but the Warnock team was up to the challenge. Rain or shine, they held socially-distant drive-in rallies outdoors, taking all precautions to ensure attendees' safety.
A St. Louis native, Mr. Wilson once had dreams of becoming a filmmaker, but fell in love with politics as a teenager. Knocking on doors on behalf of his older cousin/mentor, Congressman William Lacey Clay, would eventually lead him to a college internship in Washington D.C. and a life-changing encounter with then-Senator Barack Obama. "I sat behind him for an hour and a half [in a meeting with the Congressional Black Caucus]," Laurence recalls. "I was amazed by [the thought that] 'Wow, this could be the first black president. This is historic.'"
After graduating from HBCU the University of Arkansas at Pine Bluff, Wilson worked on Hillary Clinton's campaign but suffered a career setback with her unexpected loss. He rebounded by working with the Parkland shooting survivors' March for Our Lives Tour and a successful City Council race in Atlanta for candidate Antonio Brown. "That's when I got my political spark back and I realized, 'Maybe I'm still good at this,'" Mr. Wilson recalls.
Mr. Wilson took some time out of his schedule to explain the importance of getting Hip Hop artists involved in political campaign events and describe some of the behind-the-scenes experiences.
AllHipHop: When did you get involved with the Biden/Harris campaign?

Laurence Wilson: In August 2019 I was hired to work on now-President Biden's campaign. I was the National Advance Associate, a role which basically had me traveling the country setting up events not only for President Biden but also for First Lady Jill Biden and Vice President Kamala Harris.
AllHipHop: What's an average day like on the road?

Laurence Wilson: It's crazy. You might fly into a city, rent a car, go look at sites that could potentially be used for a rally. You're doing walk-throughs with the Secret Service [for security purposes], drawing diagrams for the staging, working with the production team, building out the infrastructure so that when [the politician] comes to town it will be a successful rally. And then you go to the next city. So you're living out of a suitcase. I did that for fifteen months [with the Biden campaign] and then went straight into the [Senator Raphael] Warnock campaign.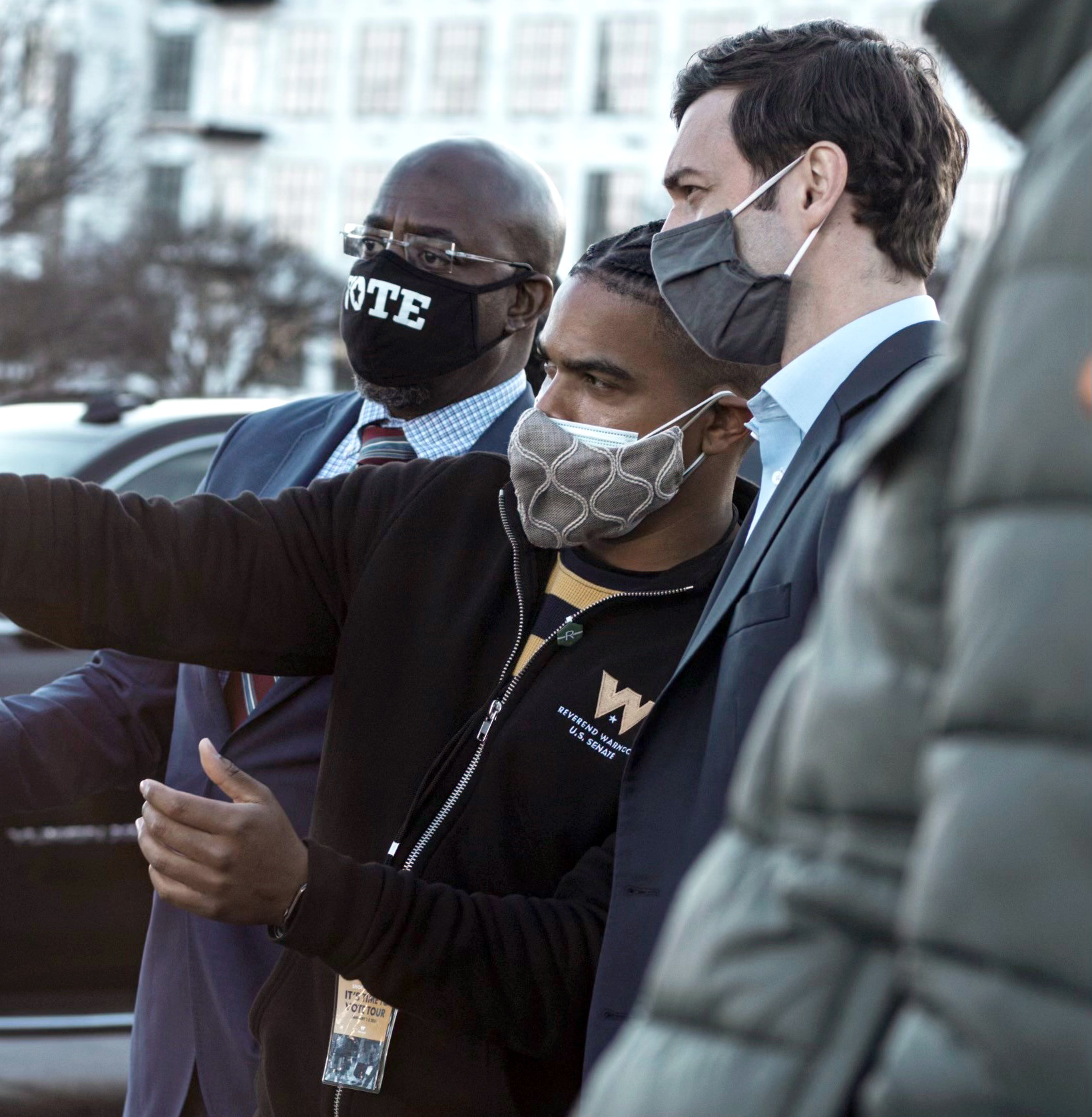 AllHipHop: What are some of the qualities you've seen in these politicians that makes them successful?
Laurence Wilson: For me it's about how driven they are and how active they are in the community. I really believe in people who are down to earth and really want to make a difference. That's evident in the people I've worked for who share the same views as me. I never want to see anybody struggle. I always want the next person to be able to have a seat at the table and have opportunities. Those opportunities aren't always afforded to you as an African-American man, you know, we always have to strive harder, and I don't want that to be the case. That's why I was always [supportive] of President Biden from the beginning because [I've seen how] he was able to sympathize and empathize with people. He's really [the type of] person who wants to see everybody succeed. That's what I do every day: try to have a seat at the table and bring other people into the equation.
AllHipHop: After Biden's victory was confirmed, was that just a natural transition for you into working with Reverend Warnock's campaign?

Laurence Wilson: I knew what I had done for President Biden's [campaign] and I knew [Warnock] needed the help, so I felt like I was in a unique position to help continue saving democracy. I felt indebted to Joe [Biden]. I know the inner workings of politics and I understand that governing and campaigning are two different things. When I got the call to help Reverend Warnock's campaign, I knew I could add that flavor, not only with planning the events, but also making sure I'm elevating him [on all platforms]. When we're going across the state we have him on livestreams, promoting him [on social media], and a lot of people told me, "On the event side, you really operated Reverend Warnock's campaign [as if] it were a presidential campaign." That's basically what I set out to do. I felt indebted to [Biden] to continue answering the call of service and make sure we could rewrite [the direction of] history after, you know, the story of the last four years.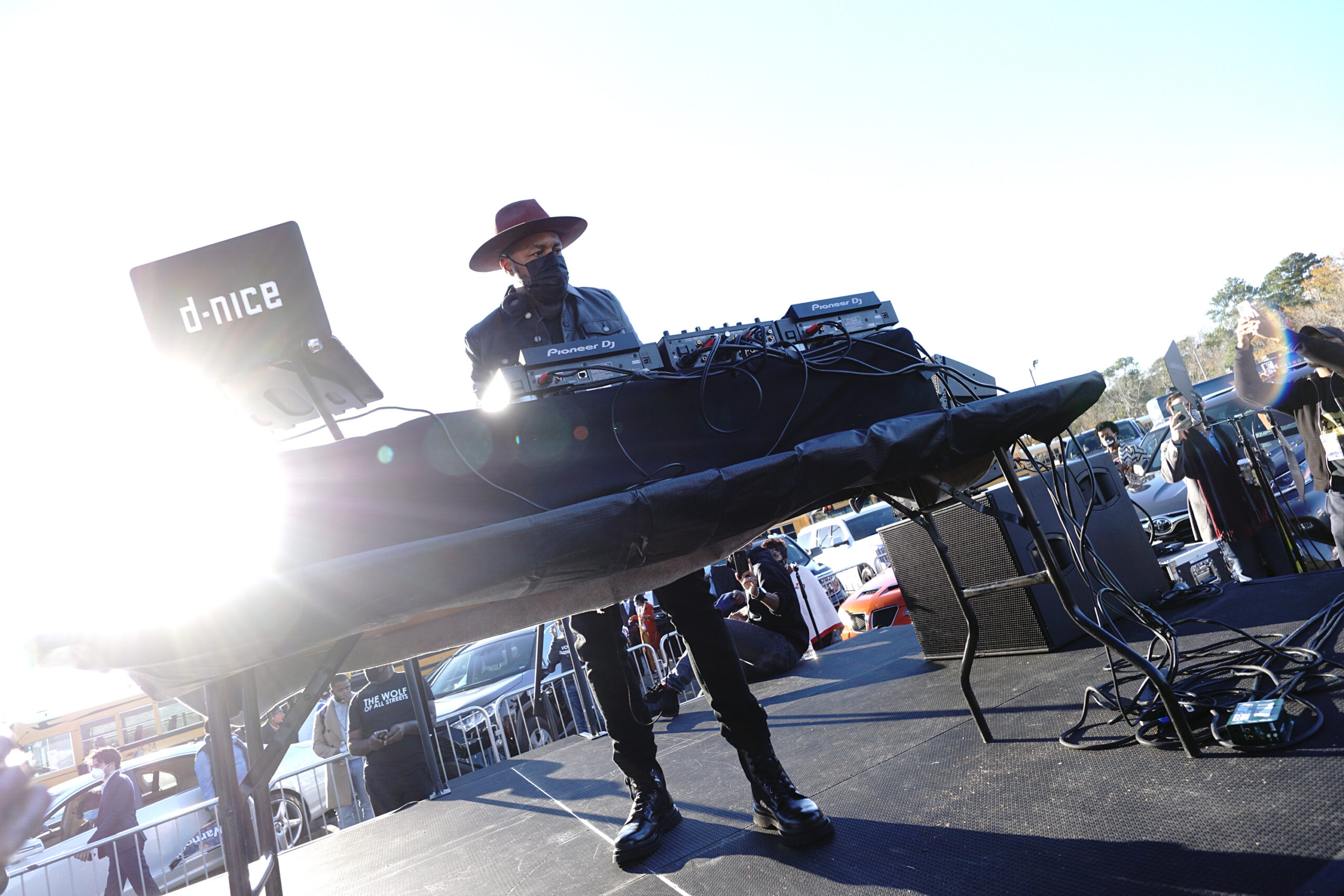 AllHipHop:  We saw during the campaign that a lot of hip hop artists got involved, like Jeezy and Jermaine Dupri and D-Nice. Is it difficult to walk that line of finding artists who are appealing but not too controversial in a way that might cause problems for the politicians? How did those situations come about?

Laurence Wilson: I had a hand with Vice President Harris in [planning some of those performances at her events] and I was on the trip calls with her office, so, yeah, that definitely can be [an issue]. I remember talking to one of my colleagues and I was pushing for artists like Lil Baby, who is influential with the younger generation, to perform. But we do have to go through a vetting process when we're bringing in artist. We have to look at their lyrics and the image that we're putting out to the public. For example we did have Common perform. Common is an artist who caters to a wide audience and he's also impactful with all the work he's put in helping the communities. Jeezy has done that too. I actually was able to bring D-Nice to Georgia through a mutual friend. That really elevated the whole campaign experience, having D-Nice [DJ] in Savannah, Augusta, and Albany [on the campaign tour stops]. That's one of my proudest moments because he [was so influential in 2020] keeping everybody rocking during the covid pandemic while we all had to quarantine at home. He's also for the people. So you can bring the political side but in order to have far reaching [impact], we wanted to include musical artists in that equation.
AllHipHop: Do you think your presence can help open doors for more African-Americans and minorities in politics and help combat the perception that entertainment and sports are the only routes to success?

Laurence Wilson: A lot of people [tell me] that they're inspired by looking at my social media. On Election Day I had at least 20 messages from people telling me "Congratulations" and telling me, "If it wasn't for you posting every day about Joe Biden and Kamala Harris, I wouldn't have voted. This was my first time voting, because I saw someone who looked like me in the inner circle with these [politicians]." So people telling me that I'm the reason they went to vote for the first time, I think that really carries weight. During Reverend Warnock's campaign, I was really putting my brand on it, posting pictures and videos from [the campaign trail]. So even for people who don't know me personally, for them to see the level of access that I have and the situation that I'm in, it's something I'm very grateful for and I hope it helps other people achieve [their goals]