Today is Harry Belafonte's birthday!
It is hard to put in words what Harry Belafonte aka Mr. B means to us all. He's an international treasure that turned 88 years young today. Still very active on the front lines, his roots and influence runs deep. We love him over here, but we aren't the only ones. Here are a few facts about Mr. B. However, to really gain some understanding, google him or talk to somebody of age.

He was the first artist – of any race, gender or genre – to ever sell 1 million copies of an album.
A few years ago, gold album sales were just selling 500,000 units and platinum sales meant 1,000,000 units peddled. These days, album streams are factored into those numbers…its weird. Back in 1956 though, Mr. B moved 1 million copies of his album Calypso which included the smash "Day-O (The Banana Boat Song)." In 2011, Lil Wayne and producer Bangladesh sampled "The Banana Song" and turned it into the hit record 2010 "6 Foot 7 Foot."


He marched with Martin Luther King Jr. and still helps activists and Social Justice movements.
"Mr B has proven himself to be a man of the people and a champion for social justice. He has never gotten stuck in doing it his way or his generation's way. He is truly invested in inter-generational work and providing space and platforms for young people. He has showed it time and time again – from seeing the power in Hip-Hop to seeing the need to stomp out the Prison Industrial Complex. Many people meet him ready to praise him but he is humble, ready to work and learn as well. It is beautifully humbling to see the legacy he is still creating even as an elder to connect us as young people, elders, activists, artists and those most impacted."
– Autumn Marie, community activist and organizer
Martin Luther King, Jr. Was A Close Friend
It is pretty well known that Mr. B didn't just talk the talk, he walked the walk. He was already an entertainment phenomenon when he put his good looks and talents to good use, backing the Civil Rights Movement. He often put his money where his mouth was, and many other cliches. He was great friends with the luminous likes of Dr. Martin Luther King, Jr.
Harry Belafonte was one of the producers of the seminal Hip-Hop movie "Beat Street"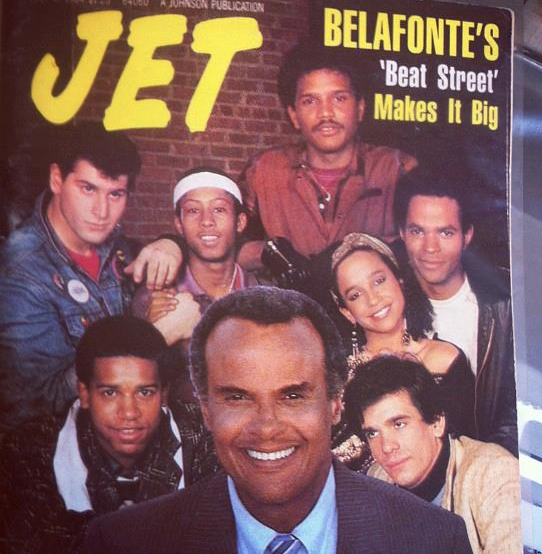 Crazy Legs of the world famous Rock Steady Crew was one of the young dancers that powered the most authentic scenes movie. He tells a story about Mr. B that stayed with him since the 80's. "When we were filming Beat Street, he had a ring with the initials "L.M.," Crazy Legs tells AllHipHop. "Being the ignorant person that I was, I said [to Harry that means] 'Love Money.' And he told me 'No, Love Many.' It always stuck with me."
Here is Mr. B with a bunch of Hip-Hop legends celebrating "Beat Street" – 30 years in 2014.
And here is Crazy Legs and The Rock Steady Crew duke it out with the New York City Breakers in an epic battle.
Mr. B is still helping rappers like Tef Poe (activist rap artist from St. Louis) and Jasiri X (activist rapper from Pittsburgh).
"Mr. Belafonte is a shining example of what every entertainer of his caliber should aspire to be . He is committed to his people and has showed up many of times when no one else was bold enough to defend us. Through legacy we are able to view the power of his power moves and mistakes and utilize them both to take the movement to the next level. He will indubitably go down in history as a challenger of the status quo."

-Tef Poe

Here is Jasiri X's "Don't Let Them Get Away With Murder," which was produced by Mr. B's Sankofa Organization. Yours truly is also featured in the Susanne Rostock-directed video with Tef, Hakim of Channel Live, Tory Russell, and a bunch of others committed to change.
He was a heart throb back in the day. Man. He could have been called LL Cool B.


My Mom Likes Mr. B!

I have talked to my mother about Harry, mostly after I first met him in 2012. She went on and on at that time. Here is what she said this year.
"He certainly has been a positive role model for Black people and I've always enjoyed his music. I used to love the calypso type music. I like all music. In his later years, I've always been encouraged by his fight in Civil Rights. He's one of the pioneers for Black people in theater – he and Sidney Poitier (. They are two renown Black stars that have a huge legacy…the two of them and Diahann Carroll. He's very gifted."
-Chuck Creekmur's mother Mrs. S.W. Creekmur
Mr. B and Chuck Creekmur
Happy Birthday, Mr. B! What a remarkable man. I teach my daughter about Harry Belafonte, listen to my mom talk about him and study his life. He's steadily been a rock from Hollywood to Hip-Hop, from MLK to rapper Jasiri X and beyond. To this day, he's still fighting for Equal Rights and Justice to this very day – at the ripe age of 88! One of the last of a living breed. I cannot remember what he said as this pic was being snapped but it was a hilarious quip about Hip-Hop. #salute #live #love #honor #March1