With Dancehall and Afrobeats taking over the world, we have to give our flowers to Ice Prince. 
Hailing from Nigeria and putting on for his country at all given moments, the superstar recording artist first exploded onto the scene a decade ago with his timeless smash "Oleku," currently one of Nigeria's most remixed songs of all-time.
Speaking on his name, he states, "Because I'm cool like that baby. [laughs] I come from a city called Jos, it's the coldest place in Nigeria. I used to wear a lot of Ruff Ryder dog tags when I was young, that had all the ice on it. They started calling me 'Ice' and it stuck."
Beyond his endless accolades, which include one BET Award, one Ghana Music Award, three The Headies Awards, two Nigeria Entertainment Awards and two Channel O Music Video Awards, it's Prince's feel-good sound and vibrations that resonate with audiences all around the world. 
Serving as one of the first rappers from Africa to start poppin' in the US, the artist, whose real name is Panshak Zamani, has worked with everyone from French Montana to Jeremih to Wale — well before the Afrobeats wave started – and, more recently, Major Lazer.
Fast forward to this year, Prince is celebrating a new deal with 300 Entertainment, which just released his new single and visual called "Kolo." 
AllHipHop caught up with Ice Prince, who just returned to Lagos after visiting Abuja for the weekend. 
AllHipHop: What does Nigeria mean to you?
Ice Prince: My music. I make Afrobeats, hip-hop music. That's literally the music we make out here in Nigeria. Afrobeats is a mixture of pure African melodies, African instrumentation, African stories. Afrobeats is the greatest genre in the world right now. It's what everybody's listening to, and I make the hip-hop version of that. That's what I do.
AllHipHop: Growing up, did you ever think you'd be where you are now?
Ice Prince: Definitely not, man. I had dreams to be like the musicians I watched on TV and saw around me, but I didn't think I was going to have my own songs being played on radio, TV, in the club, or me being booked to perform. I didn't see that coming.
AllHipHop: What were your dreams?
Ice Prince: I had so many dreams as a kid. At some point, I wanted to be a doctor. One time, I wanted to be a soldier. One time, I wanted to be a pilot. My dreams kept changing every two years as a kid, but music found me around the age of 14 and I stuck to it.
AllHipHop: Biggest influences coming up?
Ice Prince: First of all from overseas, I was a big fan of Tupac. I was always listening and playing Tupac, even before my adolescence. I was always a fan of Jay-Z, Nas, DMX, that type of raw energy on the music. Locally, I used to follow musicians like Bright Chimezie, who's a legend. Absolute African legend. Musicians like Brenda Fassie from South Africa, Yvonne Chaka Chaka, Fela Kuti, I grew up on that music as well. All the people in my family, I grew up on a lot of good music.
AllHipHop: Bring us back to when you made "Oleku," one of Nigeria's most remixed songs of all time.
Ice Prince: Man, it was one of those songs we did in a rush. Real story, that record was made in under 30 minutes. Didn't think it was going to come out to be what it was, but God put his hand on our record. It made me into an artist, turned me into a real artist. I could perform, I could do stuff. Shout out to Jesse Abaga for producing the song, shout out to Brymo on the hook. We made magic with that one. We didn't think it'd be like that, but it turned out to be really, really amazing.
AllHipHop: How does it feel to celebrate the song's 10th anniversary? Along with your debut album, Everybody Loves Ice Prince.
Ice Prince: Yup, it's 10 years into my first album Everybody Loves Ice Prince. 10 years later, I still feel very loved. I still feel very accepted, very respected, very cared for. All these people out here putting all these comments, they keep me alive. They keep me going, they keep me motivated. I feel blessed and honored to be able to make music that'll speak to people. I just dropped a new song called "Kolo," and my people are loving it. That's one of the best feelings ever.
AllHipHop: What does "Kolo" translate to?
Ice Prince: Okay so "Kolo" is broken English for insane or mad. It's a song that talks about love, being crazy about it, being insane about a girl. You know how love drives people crazy? That's the premise of the song and what it was talking about.
AllHipHop: Who or what inspired this record?
Ice Prince: Someone in real life did inspire that record. Shout out to Oxlade on the hook, shout out to Egar Boi, the producer behind it. People put in an amazing idea for the beat and for the song itself, and we wanted to talk about real life situations. From the hook, Oxlade was telling me about a girl that he was crazy about during the pandemic. She drove him nuts. Funny enough, we shared the same story. I had a personal experience like that, too. In this song, I wanted to tell this girl how much I could go for her, how much I could do for her, or how crazy she made me feel. I'm blushing talking about this because it's a real-life story, so permit me to put my shades back on. [laughs]
AllHipHop: Does she know it's about her?
Ice Prince: I'm sure she does. She's actually fighting me right now, she's not talking to me. She's mad at me for some reason. The fights don't stop. [laughs] 
AllHipHop: You shot the video in an indoor studio in Lagos, Nigeria. Best memory from the shoot?
Ice Prince: The set where me and Oxlade are performing with the models by the plain white background. I really had fun performing with Oxlade because Oxlade is always quick to tell me how much of a fan he is to my music. He's somebody who really loves my music, and I'm a huge fan of his music. He's told me stories about how he used to perform "Oleku" at social nights when he's in high school. Being on set with somebody who's younger than me and has learned one or two things from me, having him perform and give me some energy on set was my fondest memory from that video shoot. Shout out to UAX Productions, the guy behind the video and the images. It was very easy, one of the easiest video shoots I've ever had in my career. It was nice working with them.
AllHipHop: How does it feel being one of the first rappers from Africa to start poppin' in the States?
Ice Prince: I have to laugh at that because I don't even know what "poppin' is. I take that as a compliment, right? It feels good to be given the opportunities I've been given in my lifetime, to have won certain accolades. I had the chance to win the BET Awards for Best International Act, a momentous time in my career. To work with some people that I really admire or respect their music, from French Montana to Wale to Krept & Konan to Wizkid to Burna Boy, everybody else I did music with all around the world. It feels great to be able to do my part and make people happy with the music. 
One of my favorite collaborations recently was with Major Lazer on "Particula." Bringing my culture with their culture, with South African culture, everything we put together in that record was such a moment for all of us. It's something I'm going to cherish for life. Whoever it is I have a chance to make magic with and give the people good vibes, it's always history for me. It feels good, I feel blessed.
AllHipHop: Talk about working with all these artists, from French Montana to Jeremih to Major Lazer.
Ice Prince: It's a moment in my life that I'll never forget. When I did that record with French at the time, it wasn't a regular thing to see an African artist collaborate with an American artist of that caliber. It did open a few doors for me, and for my people as well. The record we made got played by major radio stations across the world. It's always been easy, out of mutual respect. I remember French literally booked a studio for me. He took me to Manhattan in New York to record at Daddy's House. He made sure he took care of the session, took care of me. He wasn't doing it for no reason but love, and I truly cherish that. Jeremih, everybody I've worked with has purely been off good vibes. Off good relationships, and that's really amazing. That's what I love and cherish the most.
AllHipHop: 3 things you need in the studio?
Ice Prince: "Gimme the lighter! Gimme the push!" I'm singing you a song, you can decode that song to know one of the things I need in the studio. It's called "Gimme Dat" featuring Burna Boy, Yung L and Olamide, I need to put you on that ASAP. I definitely need me water. I drink water like a fish. All the time, I'm drinking water. I need me some co-writers. I do like to record with other co-writers. I don't like to make a record all by myself, my own intuition, my own feelings. I always like to have people to suggest "do this that way, do that this way." Usually I have co-writers with me in the studio.
AllHipHop: How was linking with Tekno on "Make Up Your Mind"?
Ice Prince: Ah Tekno, that's my guy. Tekno's my friend. Over the years, we've always made music together. Like you said, "Oleku" is one of the most remixed songs from this side of the world ever. Of all the remixes I heard back in the day, Tekno's remix was the only one I put a verse on. I recorded a remix and ever since then, me and Tekno have made other projects or other songs for ourselves and for other people over the years. It's always amazing to link up with Tekno. He loves me so much, he always calls me "CEO." Even though I hate that name, it's out of love and respect. I love him so much too, man. Me and Tekno have so much music, we can put out a joint project if we wanted to. There's a lot more coming between me and Tekno for sure. Amazing, amazing, amazing human being.
AllHipHop: How'd you find your way to 300? You're one of the first African artists to sign to the label.
Ice Prince: Man, it feels so good to be part of that 300 family. I feel very blessed to be on that platform, to be recognized, to be managed, and taken care of by that platform. I got introduced to 300 by a publicist of mine called Rickie Davies, who I've been working with from the very beginning of my career. From "Oleku." She hit me up and said, "Yo Ice, I have this on my table. I think you're the right guy for it." I thought I was the right guy for it, too.
The intro was done, I flew out to New York. I met Kevin Liles, I met Lyor Cohen, the bosses. I met everybody at the label, they took me in as a family. They didn't take me in as an African artist coming out here, no it's a family formally out there. So far, so good. We have an album coming out very soon, my first studio album. Hopefully the world gets to understand what Ice has been up to.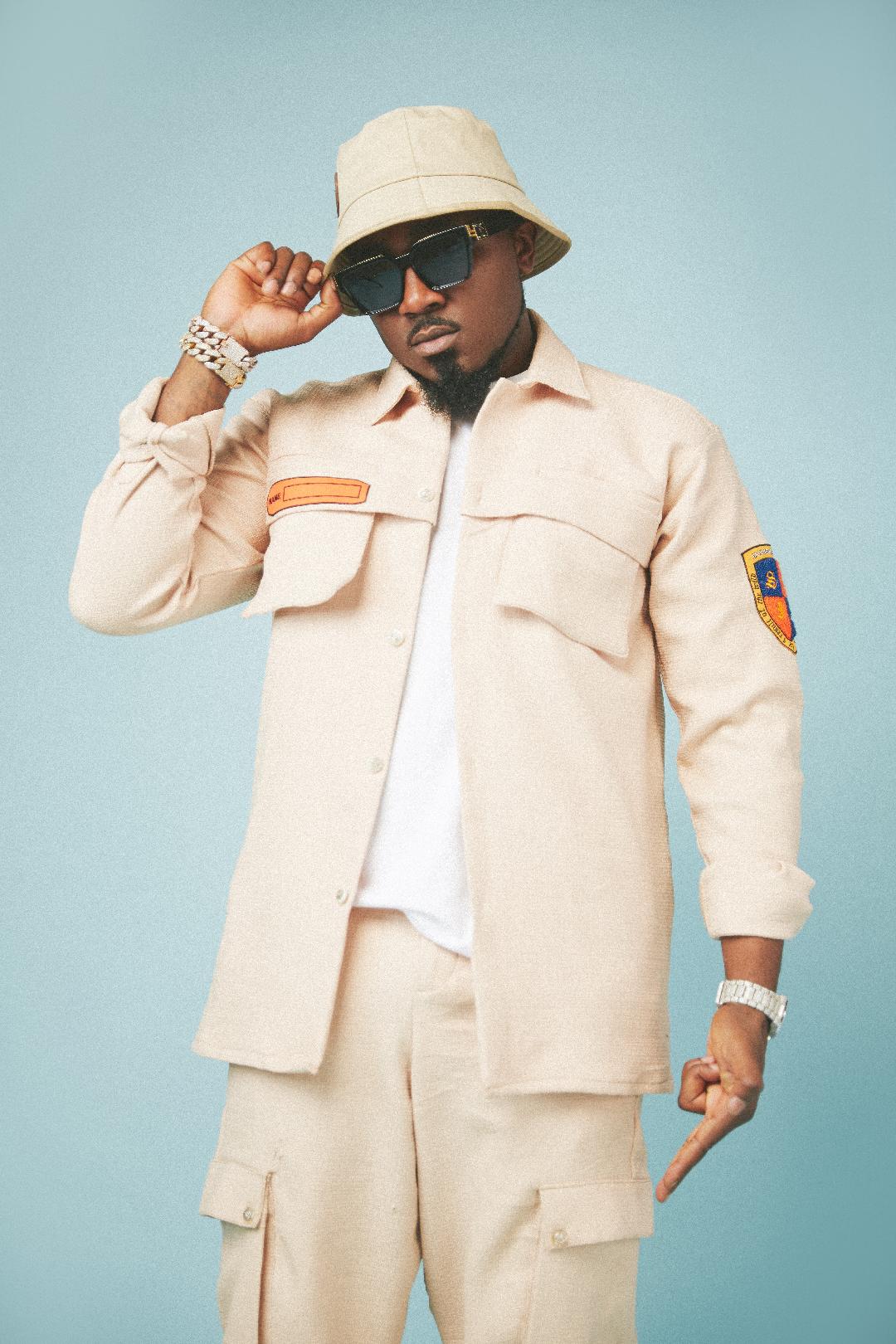 AllHipHop: What can we expect from your forthcoming album?
Ice Prince: Man, expect fire. Expect Ice. That's what the album is called, Fire and Ice. If you know me as an artist very well, I've dropped three albums so far in my career. This fourth one promises to be better than every other thing I've ever released so far. That's what I can promise you. I don't want to promise you what features or producers are on there, but trust me when I say I'm about to drop the best piece of music I've ever dropped ever in my life. I promise to make my fans proud, everybody proud. I promise to make you proud.
AllHipHop: What features can we expect?
Ice Prince: I don't want to let the cat out of the bag. [laughs] I might get in trouble if I tell you that, but yes there's a few international features on it. So far, it's not too out of my territory or my environment. You know how when you're recording an album, you have to submit a whole lot of songs? I don't know what songs are going to be on the album yet, but wait for it. It's going to be explosive, I promise you that.
AllHipHop: Someone said "Ice Prince: best rapper and fashion guy ever." Talk about your fashion and drip.
Ice Prince: My fashion is J-Town. It's Jos, the city I come from. It's the city I grew up in, that's how I grew up dressing. It's not like I intentionally created my style honestly. It's not like I sat down and figured out what I want to look like as a fashionista. How I dress is how I've always dressed growing up in J-Town, in Jos. It's the coldest city in Nigeria, so I grew up with a lot of varsity jackets. I grew up with a lot of fur, a lot of thick stuff, and I'm still like that until today.
AllHipHop: What are your glasses?
Ice Prince: My glasses are Fendi. I'm not trying to do an ad for them right now until they pay me the guap!
AllHipHop: Why's this your first album in 5 years?
Ice Prince: Because I've been trying to put it together right. I'm not the type of artist who rushes anything I do at all. I like to take my time to deliver quality. I wouldn't call myself a perfectionist, but I'm not in a hurry to throw out whatever or follow a trend. I hardly follow things that are trending, I hardly try to be a trending artist. I want to make music that can stand the test of time. Sometimes it takes quality time to create quality results, so I've been taking my time. Shout out to 300 for linking me up at the right time, now I can proudly tell you we're ready. We're good to go.
AllHipHop: Goals for yourself as an artist at this point of your career? 
Ice Prince: Man, goals don't stop. They're getting bigger everyday. Immediately right now, my biggest goal is to give my fans an album that's undoubtedly classic. That's my #1 goal right now: to give my people a classic album, that you can play 100, 200, 300, 400, 1000 years from now and it still sounds good.
AllHipHop: Most excited for this year since the world's opening back up? 
Ice Prince: Yo man, my schedule's filling up crazy. My schedule's getting busier by the day, I'm excited about that. I'm starting to make some good money again. [laughs] My manager showed me my itinerary, I see that I'm in another city almost every other week and that's wassup. Finally, we can take this music directly to the people, to perform these songs again to the people directly. I'm very much excited about that. I came back from Abuja over the weekend. I'm going to be in Jos for another show. I'm going to be in Calabar on Sunday for another show. We're going to be on the road, thank God this pandemic is finished. I'm tired.
AllHipHop: What do you miss most about the stage?
Ice Prince: I miss the people, that's what I miss the most about performing. Releasing a new song, going out there and having people sing along to it, that's my joy as an artist. To see my music makes you happy, that happiness on people's faces is what I love most about performing live.
AllHipHop: Anything else you'd like to let us know?
Ice Prince: I'm sending love and life your way, wherever you are. Big love from Ice Prince. Shout out to you @shirju, shout out to AllHipHop.com. Shout out to all the people pushing our cultures forward, the African story. Let me tell you, the African story is truly, truly an amazing story. Truly, truly a great story. We always talk about how Black Lives Matter or how Black people have made a huge impact around the world… I come from one of the Blackest places in the world. Africa is the raw material of this talent. I'm happy that right now the world is starting to see it, at least through our music. We hope that the world gives this ear to us because we have so much to deliver. I'm so proud of my people, where we are and where we're going.