December is almost over, leaving battle rap fans to reflect on the last year of events.
An unprecedented spin-around-the-sun, the culture was sent in a whirlwind trying to find footing during a season of mandated social-distancing rules. No battles meant for some a disconnect to that which gave them meaning. Since battle rap has gained momentum over the last decade, it has become a religion for some, fueled by rap mega-sized congregations yielding millions of views.
In the Ultimate Rap League's case, this Hip-Hop church is lead by Smack White as the officiant. The host of emcees show up as the liturgical players and the pew is occupied by the fans, the audience, those that used to pay hundreds of dollars to stand for hours to see the "lyrical choir" perform. Just like any other house of worship, you might find on the corner of any urban city block, leagues had to adjust. The owners, who produce these competitions, had to shift their model to virtual, returning to small rooms that were void of the celebratory thunder of crowds.
After a year of figuring out how to make their huge marquee events work in a small setting, URL has brought out the latest edition of their actual small room franchise card, VOLUME 6. And like the politics of any good church, there were some elders on the card determined to keep their position in the front as the artists closest to battle rap glory.
New Jersey's Arsonal da Rebel and the Bronx's Goodz da Animal are elders in this culture's church, reaching as far back as the mid-2000s.
Both have served fans top-level performances throughout their careers, but is it time for them to deliver their battle rap benediction and call it quits?
If fans are basing the decision to retire the two pioneers off of the December 12th card, then the resounding answer has to be "HELL, NO!"
The outstanding performances from Ars and Goodz, men that have dedicated their lives to elite-level competitive emceeing in two different decades, should set the record straight: age actually adds to the whole of what true emcees offer context-wise. Their last matchups proved that lyricism is not merely a contest only for the younguns', but for grown men that understand the craft.
Ars' foray against Jerry Wess stands as evidence that the culture still needs him.
Jerry Wess proved to be formidable. The Brooklyn scammer came ready to spar with the big dawg, but with punchlines that landed flat or not hitting as hard as envisioned, his extraordinary effort was no match for the poise and little man-ing that the U Dubb owner was able to demonstrate. *Eff the poise, *Wess was no match for Ars' performance, witty wordplay, and aggression. While he did not kill homie from 'We Go Hard,' he reminded him why he is arguably one of the top ten (maybe five) best battle rappers to ever walk this earth.
VOLUME 6 also afforded the fans an opportunity to see Goodz do communion and baptize his opponent Geechi Gotti in his sacred swag. While this battle was closer than Ars and Wess, it still showed the staying power of slick talk god.
Geechi Gotti, arguably the top battler of the last three years, approached this battle with brilliantly constructed rounds. He continued to demonstrate why he is a fan favorite, carries the West Coast on his back, and was worthy enough to stand in front of a burning bush and not flinch. With a cup of Hennessy in hand, Goodz sipped in remembrance of the other battle rap god (the boul from Philly) that died in his presence and steadily stirred the display towards a Gentlemen's 30 or a debatable 2-1.
The senior statesmen of the industry were not the only ones showing off.
If it can be said that the pioneers like Ars and Goodz built the House of Smack, then it is also possible to say that their Lionz Den brother K-Shine was right there building walls, hanging drapes, and keeping the lights on.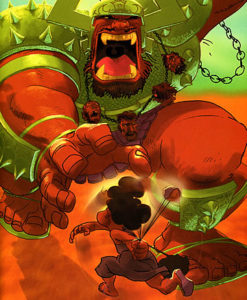 The "Hurkin' and Lurkin'" star was set to battle the Great Canadian in an epic David and Goliath contest. Pat Stay has a legendary style. Most of his peers fancy him an anomaly, as he has bars, humor, and crowd control like someone hardly anyone else.
After a year in the making, flubbed up by the 2020 coronavirus, he stood before the NWA founder —ill-prepared to handle the barracuda standing before him. He literally was, as he pointed out in the battle, another "six-foot-w**ger with a death wish." K-Shine killed Pat Stay with five lyrical stones that basically ended it for him. He literally looked like the Kyle Baker rendering of the old testament story.
Two other junior classmen, who've been around long enough to be vets but not yet old enough that people ask why they are still there, were Ill Will and Danny Myers. Ridiculously pegged to be the first battle of the night, these two gave the battle of the night. Seasoned enough by win after win, Ill Will just cannot be stopped. He just is a champion. How he moves, how he engages with others, the charm that follows him during interviews, and even in battle … point to why he just is unbeatable as a contender. After all, he was the UFF champion. Danny was not bowled over. He stood toe-to-toe and tried almost everything in his might to establish his presence in the battle. But Ill Will's elite pen, performance, and predatory-style of delivery just were not letting up. This is why he and K-Shine are probably the best contenders for Champion's COTY.
Speaking of COTY, the names B-Dot and Chilla Jones have been at the forefront of the conversation. But after this weekend's verbal warfare, that honor was sifted from B-Dot, the battler that has been killing it all year. This win for Chilla keeps him in the conversation for the title but was not dynamic enough for him to surpass the work of K-Shine and accolades of Ill Will. What it should do for the Boston King Pen is push him higher up with the collection plate. Let's get Chilla, the former KOTD champion, a substantial battle on a card where he can move his stock toward the levels of others in his battle rap class.
VOLUME 6, the greatest small room battle event in the culture, rounds off the year on a high note and reminds all of those watching that age ain't nothing but a number — and with it comes wisdom, work ethic, and drive. Those Lionz Den muthas are proof of that. Let the church say "AMEN!" The card premiered on Caffeine.tv and is now airing as VOD exclusively on the URL.tv app.