Jimmy Da Saint is here to inspire the masses with his story, passion, and relentless drive for success. Hailing from the trenches of West Philadelphia, the former rapper turned filmmaker and established author is a walking testimony of someone who fell victim to being a product of his environment, bounced back, and changed his life for the better.
One decade ago in 2010, Jimmy was sentenced to 10 years in federal prison, leaving behind his friends, family, and rap group called ICH (Inner City Hustlers). Finding the silver lining in the unfortunate situation, Jimmy turned to God and shifted his focus into the art of writing books. With no college degree or professional schooling, he taught himself how to not only write, but tell his story in a way that his peers could understand, feel, and relate.
Now as one of the top filmmakers in the game and an established author with endless novels, Jimmy comes out deemed the #1 Author of Street Drama. 
AllHipHop: How is it over there with COVID?
Jimmy Da Saint: Oh man, I been staying out the way.
AllHipHop: Being from West Philly, what was the household like growing up? 
Jimmy Da Saint: It wasn't bad. It's urban, it's the ghetto, but my mom found a way like so many others. It was pretty cool. It was hard, but at the same time I was blessed to have a roof over my head. A mom that made sure I got everything growing up.
AllHipHop: What was a young Jimmy into?
Jimmy Da Saint: Music, breakdancing, rapping, DJing, I was one of them kids. I had my little studio set up in the basement, I was really that kid. I could stay in the basement all day, make music and create. That's my whole thing, I've always been like that since I was a child.
AllHipHop: Biggest influences coming up?
Jimmy Da Saint: The breakdancers and the rappers, they were my influence. Watching those guys do it like "dang, I'd like to do that one day." I was influenced by early Hip Hop. So many of the breakdancers around Philly I got to see, and I wound up becoming one. They weren't no superstars or nothing. In the early days of hip hop, the breakdance movies, the rapping and poppin' movies, it was a lot of those movies. I was really into the Hip Hop thing real heavy at a early age.
AllHipHop: Talk about your time rapping in your group, ICH.
Jimmy Da Saint: It stands for Inner City Hustlers. That's a group I started with friends I grew up with around my neighborhood. We started rapping together and doing shows together, but we're always a bunch of neighborhood guys who grew up together. We made the group ICH and ran with it. We were out there, a lot of people knew about us.
AllHipHop: Talk about the significance in the name Inner City Hustlers.
Jimmy Da Saint: The name actually comes from a book. There was a book author from back in the day named Donald Goines, he wrote a lot of urban books. One of his books was called Inner City Hoodlum, and I liked that. I said "whoa, I'ma name my group Inner City Hustlers." It came from a book written by an urban book author that writes about ghetto life. My uncle had the book, I was looking at it and reading through it. I liked the title a lot. 
AllHipHop: Talk about your love for books and when you started reading.
Jimmy Da Saint: Really, that stemmed from going to prison. In prison, I started writing. I had so much time on my hand. I had to do 10 years in the federal prison so I started writing books and became addicted to it. It flourished. I started writing books, I sent it out to a few companies. I was offered book deals while I was incarcerated, then I took it and ran.
AllHipHop: How did you land in there? 10 years is a long time.
Jimmy Da Saint: I landed in there because I started selling drugs, I got into the street life real heavy. I became real popular in the drug world, around my neighborhood, in my section of the city. All the fancy clothes, cars, all that stuff. Next thing you know, the Feds was watching me and I got indicted by the FBI. I was a first time federal drug offender. I'd never been to jail before, it was my first time. I was out in the streets and it happened to catch up to me, I went to federal prison. They gave me 10 years and I started writing books. I started writing about the stories I grew up with, the stories that I knew. The stories that I lived, the stories that I knew that others lived. It turned out to be a blessing in disguise. 
AllHipHop: Did you pick up the writing from all the books you read or did you just fall into this?
Jimmy Da Saint: I really fell into it. I was in prison and I knew I had to do all that time, a decade. I said "I'ma do something," and I started writing. It came to me, I was learning it. By reading books, I could do this. I could write a story. Next thing you know, I'm up to 10 books written, then 15, then 20, then 25, then 30. I'm like damn!
AllHipHop: Biggest lesson learned behind bars?
Jimmy Da Saint: Even in darkness, light shines on all who believe. Meaning it didn't matter where I was at, how dark my time was at that moment, as long as I believe and have faith, I was gon' be prosperous. I was gon' be good with my books. My books turned out to get published while I was incarcerated. I bettered myself mentally, spiritually, emotionally, physically. Even in darkness, light shines on all who believe. I believe so much that I was gon' be straight, that prison was a stepping stone. It didn't hinder me. So many guys in there, they're stuck in that world. It was like college for me. 
AllHipHop: Is there a certain book that changed your life?
Jimmy Da Saint: Yeah, there's a few books. The 12 Universal Laws of Success by Herbert Harris, I like that book a lot. Fake It, Grow Rich, Napoleon Hill. As A Man Thinketh, James Allen. The Laws of Seduction, Robert Green. A lot of books. A lot of books I read that keep me on point and just learned. When I went to prison, I got a chance to sit down and really re-educate myself. 
View this post on Instagram
AllHipHop: I saw you were back there with the real Rick Ross, how was that? 
Jimmy Da Saint: That was my man. We might while we're in federal prison, we became the best of friends. We still work and do stuff together now. We got a few projects coming out together. We have a best selling book out, my book Black Scarface is co-written by Rick Ross. It sold over 200,000 copies independently. Matter fact, it's the #1 selling urban book series in Philly for 5 years straight.
We're in prison together, we were real close. We were friends, we were workout buddies. We still talk almost once a week now. He was a guy in there doing his time. When I was in there with him, he was serving his life sentence. When I got out, I remember him calling me at home telling me "yo Jim, I got my appeal and won. I'm not doing life, I'm coming home." 
He already did 20 years in there, he was so excited on the phone and I was happy for him. I'm like "you coming home?!" He said "yeah." I knew he had his appeal in with the higher courts and they granted him his appeal and released him. He's my friend. He happened to be Rick Ross, one of the biggest drug dealers in U.S. history. A down-to-earth guy. When you take all the drugs, the celebrity status and all that s### away, he's a regular guy in there doing his time, hoping he'd win his case and come home like so many other brothers.
View this post on Instagram
AllHipHop: How does it feel to be such an established author?
Jimmy Da Saint: I'm appreciative. I put work in. I'm a serious writer. I always say I write true stories fictionalized. I write what I know. I'm not the bang bang shoot 'em up guy. I tell real deep personal stories. If you ever get a chance, you should read my book Black Scarface and you'll see what I'm talking about. You can go to Amazon and look at all the reviews. It's rated one of the top urban books in America.
AllHipHop: What goes behind putting out a book?
Jimmy Da Saint: Well when I was in prison, I had learned how to start my own publishing company. Once I figured it out, I started publishing company and started releasing my books on my own publishing company. I didn't want to sign book deals. People was trying to sign me. My first 2 books, I signed a book deal. After I learned the game and learned that I could be the publisher of my own work, I set up my own publishing company The Saint Entertainment. I started releasing my projects through my own publishing company. 
AllHipHop: Did you have a mentor in the game that helped you?
Jimmy Da Saint: I was my own mentor. I mean, Rick was there for me. Rick taught me a lot of stuff, good genuine jewels he gave me. I'm very, very self motivated myself. I wake up in the morning everyday thinking the next move I can make, the next power move or the next situation I can work my way into. That's my mentality anyway.
View this post on Instagram
AllHipHop: What inspired you to write What Every Woman Wants?
Jimmy Da Saint: I wrote that while I was in prison. I remember talking to a girl on the phone, we're talking. She said "women just want real love, want a man to be honest. There's so many f##### up dudes out here that are manipulative or only in it for sex, that's their main agenda. There's not a lot of real men out here." It gave me the idea to write a book, I started writing What Every Woman Wants. A lot of people seem to like that book because I still put all the drama in it, but it's really reality based. You have to read it to see.
I knew I could write it because I knew the stuff I took women through personally. I remember that in reality, 99.9% of women want loyalty. You give them loyalty and that love they desire, you gon' have a rider for life. They want loyalty. They want to know that when you leave out the house, you're not chasing every set of panties. You're trying to f### this girl. Trying to do this. They can count on you and when you come home, there's no questions asked. When they can count on you 100%, you come home, they make it home. 
They make it feel like home so you get everything you desire and more, because that's how they feel when you away from them. If you can give them that loyalty and that trust, all that other s###, sex and money, materialistic stuff, that's nothing to them. You got a rider for life.
AllHipHop: What's your passion for film? What projects are you most proud of to-date? 
Jimmy Da Saint: I got into the film thing 2 years ago. My project coming out now is Karma Effect, I won a few awards for that at different film festivals. The LA Indie Film Fest, I won Best Feature. It's a film I wrote and directed. It's coming out soon on Amazon Prime, iTunes and Apple TV, so it's gonna do good. It's about a guy named Karma, he's looking for the man responsible for his young sister's death. A lot of twists and turns in it, just like my books.
AllHipHop: What's been the most challenging part of your career?
Jimmy Da Saint: There's really not been too many challenges because I got God. I'm so confident. I face my challenges. I don't run from obstacles, I make sure my obstacles and challenges are minimal. Because I'm in control of me, I'm in control of my destiny. As long as I stay that way, I don't let really nothing deter me from my focus. I laugh at challenges.
AllHipHop: Talk about your mentorship work as well.
Jimmy Da Saint: I done talked to prisoners, kids, women. People call me for advice all the time. I work with local city officials for certain fundraisers and events to help gun violence, drugs, certain things like that. They can call upon me. I'm a nice voice in the urban community, especially around Philadelphia.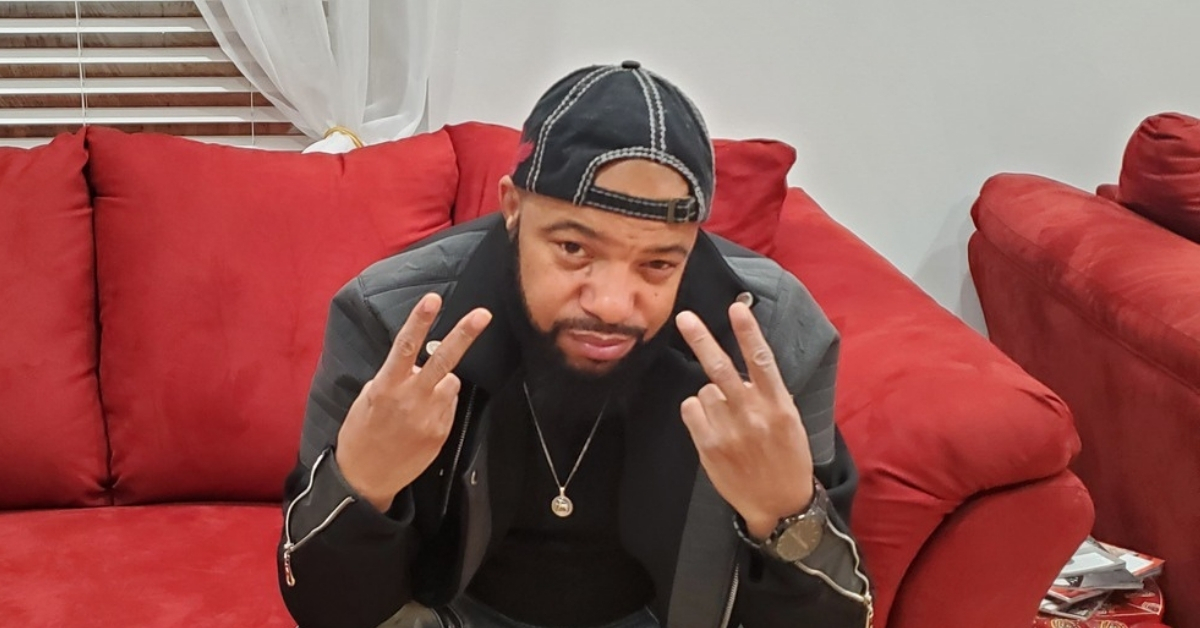 AllHipHop: Goals for yourself?
Jimmy Da Saint: One day I'd like to have a school built from the ground up named after me, the school's about music, entertainment, and technology. They get people really ready for the real world as far as musicians, tech, the entertainment business. If that's what you want to get into, then my school would be the perfect school for you. I think about that a lot. Something I'd like to leave back in my legacy. Wow, a kid from the ghetto and I have a school named after me I built from the ground up on 10 acres of land, it's everything that you need. Every parent's begging and yearning for their child to be on the list to get into the school. That's something I want to accomplish.
AllHipHop: What does it mean to give back to your city?
Jimmy Da Saint: I was made to give back to my city. I do the largest award show every year, the Philly Hip Hop Awards. I'm the owner, I give back to my city. I give awards to the top artists. Females, males, dancers, barber shops, whatever, the whole entire city. Philadelphia's the sixth largest city in the country with over a million people, it's a pretty big city. I enjoy giving back. My documentary on my life is out, it's called American Hustler. It's streaming now on Amazon Prime.
AllHipHop: How was it making a documentary?
Jimmy Da Saint: It was dope. When they liked it and accepted it… it got put on there. It's dope.
AllHipHop: Anything else you want ot let us know?
Jimmy Da Saint: I'm working, finishing up a few new book projects. Finished up a movie, You Only Live Once, that I'll start editing at the top of the year. Get it ready for maybe a Spring release. Karma Effect will be out hopefully in the next month or so. I'm working, taking it one day at a time. Working, staying out of the way. Staying Corona-free. Staying focused on the next journey of my life.