The word on the street is that somebody is planning to write a tell all book on TLC that will represent some of the other sides to the drama. See, what had happened was, there was a movie the other night on VH1. And, there was another girl before Chilli in TLC – her name was Crystal. Crystal Selene Jones. Word out there is that Crystal is considering dropping a full BOOK to talk about her side of the story. Basically, they are saying that Crystal refused to sign the contract that the rest of TLC complained about for the whole movie. Basically, this means she was smart, but how smart? Not so sure. I'd venture to say that even though they got completely jerked based on their success, T-Boz, Chilli and Left Eye (RIP) are better off than they started out. BUT, I DIGRESS.
StraightFromTheA.com takes this a step farther and they posted pics to prove the validity of her claims.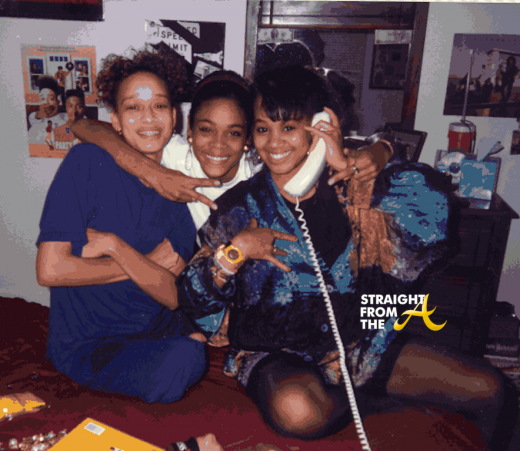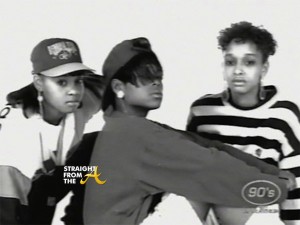 Crystal took it to Twitter: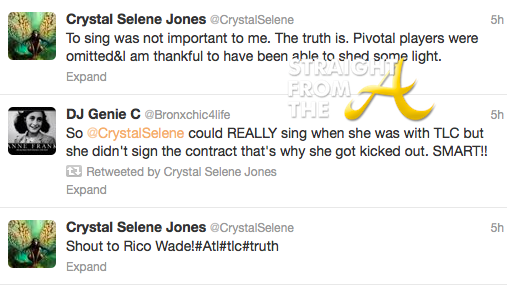 It seems that TLC is the brainchild of Ian Burke, Crystal and Rico Wade of Organized Noize fame, but since homegirl didn't sign on the line, she got cut outta the deal. Sounds fishy! From what I understand, she considers T-Boz and Left Eye (RIP) as backstabbers for continuing on. And they just added another C, which was Chilli.
SPEAKING OF BRAINCHILD – PEBBLES…
Pebbles – who takes credit for bringing TLC to us fans – caught the biggest L last night. For those that don't know, Peebles is a 90's singer, turned executive. She was married to L.A. Reid before he cut off his curl and mustache. Pebbly Poo went ballistic. On Twitter, as she was portrayed as a backstabbing, lying, conniving, thieving – but beautiful – record label owner. "I am in shock listening to all this mess and lies on this radio interview!! This is madness!!!" she said on Twitter. "It's SO hard to believe this! DO NOT believe…Not going to comment about this anymore on here UNofficially. Dealing with this though."
Pebbles is reported to be looking into her legal options.
"They keep us talking, but if we stop talking about them then they should worry!" -illseed.
Illseed, Out.
GET INTERACTIVE WITH ALLHIPHOP.COM!
Follow us on Twitter! Like us on Facebook!
Email illseed rumors: kingillseed@gmail.com