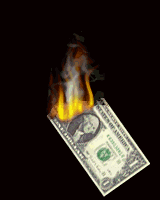 Most rappers dream of being the opening act for a rapper with the name recognition like Gucci Mane. Well, the rumor is there is a guy all over Facebook an the internet pretending to be Gucci Mane's manager. Rappers or fans are stalked and targeting for an "opening slot" at a Gucci show and the scam begins.
You may get a note like this:
Sup my man i have an open slot opening up for Gucci Mane Sun Mar 24th @ Exchange LA , Los Angeles, CA. the slot is 150 for a 10 min performance set & comes with 10 tickets for you and your camp. if want your interested in the slot whats your #
From what I understand, the perps are finding and stealing actual pics of Gucci's managers and creating fake Facebook pages. The people they hit see the page and thing its real because of the extensive pics and they often know what Gucci's reps look like. Then, the $150 isn't even a head crack for money. In fact, its quite low but apparently adds up QUICK. This dude is getting PAID praying off theses poor aspiring rappers. Most of the time, there isn't even a Gucci Mane show at the time the man makes the pitch to the rappers. BEWARE!
I would put the names out there but I don't want to further muddy the waters.
Randomly Speaking.
If you want to write G. Dep, here is the address.

Elmira Correctional Facility
Trevell Coleman
12A2293 P.o.box 500.
ELMIRA, NY 14902-0500

JUST BECAUSE:
Lil Boosie Update…Glad To See This Brother Doing Some Dope S**t!

Lil Boosie Earns GED While Incarcerated at Angola Prison


They keep us talking, but if we stop talking about them then they should worry! -illseed.

Illseed, Out.
GET INTERACTIVE WITH ALLHIPHOP.COM!
Follow us on Twitter! Like us on Facebook!
Email illseed rumors: kingillseed@gmail.com