Man, its hard out here being all studdly and handsome like Coolio!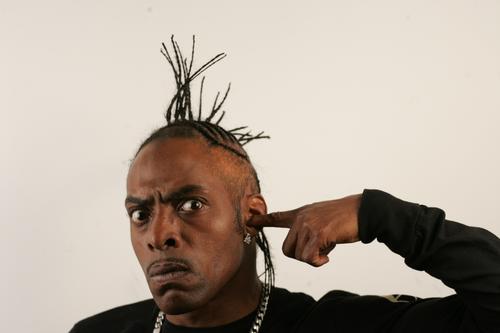 These chick are liable to go crazy! And this is what has happened! You remember Coolio got arrested recently for beating up his baby momma.
Coolio Beats Up His Baby's Mom & Hits Her Leg With His Car. Cops Arrest Him. New Mugshot of Coolio..
Now the word is, the man didn't do it, but was set up. This has to be stress for a brother like Coolio. Seriously. Look at his mug shot!
A new report says that Coolio is suffering from a set up!
Here is the video of the statement.
"I'm worried about Anabella's state of mental health because her stories to me kept on changing."

"First she said she ran after Coolio because she didn't want him to take their son, but [she told me that] she was also high and couldn't control herself, so she ended up getting into an altercation where she was chasing him [Coolio]," adding, " [She said] she lost her grip on the back of the truck when he was leaving and fell down."

"I babysat her son while she was recuperating [from the altercation]. And when I was in the garage with her little boy, he had a pink lunch box, and I asked him, 'What are you doing with that little pink lunch box? That's for girls!' and he replied, 'That's my mama's smoke.' I opened up the lunchbox and it was full of marijuana, and I didn't approve of that. I become concerned of her smoking around him because he had just been in the hospital three days from an asthma attack and now he is inhaling her marijuana, so I was very worried and concerned about his health."

"Another problem is that she [Anabella] has a very jealous personality. She feels she loves Coolio very much and doesn't want to lose him to anybody. She said that if she couldn't have Coolio then nobody could. That's why I'm worried about Coolio–because if these charges cause Coolio to get put away in jail then she's won her case. And I don't think it's fair for a man to be in prison [over the reason] that if a [certain] woman can't have him, nobody can–and for somebody to lie to make a man go to prison for something they have not done, and are not guilty of anything, except for not loving her. It's unfair to him. But until the truth is told by her, Coolio is in a prison, he's in jail because of her lies."
They keep us talking, but if we stop talking about them then they should worry! -illseed.

Illseed, Out.
GET INTERACTIVE WITH ALLHIPHOP.COM!
Follow us on Twitter! Like us on Facebook!
Email illseed rumors: kingillseed@gmail.com