Is Jay-E in danger?
Have you been keeping up with this whole Jay Electronica situation with the Illuminati Marriage? Me neither, but recently I was tipped off to something that seemingly raised the antenna. They were telling me, speculatively of course, that Jay Electronica may suffer serious repercussions in life behind interfering with the marriage of Ben Goldsmith and Kate Rothschild. For those that need a full update: CLICK HERE. I'm not going to run down the whole thing again.
But, as we have repeated over and over, this is an ILLUMINATI MARRIAGE that he allegedly interjected himself in and there are consequences behind that, people that know more than I know are saying. Clearly, we don't truly know, but I can imagine that these things are put together to keep the wealth in the "family." Jay-E is a formerly homeless rapper that has yet to release an album under Roc Nation. (That album stuff is another story. Well, at least Kate is a music producer and perhaps he can get some free beats with that free rich booty. Goldsmith recently released a statement saying, ""Ben plans to file for divorce on the grounds of adultery… He has left the family home and taken the children on holiday with his mother." I recommend Jay-E come back to America and tour with Jay-Z or something. At least he can hang out with Jigga's security.
You get the BOSH FACE, JAY-E!!!

Now, for The Dream…he gets the classic SHAQ FACE!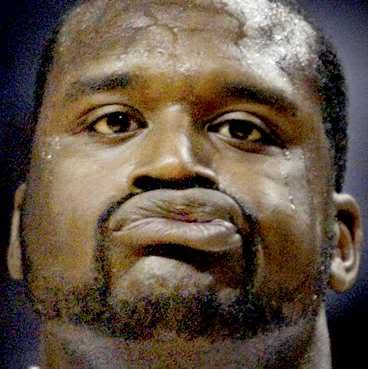 After all the heat came down on poor Gwyneth Paltrow, The Dream stepped in and took the charge. He said he was the one that tweeted "N***as in Paris for real" from her phone. He said something barely legible afterwards, but basically said they were very high/drunk/tore up. He got on her phone, all in her twitter and tweeted the offensive statement to get her off the hook. Russell Simmons did too. He said, "I know her intentions were not to be offensive … she was just proud of her friend, Jay-Z." Are they cooning it up for her to cover her mess up? I think we need to give her a pass. Why? Maybe it wasn't the best idea to make a hit record called "N*GGAS IN PARIS" if you don't want to be called a n-word when you are in Paris? I mean, come on people. Enough is enough. And Dream and Russell, stop. If she used the word, she used the word. Where is hexmurda when you need him? I'm about to get Muhammad Ali on you Floyd Patterson-a$$ dudes!
Send me your rumors at kingillseed [at] gmail.com