Rapper and super-producer Hitmaka formerly known as "Yung Berg" is doting on the talent of a new artist! He is officially endorsing the emerging R&B songbird, Journee with collaborations soon to come. She is a 22-year-old singer, songwriter, and model from San Jose, CA.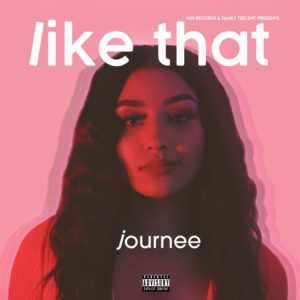 While studying at UC Riverside, Journee quickly realized a music career was the way to go. She began to immerse herself in her craft and started collaborating with a slew of other creatives. She would take time away from school to focus full time on her craft.
Journee soon became one of the most exciting new acts from the region. Her single "This and That" was featured on the Emerging R&B Playlist on SoundCloud where out of 55 records she was the 6th most-streamed overall. 
It's Not You, It's Me
Journee's new EP, It's Not You, It's Me, drops on December 4th. The project takes you through the struggles of her dating woes, her personal growth and so much more. The first single from the EP is "Like That". This sultry song has a dope set of visuals to accompany it. The video is inspired by Journees' favorite show,  Insecure. Scenes were shot at notable locations around Los Angeles.
Yung Berg Becomes Hitmaka
Hitmaka burst onto the music scene in 2007 with his chart topping hit, "Sexy Lady." After producing Lil Wayne's Carter IV heater "John" featuring Rick Ross, Yung Berg became Hitmaka.
Today as a producer, Hitmaka has credits with the worlds biggest artist. Last year he rattled the hiphop world with his all female emcee remix of "Thot Box."
Joining the roster of 1801 records, Journee is signed to a label run by industry veteran Billy Jones. Jones is a seasoned music industry manager who has worked with numerous stars and celebrities including Bridget Kelly, Ray J, Brandy, Slaughter House, Dot Da Genius, and Yung Berg, now known as Hitmaka.