Blueface has shared his reaction after his mother's nudes surfaced on social media over the weekend. 
On Sunday (October 15), a selfie of the "Thotiana" rapper's mom emerged online, showing her sticking out her tongue for the camera. However, the mirror behind her revealed she was naked from the waist down exposing her booty cheeks.  
She took to her Instagram Story to explain the leak was an accident and that she was sending nudes to her man.  
"I promise I did not moon y'all for clout," Blueface's mom shared. "Hell, my daddy just called me about seeing my old rusty ass. That was an accident I sent to my husband." 
However, the image began circulating on social media, prompting Blueface to address his mom's nudes.  
"Ewww lol," he wrote on X (formerly Twitter) before adding "Old lady Booty cheeks," alongside crying with laughter and nauseated face emojis.  
Blueface's mom saw his post and clapped back with a shot at the mother of his first two children, suggesting he spent all his money paying for Jaidyn Alexis' 30K BBL.  
"Now I said it was an accident, but it look better than the one you spent yo life savings on," she wrote in another Instagram Story post.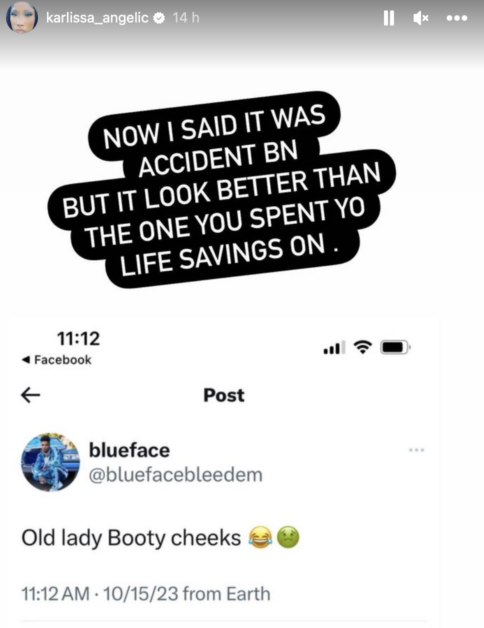 The MILF Music founder clapped back on X, questioning, "what is the correlation," in response to his mom.  
"are you comparing your booty cheeks to the lady I sleep with every night," Blueface asked. "That's alil creepy lol." Check out Blueface's posts below.