Rap star Cardi B's fight with a tattoo artist is going to trial after settlement talks broke down last month. 
Cardi B is being sued by a guy named Kevin Michael Brophy Jr, who claims he was mentally traumatized after the rapper featured his distinctive back tattoo on the cover of her mixtape, "Gangsta B#### Music Volume 1."
The predicament for Cardi started when her representatives hired an artist named Timm Gooden to create the cover of "Gangsta B#### Music Vol. 1" for $50, using pictures that were supplied to him. 
The rap star's reps were not satisfied with his design, so Gooden went back to the drawing board and Googled the words "back tattoo," which is how he found Brophy's distinctive back tattoo of a snake and a tiger.
Brophy got wind of the artwork and filed a lawsuit against the rap star in October of 2017, for stealing his back tattoo. 
After months of legal wrangling, in December of 2020, Cardi B lawyers filed a motion to have the lawsuit dismissed, claiming the album cover was protected under fair use laws.
However, a judge presiding over the case disagreed and ruled that the artist had not made enough changes to Brophy's distinctive tattoo, for the cover of "Gangsta B#### Music Vol. 1" to be considered a transformative work.
Last year, Judge Cormac Carney directed both parties to sit down and make a good faith effort to mediate the dispute, to come to a reasonable settlement, which was held on August 4th, 2020, during an all-day session. 
But the first round of talks went nowhere. 
In December of 2020, Judge Carney ordered them to go back to the table to try again. Unfortunately, neither party could reach a resolution during settlement talks held on March 19th, 2021. 
"The plaintiff believes that further negotiations at this time are not beneficial. The matter needs to be set for trial," according to mediator Bruce Isaacs, while Cardi's team wants the talks to continue.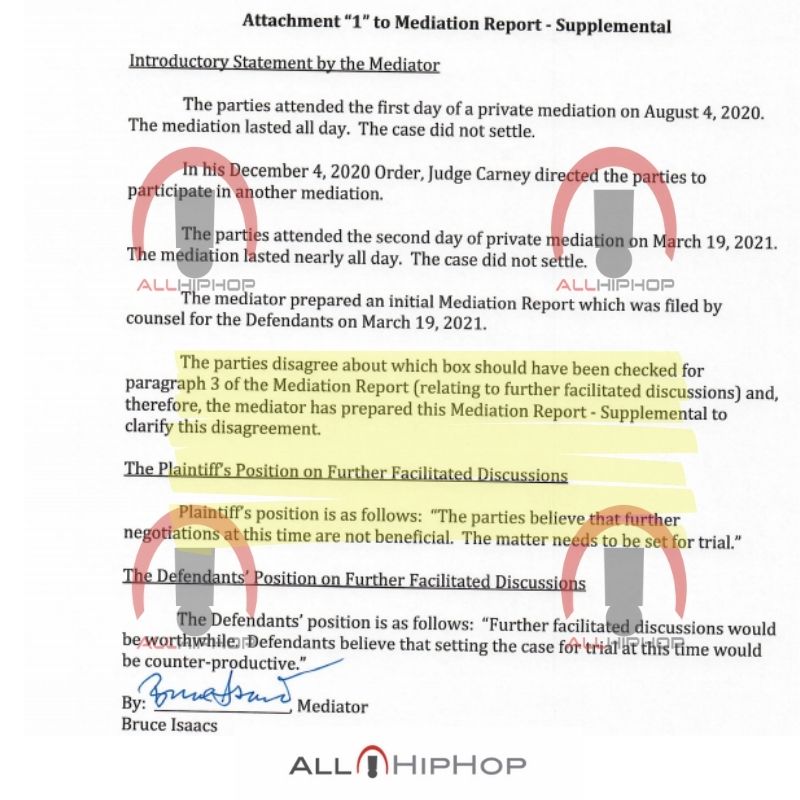 Cardi B maintains she has seen little to no money from the sales of "Gangsta B#### Music Vol. 1," while Kevin Michael Brophy Jr. is seeking almost $5 million in actual, and punitive damages.
Cardi maintains Brophy's lawsuit is nothing but a money grab. During a deposition, she lashed out at his lawyers, claiming his "mental anguish" was nothing but an act. 
"Do you have any proof that he's distressed? This man works in a damn f##king surf shop. You're not a model," Cardi said during testimony she gave in April 2019.
"You haven't, like, gone to no damn psychiatrist. How is this affecting your life? I want to know how is your client's live [sic] is being affected. How? It's ridiculous. It's wasting my time. It's wasting my money. Like, I could really be with my kid right now. Like, I'm really upset because I really have to be with my kid…All because of some bulls##t, trying to get money, and then $5,000,000. Are you f##king kidding me?" said an irritated Cardi.