Spirits giant Diageo has ended its 15-year partnership with music mogul Sean "Diddy" Combs following a racial discrimination lawsuit, according to court documents obtained by AllHipHop.com.
Diddy's claim that Diageo treated his DeLeón tequila brand as an "urban" product and neglected it in its marketing initiatives has stirred up controversy, leading to the severance of their partnership.
The relationship between Diageo and Diddy kicked off in 2007 with a marketing services agreement concerning the brand management of Cîroc vodka. 
This collaboration proved fruitful for both parties, with the mogul reaping nearly $1 billion for his services as a brand ambassador and marketer over the years. However, the harmony between the two entities began to wane in 2013 when they formed a joint venture (JV) to purchase the DeLeón brand.
According to Diageo, the JV encountered financial issues from its inception, with Diddy investing a mere $1,000 into the venture, while Diageo invested a staggering sum of over $100 million.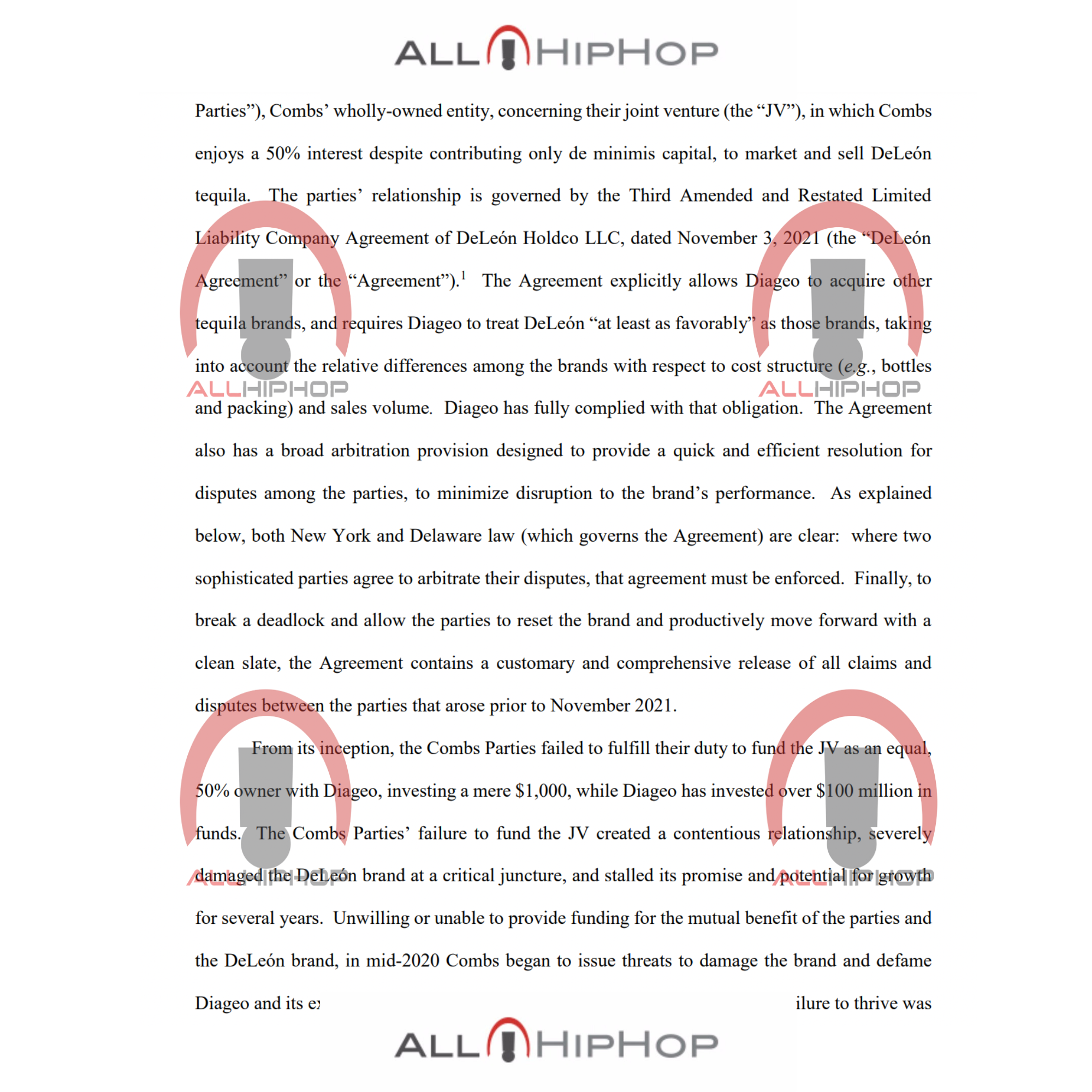 But his lawsuit alleges that Diageo deliberately hindered the growth of DeLeón's sales for almost a decade due to the company's racial bias, marketing the brand only to "urban customers." 
He further claimed that a Diageo executive had stated that his brands would have been more widespread​if he were Martha Stewart.
In an attempt to salvage the brand and their partnership, both parties agreed to a fresh start for DeLeón, with Diageo forgoing the collection of Diddy's debts worth millions of dollars and providing additional funding for marketing and promotion purposes. 
Despite the uneasy partnership, the DeLeón brand experienced growth, with its sales volume doubling, compelling Diageo to ramp up production. 
However, Diddy's repeated threats of contrived racism allegations and demands for supposed billions of dollars in damages led Diageo to sever ties with him. 
Diageo has categorically denied Diddy's allegations, maintaining that his claims distract from the fact that his breach-of-contract claim is entirely without merit.
This high-profile fallout leaves the future of the Cîroc and DeLeón brands uncertain but a rep for Diageo told AllHipHop.com, "Diageo remains committed to the success of both brands, as evidenced by the investments they have made and will continue to make in them."