(AllHipHop News) Travis Scott is being accused of ripping off the designs of a well-known company in the gaming world and passing them off as his own under the Cactus Jack brand. 
The problems for Travis started when he decided to host an ultra-successful Fortnite performance via Twitch, Facebook, and YouTube, which attracted over 12 million people.
Before the successful event, Travis was looking to monetize the concert with Cactus Jack branded gaming merchandise, as part of a tie-in with the Fortnite performance. 
According to popular gaming company KontrolFreek, Travis jacked pictures of their KontrolFreek thumbstick covers, a popular product they make for video game controllers. 
KontrolFreek is well established in the business, with products in over 9,000 stores in 40 countries along with millions of followers on Twitter Instagram, Facebook, and Twitch. 
KontrolFreek says Travis blatantly made derivative photos of their covers, which he then advertised as products for sale to the massive audience who tuned into the concert. 
After the performance, KontrolFreek says their reps contacted Travis about copying the design to try and head off any problems.
During a phone call, Travis explained he had yet to identify a manufacturer for the product, and asked KontrolFreek to manufacture the Cactus Jack thumbstick for him at no cost.
KontrolFreek and Cactus Jack never did a deal and Travis went ahead and started filling the orders he took during his April concert. 
But fans who ordered Travis' thumbsticks in April grew agitated because their orders were not shipped until July.
The similarity of the designs confused angry consumers into thinking that KontrolFreek had manufactured the Cactus Jack thumbsticks.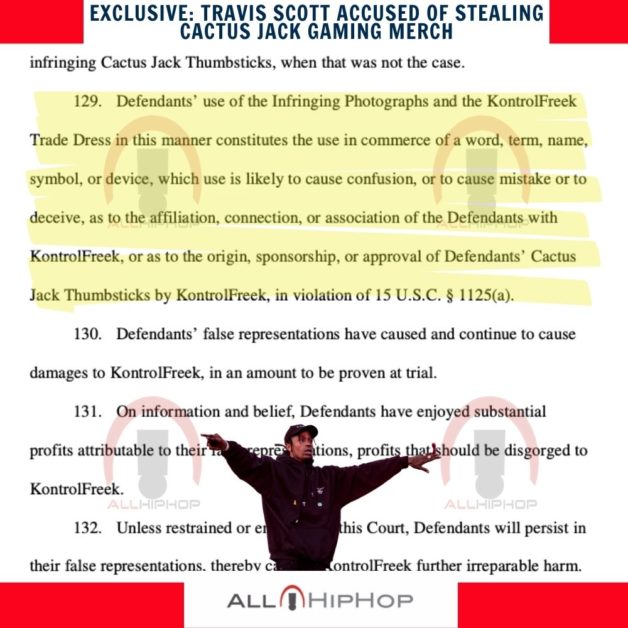 Reps for KontrolFreek said Travis took his thievery to another level when he also ripped off their copyright-protected packaging design for their products. 
Travis even used their trademarked slogan on his package which read: "GIVES GAMERS AT ALL LEVELS A COMPETITIVE ADVANTAGE."
"[Travis Scott's] actions are likely to deceive consumers and to believing Cactus Jack thumbsticks originate from where are sponsored by or otherwise affiliated with KontrolFreek, when they are not," according to the company's complaint.  
To make things worse, Travis is still hawking the Cactus Jack thumbsticks and confusing consumers. 
KontrolFreek wants to seize all of the profits Travis has collected, and pay damages to the company for stealing their thumbstick designs. 
And, KontrolFreek is also asking the judge to enhance that amount of damages up to 3X "according to the exceptional circumstances of the case."
Take a look at the side by side comparison: