Rap star Young Thug is asking the judge overseeing his RICO case to suppress some statements he made while in custody. 
In May of 2022, prosecutors claimed Young Thug is the boss of the Young Slime Life (YSL) street gang in a 65-count indictment charging 28 people with crimes rangings from murder to dealing drugs. 
Chart-topping rappers Young Thug and Gunna are accused of conspiracy to violate Georgia's RICO Act and participation in a criminal street gang.
According to Young Thug's high-powered attorney Brian Steel, two law enforcement officers interrogated Young Thug in the Dekalb County Jail, even though he never waved his Miranda rights.
Steel says Cobb County investigator David Raissi and ATF Special Agent T. Cunningham placed Young Thug in an interrogation room without his counsel's permission, knowledge, or consent.
"All of [Young Thug's] statements must be suppressed from the trial in the above-referenced case, and all witnesses must be instructed not to utter the fact that [Young Thug] made any statements which were not voluntarily made, were made in violation of his Constitutional right to counsel and made in violation of Miranda warning," Brian Steel explained. 
"Additionally, no mention can be made that [Young Thug] was given the opportunity to speak with law enforcement since this is post-arrest," Steel said.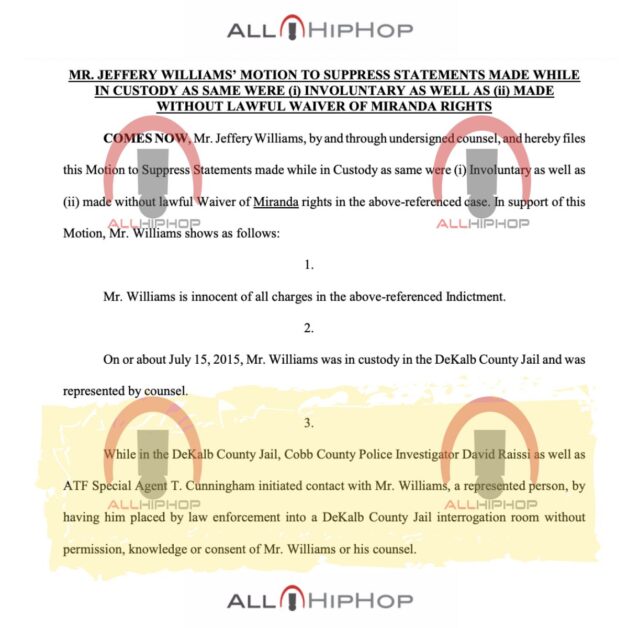 Young Thug is also asking the judge to return computers and phones seized during a July 2015 search of his house in Sandy Springs, Georgia, which resulted in felony charges against the rapper.
The cops raided Young Thug's home after he allegedly threatened a security guard at a mall. They found an assortment of drugs and guns, but the charges were tossed after a trial court ruled the search was unconstitutional. 
The devices seized in that raid were suppressed by written order in April of 2017 and were supposed to be returned to the rapper, but that never happened. 
Instead, Chief Deputy District Attorney Michael Sprinkel sent the devices to a company called Cellebrite for them to be searched. 
According to Steel, the prosecution had no valid search warrant to examine or extract any information from Young Thug's devices after the April 2017 ruling. 
Searching the devices in May of 2017 violated Young Thug's "possessory interests in his lawfully obtained property that the prosecution had absolutely no legal right to possess," Steel explained. 
Young Thug's attorney says the prosecution and law enforcement have refused to return the non-contraband property as the law requires.
"Instead, without lawful right to keep, hold, inspect, possess or examine Mr. Williams' property, the prosecution 'team' continued to illegally hold Mr. Williams' property and search these items," Brian Steel revealed. 
As a result, Steel wants Judge Ural Glanville to suppress any statements Young Thug made and any evidence from his phones, hard drives, and computers during the trial, which is slated for January 2023.