Will Smith and Jada Pinkett have been using the phrase "life partners" to describe their relationship for years. As Pinkett shares more about their marriage in the promotion of her new book, Worthy, she talks about how she was shocked that he called her "wife," as it is not a typical word in the family's nomenclature considering the couple has been separated since 2016.
During Pinkett's interview with the TODAY show, she shared the Chris Rock altercation at the 2022 Oscars was the first time Smith had called her his "wife" in years.
She said she was startled by the identifier, saying, "First of all, I'm really shocked, because mind you, I'm not there. We haven't called each other husband and wife in a long time."
According to Pinkett, the two had been living "completely separate lives" and didn't share it with the world because they were not "ready yet."
"Still trying to figure out between the two of us how to be in partnership. … In regards to, how do we present that to people? We hadn't figured that out," the mother of three said.
They also said they weren't going to legally divorce.
"I made a promise that there will never be a reason for us to get a divorce," she said. "We will work through … whatever. I just haven't been able to break that promise."
In 2013, the Low Down Dirty Shame actress shared with HuffPost Live that they don't have a traditional marriage but have constructed a system that works for them.
"I've always told Will, 'You can do whatever you want as long as you can look at yourself in the mirror and be OK, because at the end of the day, Will is his own man," she said in the interview. "I'm here as his partner, but he is his own man."
Many thought her comments meant that the two were in an open marriage, but it may have been a glimpse of the non-traditional love that the two have— where they're not necessarily defined as husband and wife but as partners committed to spending their lives together (even if they are not romantic).
"Should we be married to individuals who can not be responsible for themselves and their families within their freedom? Should we be in relationships with individuals who we can not entrust to their own values, integrity, and LOVE…for us???" she wrote on her Facebook after the interview. "Here is how I will change my statement…Will and I BOTH can do WHATEVER we want because we TRUST each other to do so. This does NOT mean we have an open relationship…this means we have a GROWN one."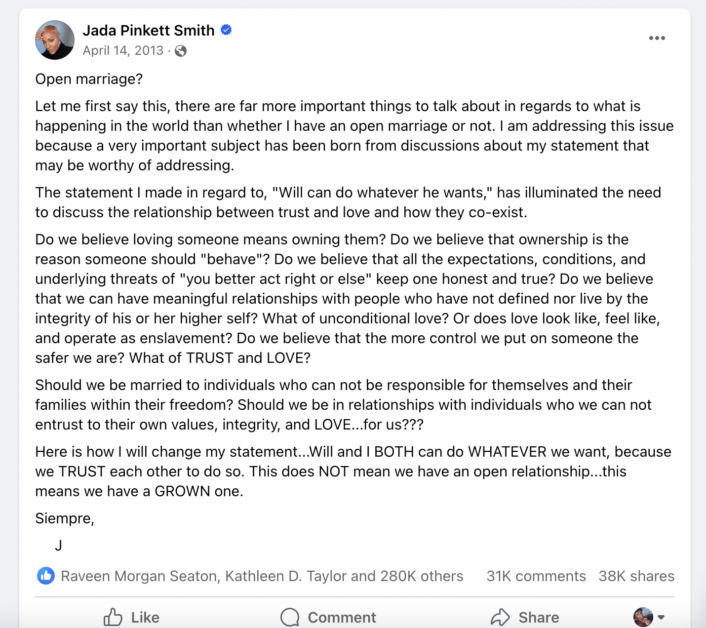 This mindset started to develop and within five years, Smith shared publicly how he sees their coupling.
In 2018, two years after the two secretly separated, Smith talked about how the two define their marriage with him saying, they don't say they are "married" anymore.
"We don't even say we're married anymore…we refer to ourselves as life partners," he explained on the show. "Where you get into that space where you realize you are literally with somebody for the rest of your life. There's no deal breakers. There's nothing she could do — ever. Nothing that would break our relationship. She has my support till death, you know what I mean, and it feels so good to get to that space where you're not complaining, and worrying, and demanding that a person be a certain thing."
Smith added, "This right now is the best time in my life, ever, I've never been happier."