Top Dawg Entertainment emcee Kendrick Lamar has been mostly absent from the Hip Hop scene throughout 2020. However, the award-winning emcee did tease his involvement in a new company with former TDE president Dave Free called pgLang without giving much more information about the brand.
View this post on Instagram
While K. Dot was mostly staying out of the spotlight, he quietly helped build the status of fellow California rapper Baby Keem. The 19-year-old Die for My B#### creator secured a Platinum plaque for his "Orange Soda" single and a spot on XXL's 2020 Freshman Class list.
Kendrick and Keem decided to give more insight into their alliance by engaging in a one-on-one conversation for the upcoming 40th Anniversary special issue of i-D magazine. They discussed first discovering a love for music, achieving success in the record business, and executing new sounds.
During one exchange in the i-D conversation, the two West Coasters stated:
KL: I get it, that's what will take me so long to do albums (laughs). I spend the whole year just thinking about how I'm gonna execute a new sound, I can't do the same thing over and over. I need something to get me excited. I see you get frustrated sometimes because you want some new s###.

BK: Because people don't know that you on some new s### till you start doing new s###. And if you can't do the new s### then they ain't gonna know that you on the new s### and they'll keep asking for old s###, but I think everybody knows now that I'm on some completely different s###.
Lamar also asked Bay Keem about being associated with the pgLang company:
KL: It's a good thing to have people who understand your creative language. I always go back to the language and that's how we damn near made this company. You have to be able to share and experience the same language, or teach another language. On the music side, you've been at the forefront of pgLang. What is your own personal opinion of what this company represents now that you know are in the mix?

BK: I've seen pgLang before it was even an idea that came to fruition. It's sticking to and believing in something, even when you don't know how it will be created, and it starts out as just a small idea. I believed in it, and I stuck to it and now everything is paying off. So I've seen it from when there was no idea, to now. So to me, pgLang represents loyalty and trust.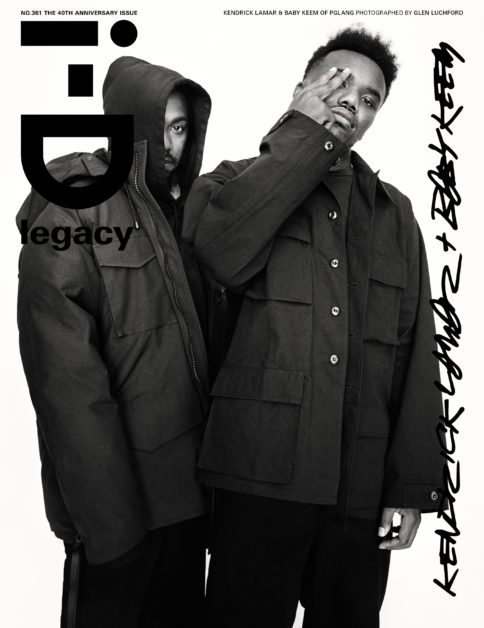 photo credit: Glen Luchford for i-D