Lecrae Devaughn Moore is a Grammy award-winning artist, co-owner of the independent label Reach Records, community activist, and Peace Preparatory Academy advisory board member. The 40-year-old artist/executive/philanthropist is also a New York Times bestselling author.
His first book, Unashamed, came out in 2016. Lecrae is on the verge of releasing I Am Restored: How I Lost My Religion but Found My Faith (Zondervan Books) on October 13. The forthcoming printed work covers how the Restoration album creator works through his personal trauma such as sexual abuse and substance abuse as he encourages readers to heal from their own despair, anxiety, doubt, depression, and fear.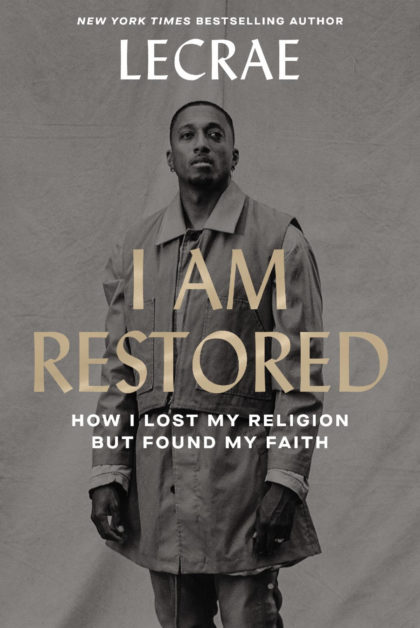 The Houston native, Atlanta resident writes in I Am Restored:
Many celebrities, comedians, artists, politicians, and tastemakers have fallen to an inner turmoil and darkness that they can't overcome. The greatest voices have lost their will to speak. The most competent moral representatives have failed to maintain the standard they set for others. The most joyful people have drowned in a pool of despair. In the end, regardless of our popularity and professional status, we are only human… No matter how successful we become, when the lights go off, we are forced to live with ourselves. Career achievement didn't protect Heath Ledger from the pain. Money and fame didn't insulate Robin Williams or Anthony Bourdain. It didn't protect Kate S#### or Don Cornelius… I suppressed my feelings of anguish because I was convinced I wasn't allowed to be vulnerable; or maybe it was because I convinced myself of lies that would soon unravel right in front of me… My soul was deeply disturbed. I slowly began to realize that I was facing something that I had failed to address with the right amount of fervor. I was dealing with trauma.