The police in Dallas Texas are on the hunt for a gunman who shut up an after-party featuring Lil Durk in what could be labeled as a mass shooting.
Lil Durk was hosting an after-party at Pryme nightclub when police responded to an emergency call about an active shooter.
By the time cops arrived, seven people were shot, and a 21-year-old woman was killed.
The cops believe an argument in front of the club led to the shooting. Lil Durk denied the shooting had anything to do with the after-party.
"So cap it wasn't a shooting not even a fight at the club…seem like the police got n##### working real street n##### be safe out here," Lil Durk said.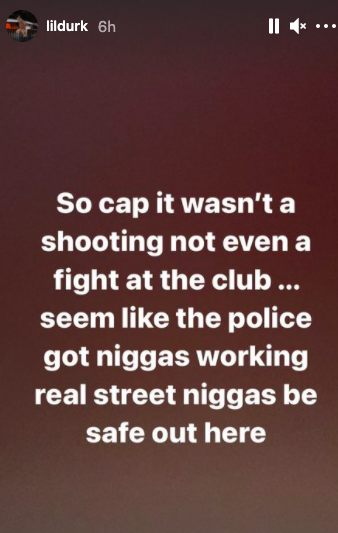 The cops are on the hunt for two suspects – one man who attempted to calm the shooter down, and the actual gunman himself. So far, police have yet to make an arrest in the latest high-profile shooting incident involving a rapper.
In November of 2020, 28-year-old Dallas rapper Mo3 was gunned down and killed on I-35. Shortly after Mo3's death, Boosie was targeted and shot in the leg, when gunmen open fire on his sprinter van.