Lil Kim denies approving the edits on her heavily photoshopped Ebony Magazine cover and is hitting back against the outlet after fans criticized her dramatically edited appearance. 
She took to her Instagram Stories with an image of the magazine cover, clarifying her perspective. 
"Who is this? Cuz that's not the photo I approved or any other content they've put out," Lil Kim penned Tuesday (September 19). "I always told Ebony it looked like a painting but they didn't wanna listen. They said they love it. It's the sabotage for me. The funny s### about this, is that this is THEIR retoucher!" 
Ebony Magazine's Photography Director Responds To Lil Kim
However, the magazine's photography director, Keith Major, disagreed. He responded to fans in Ebony Magazine's comment section ripping the outlet over their editing of the image. "Man, she wanted to be in control of the retouching so this is what we got," he replied. 
Lil Kim also shared a post from an Instagram user with the name @rayeesuh, who bills herself as a "social media manager to the stars." The comment was seemingly in response to Major's remarks, backing up the rapper's claims that she was not responsible for the retouching.  
"How about we talk about how your photos exposure was so low we couldn't even salvage them," she wrote. "At the end of the day it was EBONY's retouchers who edited the photo. I also heard you. got fired after this s###. Let's talk about that, sir." 
The NYC icon thanked her, adding, "Talk that real s###!"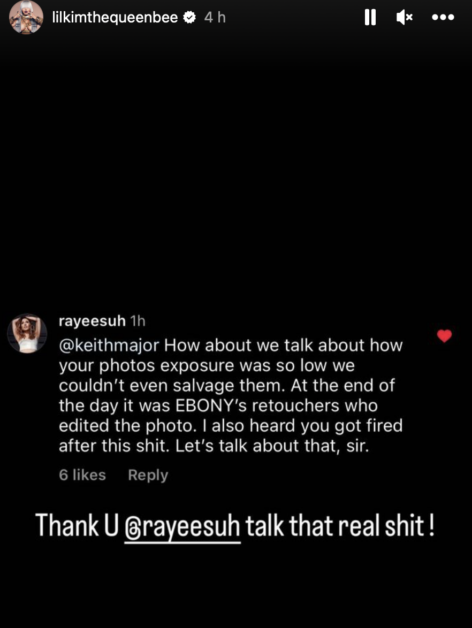 The famed magazine shared multiple covers in their Hip-Hop 50 celebratory issue Monday, including Busta Rhymes, 50 Cent, Swizz Beatz and Rick Ross alongside Lil Kim. 
"[Lil Kim] shows up on our cover on her own time and in her own way," the outlet wrote in their Instagram caption. "Maximizing her agency as a trendsetting and Hip Hop legend on the terms she sets. That's just how a Queen Bee does it—shall she proceed?"