Nicki Minaj has announced the title of her next project, Pink Friday 2, which serves as her first full-length album since 2018's Queen. But the Barbz will have to wait a few more months to hear it. Minaj revealed in an Instagram post she's pushed it back to November 17.
"Dear Barbz, I've been trying to find the right time to tell you this for a few days," she told her 222 million followers. "Due to some really exciting news that I'll share with you guys @ a later time, I've shifted the album date just a tad bit. Trust me, it'll be WELL WORTH THE WAIT…but since I AM shifting the date just a tad, I'd like to give you guys a tiny SIP of some more album tea so that I don't have to get cussed out so…here it goes: MY NEW ALBUM WILL BE RELEASED ON 11.17.23."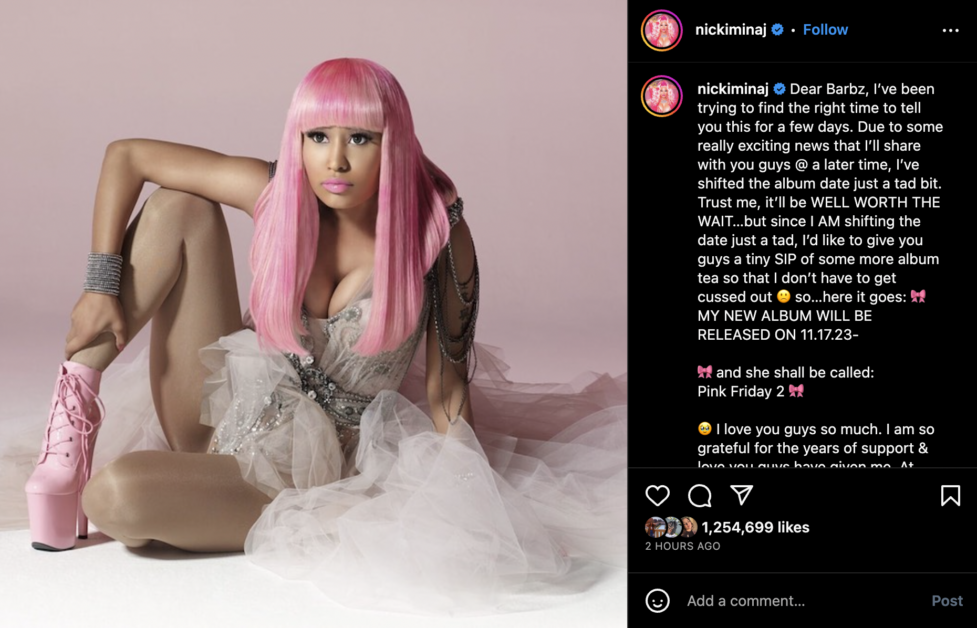 The Queens native added, "I love you guys so much. I am so grateful for the years of support & love you guys have given me. At times maybe I didn't even deserve all that you have poured into me. Nonetheless, you. will. love. this. album. I will give tour deets closer to that time, but obviously the tour will start around the first quarter of 2024. I'll also share the REAL album cover at a later date."
Fans (which of course included celebrities and influencers) were more thrilled than upset. The Ultimate Rap League's Princess NuNu Nellz wrote, "I need a ticket and I can't play games with Nicki."
Singer Yebba popped out and said, "My heart is ready." Another person said, "We love you Chile we gone wait anyway what other choice we got."
People haven't had to wait long. Rumors suggest she'll drop something this summer.