(AllHipHop News) Days before Kentucky Attorney General Daniel Cameron released the grand jury's decision not to indict the three Louisville Metro Police Department officers directly connected and potentially involved in the killing of Breonna Taylor, Sgt. Jon Mattingly's wife wrote a letter detailing what life has been like over the last 163 days since the unfortunate incident for her family.
Mrs. Mattingly started her long missive addressing Tamika Palmer, Taylor's mom, "As a mother, I empathize with the pain her mother feels for losing a child. Her death is tragic, and that is something a mother should never have to go through."
However, after extending her sympathies, she went on to talk about her husband — one of the men in question to have murdered the 26-year-old woman.
Mrs. Mattingly noted that her husband almost died from his wound from Kenneth Walker, Taylor's boyfriend, who fired his legal firearm.
Walker had shot her husband because he and two of his colleagues performed a raid (that is now in question because the team received faulty information) and bursted into his girlfriend's Springfield Drive apartment while they were asleep, alleging that he did not hear them announce themselves.
Walker who noted that he "would never knowingly shoot at a police officer," believed that the cops were intruders coming into their dark apartment late in the night/early in the morning.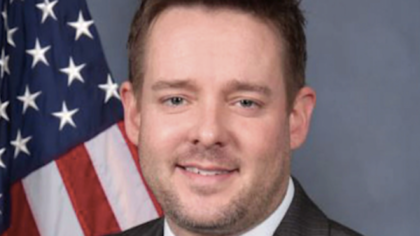 Mrs. Mattingly further shared that Walker shot her husband in such a manner that he almost bled to death, and was only saved because other officers applied a tourniquet.  She revealed that her husband required a surgery that lasted over five hours and a blood transfusion in efforts to repair his femoral artery.
In addition to the trauma experienced from his shooting, she wrote about having to hide because some people who are Breonna Taylor's supporters or sympathizers are radical and have threatened her family, including their son.
"Since all of this happened he has experienced night terrors and so much anxiety that he becomes physically sick," she continued. "Our lives will never be the same and all because my husband was shot first while doing his job."
LMPD Sgt. Jon Mattingly's wife has posted to Facebook in defense of her husband.

Her husband was shot inside of Breonna Taylor's apartment during the shootout that ultimately ended the 26-year-old's life.

Read more here >>> https://t.co/IageWNOg0o pic.twitter.com/GaSJqsqApN

— wave3news (@wave3news) September 23, 2020
"He always puts others ahead of himself and his heart is in the right place," she wrote. "He had always wanted to be a police officer so he could help people who could not protect themselves."
Mrs. Mattingly's hope was that her husband's character would be redeemed by the grand jury's decision. But her husband is not helping. Det. Mattingly had been under attack for an email he had sent to the force calling BLM protesters thugs.
"Some of these social justice groups who protest have said over and over again that they do not condone violence, and they are not considered thugs," she said. "My husband was referring to the radical groups that have taken it upon themselves to be violent. To destroy other's properties and businesses to get a point across is not getting your point across. It is THUGGERY."
These acts in her opinion, are contrary to any work to promote unity between the police, whites, and Blacks.
Her letter was cute and defended her husband — please read the following excerpts from her husband's email and what you think.
New: LMPD Sgt. Jonathan Mattingly (who is being investigated as part of Breonna Taylor's case) sent an email to around 1,000 officers at 2am that calls protestors thugs, complains about the government enforcing civil rights violations, and claims this is "good versus evil" pic.twitter.com/VcuyPDP790

— Roberto Aram Ferdman (@robferdman) September 22, 2020
" 9/22/2020 2:09 AM
LMPD Family,
I'm not here to give you a Rah Rah you got this speech. I'm not here to tell you that you signed up to help this community and to keep your head up. I'm here to tell you I'm sorry you have to go through this. I'm sorry your families have to go through this. I'm sorry the Mayor, Amy Hess, and Chief Conrad failed all of us in epic proportions for their own gain and to cover their a####.
You DO NOT DESERVE to be in this position. The position that allows thugs to get in your face and yell, curse, and degrade you. Throw bricks, bottles, and urine on you and expect you to do nothing. It goes against EVERYTHING we were all taught in the academy."
It further says, "It's sad how the good guys are demonized, and criminals are canonized."
Mattingly even went at the FBI, who the public now knows identified who they believe actually killed Breonna Taylor. He said of the bureau, "aren't cops and would p### their pants if they had to hold the line."
Then noted in the email that to them, the FBI, "Your civil rights mean nothing, but the criminal has total autonomy."
Mattingly even said, further pushing a self-righteous Blue narrative totally criminalizing both Walker and the deceased Taylor, This is not us against society, but it is good versus evil."
I wish I were there with you leading the charge," he wrote. "I'll be praying for your safety. Remember, you are just a pawn in the mayor's game. I'm proof they do not care about you or your family, and you are replaceable. Stay safe and do the right thing. YOU ARE LOVED AND SUPPORTED BY MOST OF THE COMMUNITY."
The email letter was a pep talk to the patrol. The city had instituted a lockdown and curfew and they were preparing for civil unrest. Why? Because the sergeant knew that the decision to not indict him and his two colleagues for Taylor's death would be released in the next few days. His wife's letter — tried to clean up his digital faux pas.