On January 6th, as Congress (both the Senate and the House of Representatives) gathered to certify the electoral college, a ceremonial process to confirm President-elect Joe Biden and vice president-elect Kamala Harris, Pro-Trump supporters storm on Washington D.C. to protest the governing body's formal approval of Biden's victory.
With guns, knives and more Trump flags than American Flags, the anarchists did a full John Q on the Capitol, acting an effing fool and basically proving what we already know … there are two laws of the land … two ways folks are dealt with … two realities that still exist between those from the diaspora and those who have been tricked to believe that their America is endangered of being stolen.
Remember 45 tweeted this out last summer?
https://twitter.com/realDonaldTrump/status/1287877621380837378?s=20
https://twitter.com/realDonaldTrump/status/1275379758021390336?s=20
As the nation is under attack in what is the closest thing to Civil War this generation will experience, many Hip-Hop artists and influencers have taken to social media to weigh in on the riot on the Capitol.
Atlanta rapper Ludacris took to Instagram to simply question what happened with National Guard during this "protest."
With one image, he showed the clear discrepancy in how the nation's law enforcement responded during the Black Lives Matter protest of the summer and this violent riot that happened at the crack of 2021.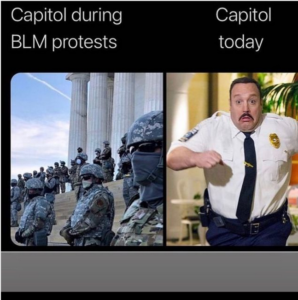 Talib Kweli, one who never shies away from calling out Pro-Trump supporters and their subversive actions, reminded fans that he has been warning that these people were not to be slept on.
He captioned, "I told you that this was a coup being planned. America is over. Trump supporters have exposed the ugliness of our country. Everyone who supported @realdonaldtrump is responsible for this madness. He was the law and order candidate right? Trump is the Joker. He just wants to see the world burn. Imagine if black folks did this. We would ALL be shot on sight. This is white supremacist terrorism. Vanilla ISIS. I'm listening to the police chief saying "nobody could've predicted this." FALSE. Y'all just don't listen to black folks. Ever. We told y'all this would happen. Like I said years ago #MAGAISTERRORISM"
While the GOP tried to reduce Cardi B's voice down to her hit single, "WAP," using her sexuality as a weapon against her advocacy and support of the Biden-Harris ticket, she used 2020 to cement herself as a powerful player in this last election.
She is still using her platforms to a) inform her fans to be safe and b) to challenge discrimination and the inequity of the actions of law enforcement.
And y'all better NOT BE OUTSIDE!!These are wild thugs out here ! Stay home.This ain't our business.Stay at home safe but dangerous!

— iamcardib (@iamcardib) January 6, 2021
The irony is pretty funny………weren't people just wild animals in the summer for demanding justice and now?🤔🤔🤔🤔……Let me just watch.

— iamcardib (@iamcardib) January 6, 2021
Where the National guards ?

— iamcardib (@iamcardib) January 6, 2021
The "Bodak Yellow" rapper had a lot of words, but wordsmith and master social media troll, 50 Cent, had no words about today's event.
🤐i don't have to say anything else. pic.twitter.com/QjwvvJHW8d

— 50cent (@50cent) January 6, 2021
T.I., a man who is usually "expeditious" in coming up with ways to talk about almost everything, used Tamika Mallory's post to express his sentiments, noting the following in a caption: "Straight like that🎯 Our leader has spoken. Let them tear up they s###.🤷🏽‍♂️ @tamikadmallory ✊🏽"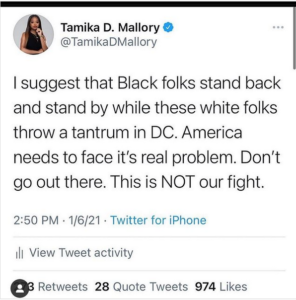 Another rapper who chimed in, Jeezy, used his platform to break down his feelings about the events that basically shook not only the city but the entire United States.
View this post on Instagram
While P!NK is not an emcee, her swag has always associated her with the culture.  The "Philly" girl from LaFace, who happens to be white, took to the internet to show her disgust and Ava Duvernay also clapped back in the manner that has kept her as one of the most radical women in Hip-Hop and Hollywood.
As a United States Citizen, and the daughter of two veterans, and the sister of another, I am ashamed of what is happening in Washington. Hypocrisy, shame,
Embarrassment. Unpatriotic hypocritical sheep drinking poison Kool aid. This a sad day for America.

— P!nk (@Pink) January 6, 2021
"I know your pain. I know your hurt. But you have to go home now… We love you. You're very special."

– Trump to his terrorists pic.twitter.com/mb6GaV0Gxo

— Ava DuVernay (@ava) January 6, 2021
Lastly, Hip-Hop's forever President, Barack Obama dropped bars regarding this civil unrest that began with, "History will rightly remember today's violence at the Capitol, incited by a sitting president…"
Here's my statement on today's violence at the Capitol. pic.twitter.com/jLCKo2D1Ya

— Barack Obama (@BarackObama) January 7, 2021