Christmas 2020 is in the books, and some famous rappers celebrated by dropping the bag.
This year, rap stars splurged on everything from Rolls-Royce's, and diamond watches, to gold chains – and even a house – to show their appreciation for loved ones.
Quavo set it off on Tuesday (December 22nd) by copping his boo Saweetie a brand new Bentley Continental – worth an estimated $300,000.
Not to be outdone, CMG boss Yo Gotti bought himself a new custom Rolls-Royce on Christmas, adding to his massive luxury car collection.
View this post on Instagram
Inside, Gotti turned his mansion into a winter wonderland with no less than eight Christmas trees, a festive banquet table for a feast that featured custom CMG dishes, not to mention the holiday pool table. Christmas lights hanging from the ceiling to match Yo Gotti's house full of presents really set off the holiday for the chart-topping rapper.
Rap star Cardi B showcased a pair of expensive, diamond-encrusted hoop earrings, customized with baby Kulture's name. Inside, her mansion was filled with the holiday spirit as Cardi and Kulture enjoyed Christmas with hubby Offset.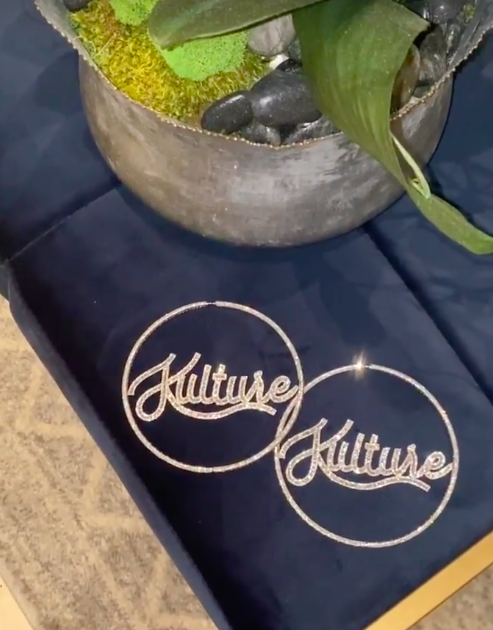 Rap star Mulatto received a massive, iced out Audemars Piguet watch, which made her want to "suck Santa's dick" in appreciation for her expensive gift.
View this post on Instagram
Mulatto was also in the giving mood – she surprised her mom with a brand new Range Rover and she gave her sister a brand spanking new Mercedes-Benz to top it off.
Hit rapper/"Power" TV producer 50 Cent went all out for his girlfriend Cuban Link, with the purchase of a 2021 Big Cube Maybach truck, complete with confetti popping off in the air to complete the amazing surprise gift.
View this post on Instagram
Rick Ross made sure his family had a great Christmas, but he also received an epic gift, when his mother bought him a 2021 Cadillac Escalade.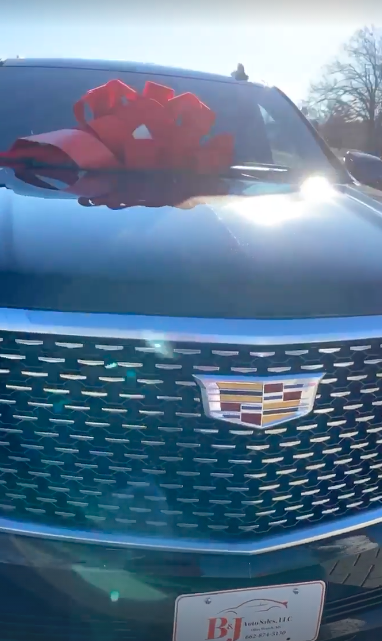 Rapper Toosii revealed he saved up cash from his live shows before the pandemic, and gave the money to his mom, so she could buy a brand new house.
https://www.instagram.com/p/CJO1QZanOT9/
LilTJay bought himself a pricey Richard Mille watch flooded with diamonds – they start at around $250,000 – and then posted up in his hood to show off his street status.
https://www.instagram.com/p/CJPGzrVBdPk/?igshid=1etndgltlf4mi
Gucci Mane and his wife Keyshia Ka'oir received the best present in the form of their new son Ice Davis. Keyshia gifted Gucci a huge chain with a medallion that reads "Ice Daddy."
View this post on Instagram
Christmas was tough for the DaBaby and 2 Chainz. Both rappers admitted Christmas was a little difficult for them because they both lost loved ones.
DaBaby paid tribute to his older brother Glenn, who committed suicide earlier this year.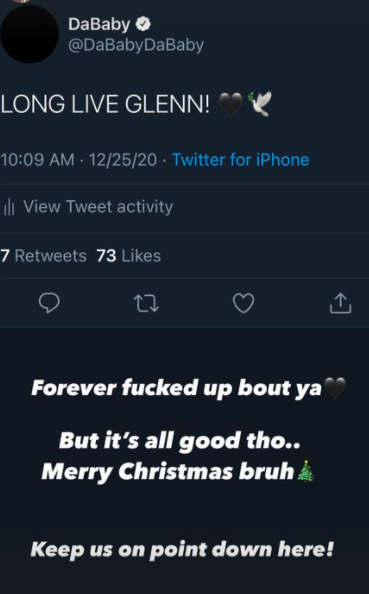 2 Chainz admitted the holiday was challenging for him since his late father's birthday falls on Christmas day. "Not only do I miss my Big Homie but today is his birthday , Happy Birthday Pops," he wrote.
Still, both rappers seem to have fun celebrating. DaBaby received a brand new Lamborghini as a holiday/ birthday present from South Coast Music Group CEO Arnold Taylor.
Meanwhile, 2 Chainz purchased his special lady a Birkin bag, but his kids brought him the most joy, as they played with their Fort Night dart guns.
View this post on Instagram
Blueface paid tribute to the crips on Christmas. He bought himself a blue motorcycle, while his adorable son was obviously excited with the replica toy bike his proud papa purchased him, giving them both a "Merry Crypmas."
https://www.instagram.com/p/CJOw_uAr2hU/?igshid=to357ddhqf9o
Not everyone spent the Christmas Holiday flossing.
TDE boss Anthony "Top Dawg" Tiffith went door to door in Nickerson Gardens on Christmas Eve, to hand out toys since COVID-19 canceled their annual TDE Concert and Toy Drive.
View this post on Instagram
Incarcerated rapper Kodak Black came back to the kids in Broward County, Florida when he adopted 60 families. he provided the kids with gift cards, toys, food, and more.
https://www.instagram.com/p/CJO3H9zA3fw/
DaBaby also took some time out to help kids in his hometown of Charlotte, when he gifted 200 kids with toys and household items during the second annual "Billion Dollar Baby Christmas" event.
View this post on Instagram
Rowdy Rebel, who was just freed from prison celebrated his first Christmas with his family in 6 years. "I waited 6 yrs for 2020 to come sad to say we lost a lot of people but 2020-2021 we gonna make the best of it 👍🏾 #stillfreegs9 Merry Christmas to you all & Have a blessed New yes frm my family to yours," Rowdy Rebel wrote.
https://www.instagram.com/p/CJPUpIihGUq/