It appears boxer Terence Crawford feels like he can't trust Million Dollarz Worth of Game host Wallo. After texting the motivational speaker about his recent fights and plans to take on another opponent, he said he felt betrayed when Wallo shared it with someone else.
The former Major Figgas rapper congratulated Crawford on the boxer's recent triumph over Errol Spence via text message. After praising his exceptional performance, Wallo then asked about the possibility of Crawford squaring up with Jaron Ennis, another talent nicknamed "Boots."
"You know Boots waiting," Wallo texted Crawford, to which the undisputed welterweight champ responded, "Y'all trying to see another dead body."
Wallo shot back, "He ready!!!" then posted the conversation for his 2.3 million Instagram followers.
Crawford clearly wasn't happy. He wrote in the comment section, "That's some weak ass s##t  @Wallo267. I don't do s### like I stand on everything I do or say. But for you to text me with that fake ass s##t, then post s##t  for attention definitely not G. That's clown s##t at its finest."
That's not the only thing Wallo did with Crawford's texts. The podcaster then screenshot the conversation and sent it to Boots, saying, "Boots Bud talking crazy."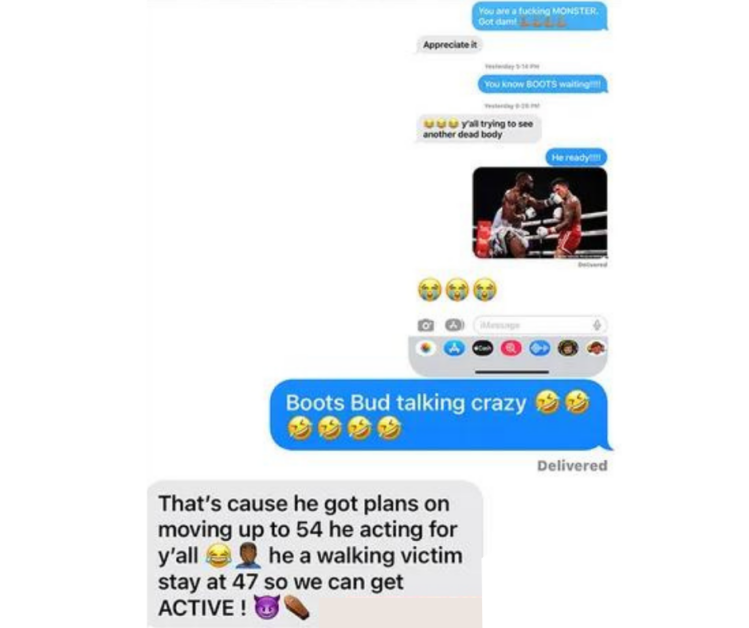 Boots replied, "That's cause he got plans on moving up to 54 he acting for y'all. He a walking victim stay at 47 so we can get active."
Wallo hasn't publicly responded to Crawford about violating his trust, although it's possible he reached out privately in an effort to restore the relationship.