The 2020 presidential election ends in 12 days. On November 3, United States citizens will cast the final ballots to decide which candidate will be the next POTUS. According to reports, more than 35 million Americans have already voted this cycle.
Over the last few weeks, Hip Hop artists have revealed their support for incumbent President Donald Trump over former Vice President Joe Biden. For example, 50 Cent suggested having lower taxes for wealthy people is more important than being concerned about Trump's racist rhetoric and policies.
Now Waka Flocka Flame has publicly endorsed the Republican candidate too. Instagram blogger DJ Akademiks uploaded a clip of former President Barack Obama's speech on Wednesday where he called out Trump for his poor COVID-19 pandemic response, making up facts, constant rage tweeting, and other issues.
One IG user commented under the Akademik's post, "[It's] people who really think Trump is a better President than Obama.. [clown emoji]." Waka then responded, "Guess I'm a clown." His statement sparked debates in the comment section about the two politicians.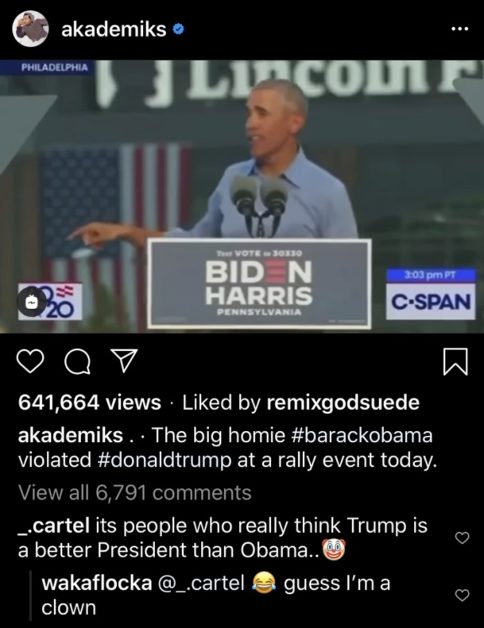 Celebrity endorsements usually become talking points during election season. Trump has received the backing of entertainers such as 50 Cent, Asian Doll, BlocBoy JB, Kid Rock, James Woods, Stacey Dash, Dana White, Conor McGregor, Colby Covington, Kirstie Alley, Hershel Walker, Stephen Baldwin, Roseanne Barr, Isaiah Washington, Scott Baio, and Jon Voight.
Biden secured the approval of individuals like Diddy, Cardi B, Common, Ludacris, Jermaine Dupri, Jeezy, Monica, John Legend, Frank Ocean, Janelle Monáe, LeBron James, Taylor Swift, Steph Curry, Halle Berry, Dwayne "The Rock" Johnson, Leonardo DiCaprio, Mark Cuban, Ben Affleck, Jennifer Lopez, and the late Chadwick Boseman.