XXXTentacion's loved ones experienced relief when a jury found his killers guilty of murder on Monday (March 20).
Jenesis Sanchez, XXXTentacion's girlfriend and the mother of his child Gekyume, commented on the verdict via Instagram Stories. She believed justice was served and thanked fans for their support.
"After 5 long years you may finally rest in peace," she wrote. "Gekyume will never get to meet you earthside, but it is my job as a mother to ensure I share those special memories with him. Jah was robbed of his life and Geky was robbed of his father. For this, I will never truly have complete peace, but justice being served today helps the healing process."
She added, "Thank you for the love and support. I am eternally grateful for all the supporters, your positivity and prayers have carried me these last 5 years."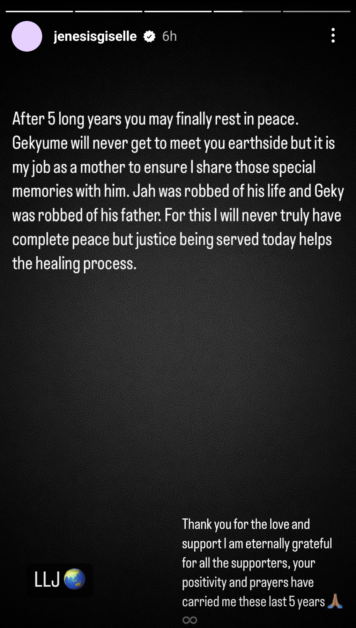 XXXTentacion's mother Cleopatra Bernard expressed similar sentiments on Instagram Stories. In one post, Bernard displayed the shirt she wore in the courtroom.
"You finally got justice Jah," she wrote. "I made sure you were present in the room."
Michael Boatwright, Dedrick Williams and Trayvon Newsome were convicted of first-degree murder and armed robbery. They face life in prison.
A fourth man, Robert Allen, pleaded guilty to second-degree murder for his role in XXXTentacion's death. Allen testified against Boatwright, Williams and Newsome.