Embattled rap star Young Thug has filed a motion to suppress evidence prosecutors wish to introduce in his upcoming trial. 
The rapper, charged with several counts related to a racketeering case, asserts that the prosecution and its witnesses may wrongly claim that he provided information on an undisclosed murder case.
Young Thug's motion centers on the claim that he was placed in the back of a police car and gave information about a murder to an officer identified as Detective Quinn. 
"The prosecution and some of its witnesses, including, but not limited to, Detective Quinn, may wrongly state that Mr. Jeffery Williams was in the back of their police car at some point and gave information on a Murder case. Same is untrue," Young Thug's lawyer Brian Steel declared.
His legal team argues that this assertion is inaccurate and irrelevant to the trial, putting Young Thug's character into question. Thugger's attorney argues that the presumed interaction with law enforcement supposedly occurred when the rapper was "young."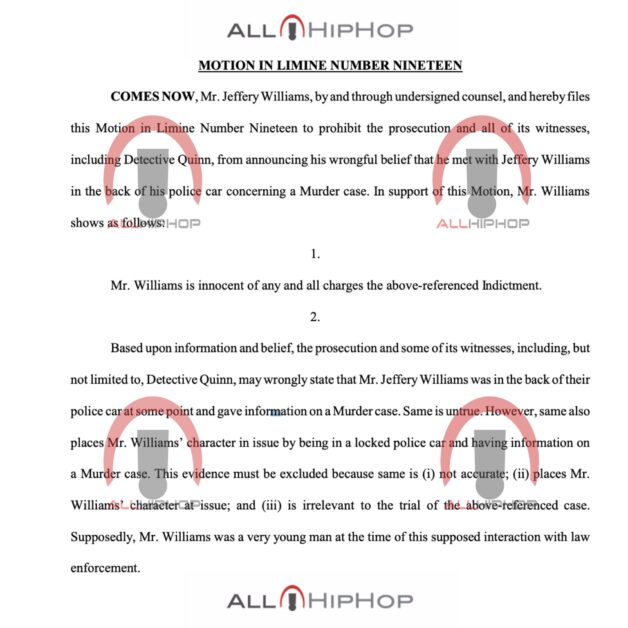 And, while the prosecution has voiced concerns about witness intimidation, Young Thug's team claims that the prosecutors are engaging in such tactics. 
His legal team insists that witnesses have been pressured by the prosecution and are reluctant to testify truthfully at the trial. They argue that no witness can testify to inadmissible evidence or speculate about another individual's demeanor or reason for not participating in the case.
Young Thug's legal issues stem from his indictment for conspiracy to violate Georgia's RICO Act and participation in a criminal street gang in May of 2022. 
Prosecutors later added six felony charges in August of 2022, alleging that Young Thug's YSL Records served as a front for a dangerous street gang. 
Over two dozen YSL members, including rapper Gunna, were indicted for racketeering. Eight members, including Gunna, have taken plea deals.