The beef between Benzino and other Black men rages on! No, I just think it's hilarious to see Benzino going at it with the likes of Royce da 5′ 9″ and Joyner Lucas over Eminem, but Eminem hasn't said a word! All of this stems from an interview that Benzino did with somebody – I can't remember – over his long term beef with Eminem! What he said didn't really warrant any comment, IMO. But folks commented! He just outlined his grievances (AGAIN) with Eminem which is something OGs do. So, you could say he was reminiscing on the good all days!
The only thing is, his good all days involve Marshall Mathers, who is friends with Royce da 5′ 9″, one of the best rappers out right now. Royce has vigorously defended Eminem from just about anybody that has something slick to say, except Snoop Dogg who said so much that Em put it in a song! I think Royce could have let this one go because it has devolved into all sorts of stuff over the weekend that included Benzino's daughter – Coi Leray.
Now, the whole Detroit is coming at Benzino, but they most assuredly remember when he dissed Eminem's daughter! That means Coi Leray is not off-limits to them, especially when she is a public figure. However, nobody's going to tell that to Zino. He made a note that was made public that would scare me.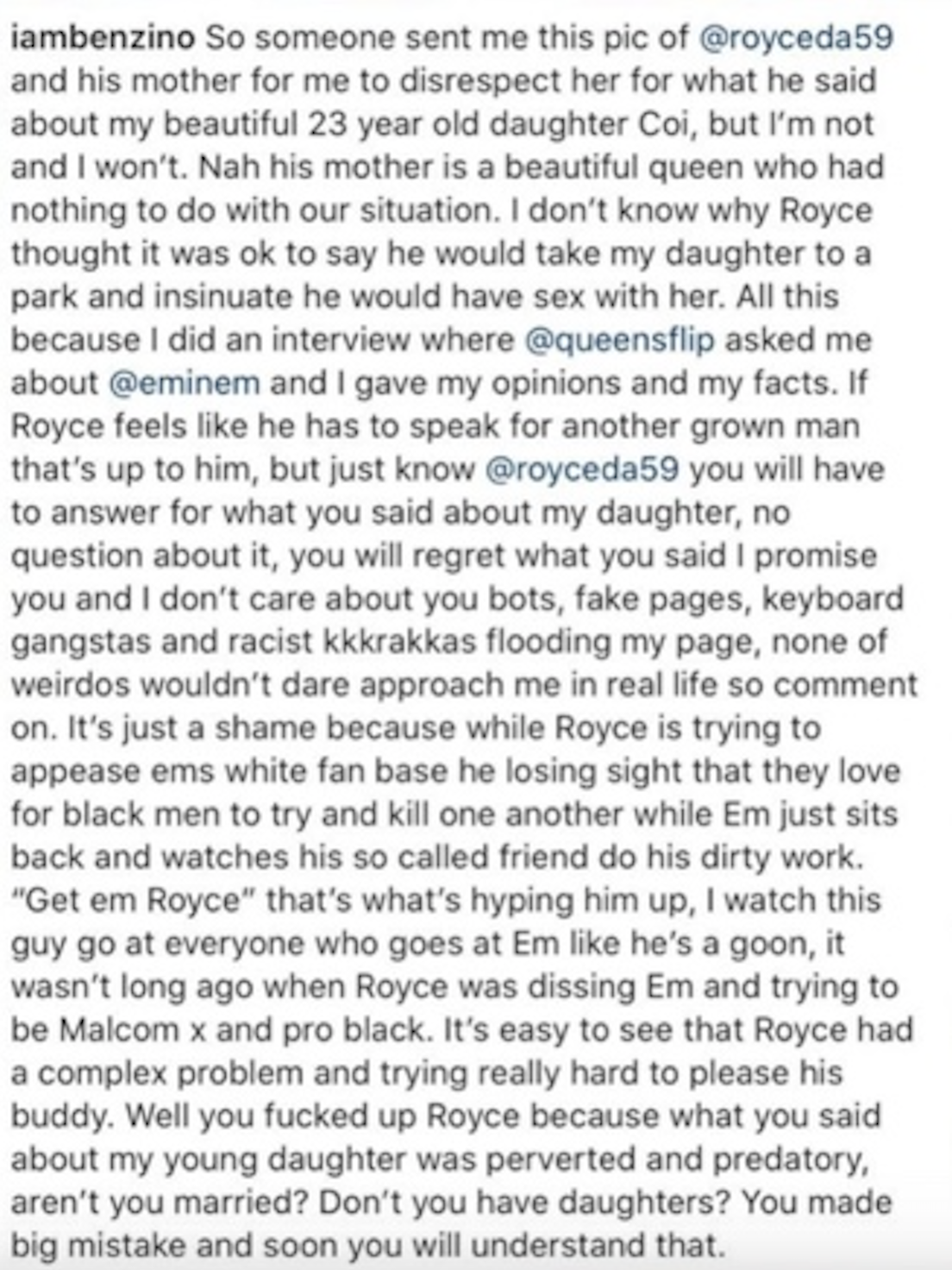 https://www.instagram.com/p/CJoMLDxszzx/
All bets are off! This is not a good look! Stop this, guys!
I am not quite sure where Joyner Lucas comes in but he came in! The clap backs were epic if not extremely incriminating to Benzino. Benzino basically threatened Joyner Lucas and stated that he could never come to Boston, specifically Roxbury, the hood where he grew up. We all know that Benzino is a real guy, that does real things and he is really seriously nothing to play with!  Paul Pierce knows this! I recommend that Joyner Lucas just let this one go. And leave the street talk to the street guys that specialize in that type of action! Joyner Lucas is a creative lyricist without few peers in this day and age but this is a different world from where he comes from! So Benzino might not be the best rapper, but he's got those street skills! The man got shot at a funeral and lived. We know that Royce da 5 9 is nothing to play with, because he's got a whole rocket launcher in his house somewhere. I just think, it's time to grow up a little bit with the whole world watching in 2021.