I wasn't going to say anything about this, but Cappadonna has everybody laughing right now. Now let's be clear, Cappadonna is NOT somebody to be laughing at but the album cover of his upcoming opus is a bit interesting. TARRZANN!
View this post on Instagram
The Wu-Tang OG has a new album coming called TARRZANN and it has him in the jungle of sorts with a bunch of animals around him and half of his face as a lion. But, honestly, the album looks like a toddler could have done it all of the starter kit for Photoshop. I mean, seriously it really looks crazy and people are going in on the veteran rapper for it.
Some people are even offering to do the album cover for free! These are fans, not haters. FANS! These are seasoned, hardcore fans of a rapper we adore as a lyricist in the street representative of the culture! So be real clear, nobody is hating on Cappadonna right now. It's all out of love In the comments under the album cover, which is posted on his Instagram, Cappadonna defended his choice of album art but nobody was really listening. He maintains that the album art does not really matter very much and likened it to underwear! He said it's the music that counts. I disagree – album art still matters!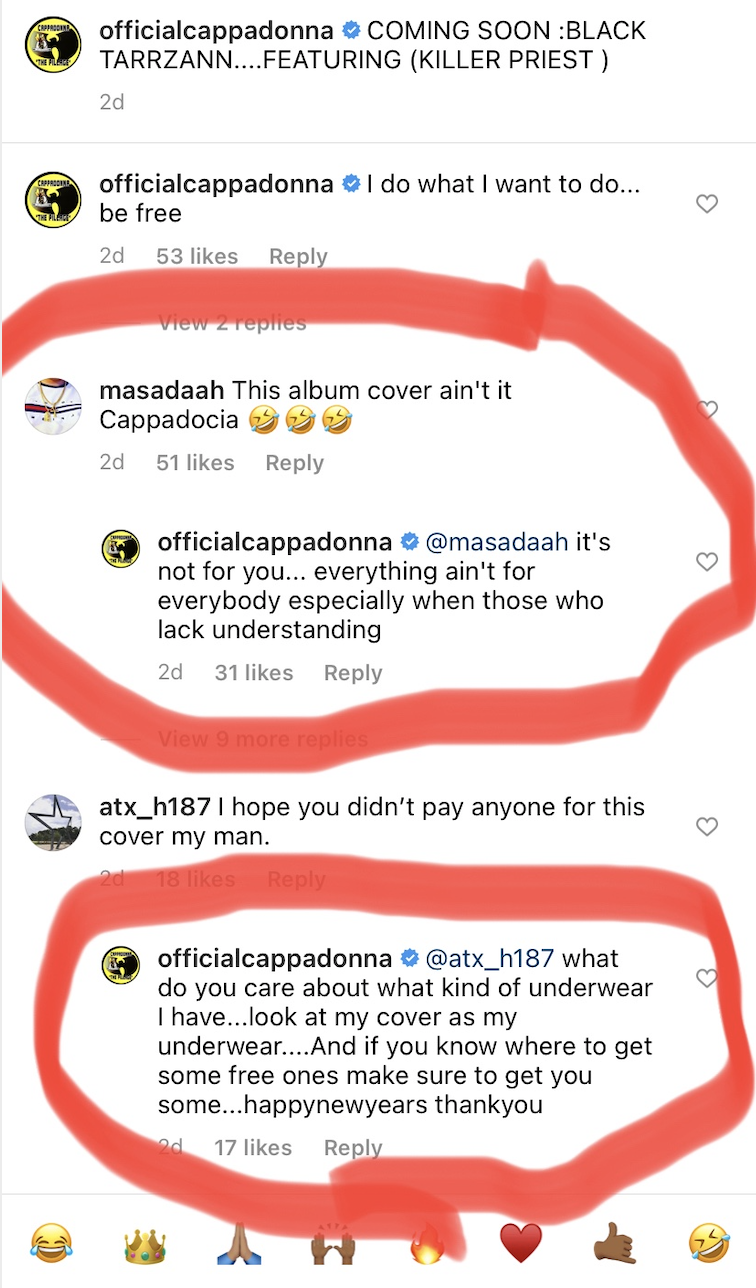 The funny thing is, he's kind of right in this digital day and age, despite what my opinions are. In a lot of ways, we don't care about album art! We walk around with these phones in our pockets and just play the music, we don't even listen to the whole album in most instances. We certainly don't buy actual albums whereas CDs or tapes ART was used to sell the music. The album art was an advertisement of sorts that helped move people into buying the music, not a real representation of what the music sounded like. So, if you had good art you saw more records and people celebrated that.
The irony of all of this is I went back and listen to a bunch of Cappadonna music and realize that he's dropped a couple of dope albums in the last year or so LOL! I had no idea of this until this album art fiasco began! So this is a good thing we are going to make it out of this intact. By the way, I peeped he did a new video at Won World Studios in New York City which is the place where AllHipHop does a lot of work out of. So shout out to them