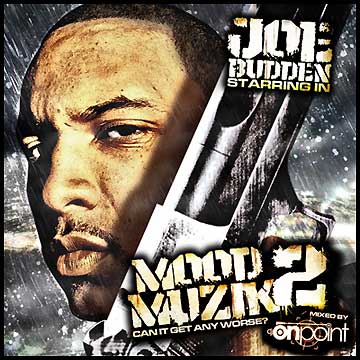 Hot off the presses. I got this straight from the boss Chuck "Jigsaw" Creekmur. He hosted a conversation with Joe Budden at the Apple Store this evening in New York. Welllllll….some stuff came out of that conversation and it was revealed that Joe Budden isn't likely to revive his Mood Muzik mixtape series. You know MM is one of the dopest series ever for a rapper and it really kept Joe hot in the streets until things settled down at the label. No more of them? Its not looking good! (Continued below.)
Joe also documented how he averted a beef with Lil Wayne and YMCMB. That lead to the situation where Wayne appears on the new album, No Love Lost, with "Put It Down." Cool beans. It would be cool to get a new Mood Muzik, but Joe said that all of his songs these days are Mood Muzik. So, cop that album!
Buy No Love Lost HERE!

They keep us talking, but if we stop talking about them then they should worry! -illseed.
Illseed, Out.
GET INTERACTIVE WITH ALLHIPHOP.COM!
Follow us on Twitter! Like us on Facebook!
Email illseed rumors: kingillseed@gmail.com