Yesterday was the day of love all over the world! We celebrated Valentine's Day in a myriad of ways! Some people posted their loves and the people in their lives that they adore. Others posted self love affirmations. Others still simply ignored the pagan holiday with no roots in anything other than a masscre that happened on February 14 way before all pf air times. That said, one of our favors guys, NLE Choppa did a wild departure from the standard fare. He made Lil Wayne his Hip-Hop Valentine.
I am not suggesting anything weird, but it is a bit weird. Until you read the letter that Choppa wrote Wayne.
"Dear Wayne, I simply wanted to physically gift you these flowers to symbolize my appreciation for you as an artist, icon and more importantly an inspiration. Growing up I had 3 favorites – Kobe, 2pac and the one and only Dwayne Carter!! I pray this is just the beginning to a big brother, lil brother relationship. With that being said I want to say THANK YOU, whole heartedly. Awards couldn't even amount to how many lives you have changed and inspired. I am proud to be a part of both. Forever grateful."
He also gave Wayne a couple dozen or so red roses.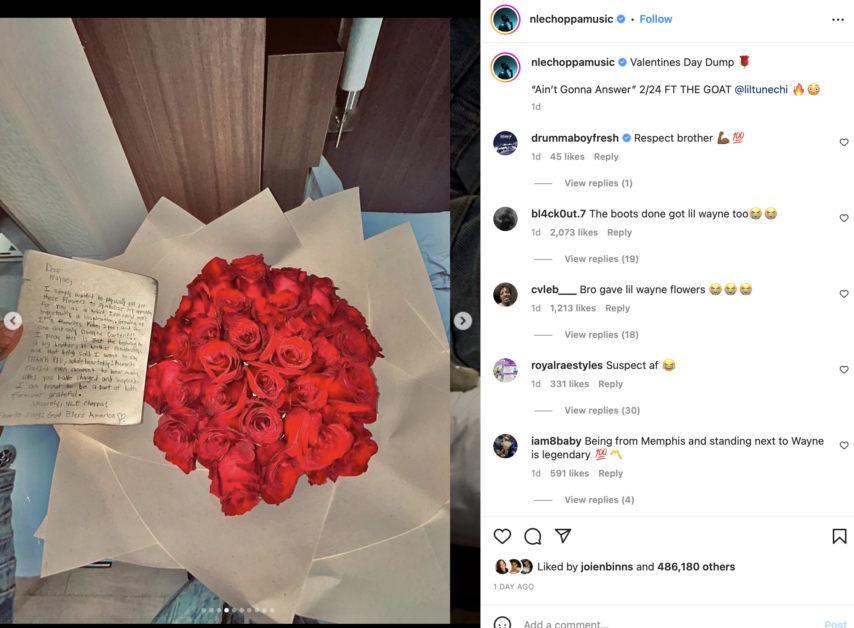 Wayne responded to his baby bro after being given the flowers and skateboard.
"I appreciate that. This is my life right here. For real, for real. Whatever cameras, if y'all watching – be like this guy, man. Be like this guy. He's a good guy, man. For real. I do this a lot. I'm on video sets a lot – new artists, old artists. This doesn't happen. This doesn't happen. He's a great guy," Wheezy said.
I ain't made at ya'll! Go on and make beautiful music together!