I am a fan of Orlando Brown and his crazy way of doing things. I believe him. But there are levels to crazy and amazingly he appears to have crossed the line into criminality. When that happens you have a few options. Orlando is accused of wielding a knife on his family members. And the way his defense is set up, he may be going with an insanity plea. First of all, look at this mug shot and tell me he doesn't have a chance.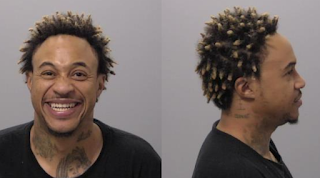 He might pull this off.
TMZ is reporting the following.
According to legal docs obtained by TMZ, Brown's attorney is asking for a mental evaluation to see if the disgraced actor is mentally fit for trial.
Orlando's charged with aggravated menacing, a first-degree misdemeanor in Ohio, for his December arrest. The former Disney star previously pled not guilty, but the results of the evaluation could lead to Orlando changing that plea to not guilty by reason of insanity.
In the meantime, Orlando's on house arrest … he was released from custody Friday after posting bond of about $25,000.
I am looking at that mug and I think he may get some time. I don't know but I believe he thinks he's the Black Joker. Sorry, I am just being really random and nonsensical right now. Sort of like Orlando Brown.
Brownie accused his own brother of raping his wife. OK. And he employed a broken off knife and a hammer. He did not use them, but he still caught a case. I find it hard to believe this brother is the dude from That's So Raven. 
Orlando Brown was staying with his brother, because he's homeless. Now he's really homeless, but he may have a cell to lay in. And that can become home if this does not go his way.