2022 just got weirder.
Quando Rondo is out! Ol' boy has been through a lot and he had decided to just quit gang life! Rondo is a Crip! And he's done something I have almost never seen happen: quitting. Usually it is some "blood in, blood out" stuff. Anyway, he said that gang members are not loyal and he is going to focus on family!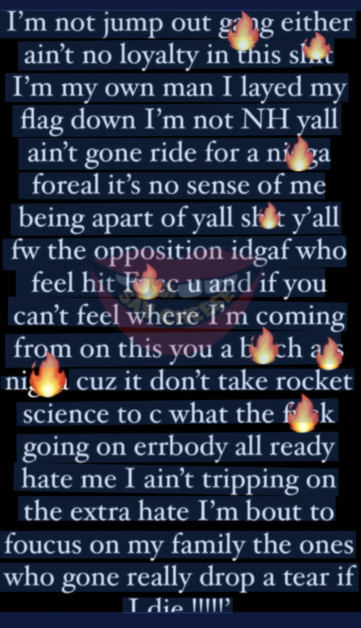 What do you think about this? I find it so amazing and so tragic.
Here is the deal. Another one of Rondo's homies died. Remember, they were in LA and in the brightness of the sun, somebody shot his man Lul Pab. Rondo was not hit. His boy would die later. Rondo didn't take it too good. He decided to let it be known. He. Is. Out.
He said more on his IG stories.
"It's time for me to spend time to myself and free myself from a lot of people. My Main Manz Gone & a lot more sh#t I'm cool on alot of sh#t if I feel like you not with me it's no reason for me To be holding on to you no need to shake your hand or fake some with you ! I'm Living Life How I wanna live life whatever I wanna do ima do it you gone either gone get with it or get lost," he said.
I feel for lil bro, because he took all he could take. We already know he was the intended target of the gunners that took his boy. Life went on relatively fast and I bet nobody cared in the set. On top of that, it was rumored that the Hoover Crips did the shooting. For a minute there, they said Big U was protecting Lil Rondo, but maybe something happened.
Here's more of what he said on IG.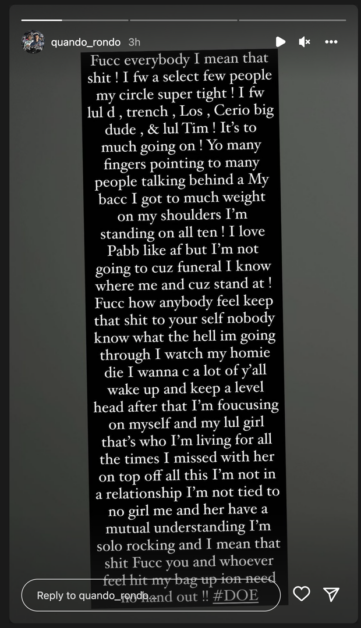 That is a lot.
Here's more. J. Stone said you gotta come and get let out of the set. You cannot just walk away, bro.
This runs deep.