The Rock has a few special traits that make him unique. First of all, he's a master salesman. Also, he's gets what he wants. Thirdly, he's a big dude.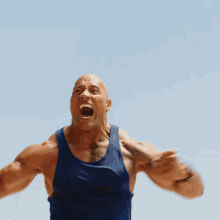 Well, he was promoting a movie that didn't buy any ads on the site when he The Rock was asked "What celebrity would you want to be a pet to?" And he responded without hesitation "Megan Thee Stallion." He said it with lust in his eyes! And Kevin Hart could only laugh at him.
But somebody did not think it was funny.
And that somebody was Pardison Fontaine, aka Megan's boyfriend! Fontaine is successful so lets get that out of the way. Per wiki: "He has credits as co-writer in multiple top 20 hits with other artists, including Kanye West ("Yikes", "Ghost Town" and "All Mine"), Cardi B ("Bodak Yellow", "I Like It", "Wild Side" and "Up"), and Megan Thee Stallion ("Savage Remix" and "WAP").[2] In 2021, Thorpe won the Grammy Award for Best Rap Song for his contribution on "Savage Remix." Remember this?
Anyway, he made a comment in the comments and let it be KNOWN!
"All our dogs is named after #s … just teach ya wife to use seasoning .…. you'll be ilight," Mardi said. "Moana is the s### tho." He's wild for that! See, The Rock is married to a white woman named Lauren Hashian. The Rock (or should I say Dwayne?) and Lauren have two children together, Jasmine and Tiana. They are a happy bunch! Was that interview Dwayne or The Rock? You think he was in the DOG HOUSE after that interview?
No word on what Megan Thee Stallion thinks of all this.
We'll stay on it.