UPDATE: They partied after the awards and looked happy! This is why you cannot trust social media.
Man. This is a situation where I evoke this gif.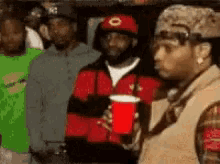 But first, SALUTE DIDDY!!!
So, it is universally known that Diddy is now dating Caresha aka Yung Miami from The City Girls. This is all good. And we all approve of it, because why not? But, in his incredible speech for the lifetime achievement award at the BET Awards, he recognized his two exes Kim Porter, rest in peace, and Cassie, the one-time ride or die chick. Cassie has moved on and is now married to another man. Kim Porter passed away and is eternally in our hearts, as the mother of his children but also as a beautiful soul. And now, there is Caresha who is one of the City Girls. We like her too, but she's relatively new to the scene. He did not recognize her in his speech, but she recognized him from the seats. She held up a sign saying "Go Papi," for everyone to see. She was extremely exuberant and happy to be supporting her man in his finest moment.
However, there was a glaring disparity with the excitement between the two of them. Diddy stared into the camera and shouted out Cassie and paused. It was almost like he was saying something other than love. It was almost like "I still got you," "I still love you" or "You're still mine." I don't know, but it was very interesting. Nevertheless, Caresha probably wanted to put that sign down after he said that. If she didn't, good for her. Stick it out! However, it just seemed like a disconnect.
All of that aside the social media world went bonkers, as you would imagine. And they expressed their full range of emotions in their various social feeds. Check that out.
All of that aside, the dedication to Diddy was amazing and he ran the gambit. The highlight of the display was a performance by Shyne Poe, also known as Shyne Barrow, who is also a politician now and believes he performed his hit from the Bad Boy era but he put a positive spin on it. And I thought that was a incredible Shine as one of our favorites, because his loyalty was so ironclad and he also managed to stay cool with the heaviness of Hip Hop. Diddy get props because he gave his former artist a platform on one of the largest stages of music and entertainment.
Lastly, Kim…poor Lil Kim. She came out guns blazing and missed her cue. And she was off the whole rest of the way. I love how Puffy held her down though.