Pras Michel, a member of the acclaimed music group The Fugees, is facing difficulties in his attempts to serve former President Bill Clinton and Rudy Giuliani with subpoenas, as the pair seem to be dodging the musician's efforts to have them testify in his trial over the 1MDB scandal. 
Pras is connected to the case by associating with Jho Low, a central figure in the scandal. 
The 1MDB scandal, which emerged in 2009, revolves around the misappropriation of billions of dollars from the Malaysian state investment fund, 1Malaysia Development Berhad (1MDB). 
Jho Low allegedly used his connections with influential figures like Kim Kardashian, Busta Rhymes, Paris Hilton, and many others to launder money (without their knowledge) and sustain a lavish lifestyle. 
However, Pras Michel is accused of collaborating with Low to facilitate the transfer of large sums of money from foreign banks to the United States.
In collaboration with Low's illicit funds, Pras is accused of funneling millions of dollars to back the 2012 presidential campaign of then-President Barack Obama, utilizing a minimum of 20 proxy contributors to obscure the actual origin of the finances.
In June of 2021, a Washington D.C. grand jury issued an updated indictment against Pras alleging that he helped initiate an unauthorized, covert operation around 2017, aiming to persuade the then-President's administration and the Department of Justice to abandon their investigation into Jho Low.
According to documents obtained by AllHipHop that were provided to the court by Pras Michel's lawyer, David Kenner, a former attorney for Death Row Records, the musician has made extensive efforts to serve subpoenas on Clinton and Giuliani.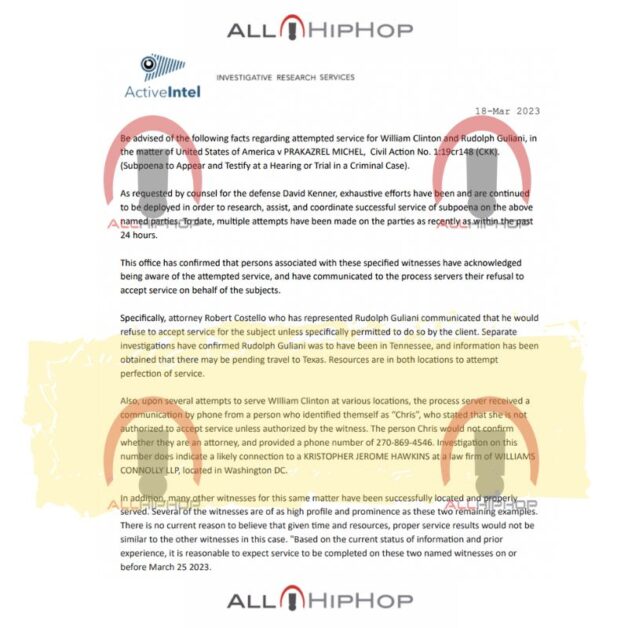 Despite several attempts as recent as the past 24 hours, individuals connected to these witnesses have acknowledged the attempted service but communicated their refusal to accept the subpoenas on behalf of their clients.
Robert Costello, an attorney who has represented Giuliani, stated that he would refuse to accept service for his client unless permitted explicitly by Giuliani. 
Meanwhile, separate investigations have revealed that Giuliani might have been in Tennessee, with possible plans to travel to Texas. Resources are currently deployed in both locations to attempt successful service.
Furthermore, after multiple attempts to serve Bill Clinton at various locations, a process server received a call from someone named "Chris." 
This individual claimed not to be authorized to accept service unless authorized by Clinton. "Chris" did not confirm whether they are an attorney but provided a phone number linked to a law firm named Williams Connolly LLP in Washington DC.
Despite these challenges, Pras Michel's legal team has successfully located and served many other witnesses with similar high profiles and prominence, although the artist has recently lost bids to subpoena former Presidents Barack Obama and Donald Trump.
Pras and Kenner expect to complete service on Clinton and Giuliani by March 25, 2023, based on current information and prior experience. 
As the trial continues, Pras Michel remains in a difficult position, with his connection to the 1MDB scandal casting a shadow over his musical career.
In fact, earlier this week, it was revealed that Pras was working with an intermediary to raise funds by offering the opportunity to acquire a share in the rap star's future income as an artist.