The impending debut of Triller on the New York Stock Exchange (NYSE) is poised to rewrite the narrative of the digital world. As the stage is set for Triller's grand entrance, a star-studded lineup of celebrity investors including Swizz Beatz, Ashanti, T-Pain, Russell Westbrook, Troy Carter, The Weeknd, and Lil Wayne underscores its credibility and momentum.
At the heart of Triller's allure lies its formidable AI technology, Amplify. This AI engine has become the industry standard for innovation, adopted by industry giants such as Verizon, Nike, and Activision. The underpinning value of Triller, however, isn't solely derived from its high-profile backers, but rather from the seamless fusion of celebrity influence and strategic brand partnerships.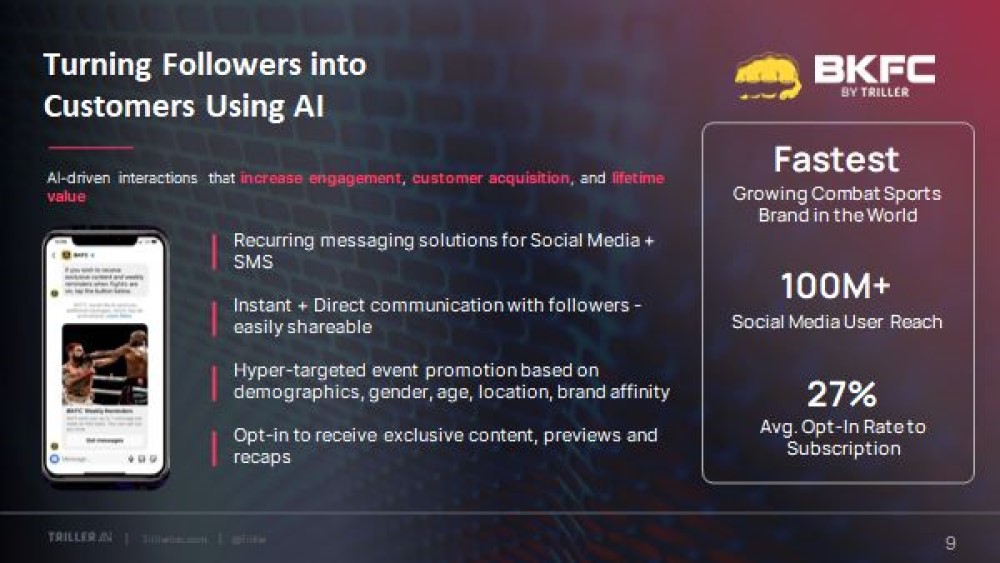 While superficially likened to social media contenders like TikTok, Triller's significance cuts deeper. It signifies the embodiment of a digital paradigm shift, where technology, entertainment, and influencer culture intertwine to create a revolutionary platform. The bedrock of Triller's advancement is Amplify AI, which effortlessly integrates into major social networks—Instagram, Facebook, Snapchat—with the finesse of a well-practiced dance. This integration unfolds within native messaging apps, resulting in an impact that reverberates through engagement rates that surge as high as 70%, dwarfing the performance of conventional digital advertising campaigns. 
The brilliance of this integration is the enhancement of user experiences and the simultaneous provision of a powerful medium for businesses to effectively engage their target audience. Amplify, often dubbed "ChatGPT for brands," boasts an illustrious array of partner brands that include Verizon, Nike, Activision, Hulu, DAZN, Nissan, L'Oreal, NYX, Comedy Central, Universal, WWE, Pepsi, P&G, Mini, SBI Bank, HBO Max, Glamnetic, Walmart, McDonald's, Coca-Cola, Neutrogena, Disney, Puma, Google, Lange Beauty, HINT, TIVO, Mike's Hard Lemonade, Victoria Beer, CBS, Logitech, Dr. Pepper, Paramount, Sony Playstation, and many more.
Amplify AI: The Backbone of Triller's Power
Triller's most valuable asset resides in its AI system, a crown jewel acquired and rebranded as Amplify.AI. This transformative technology has rewritten the digital playbook, revolutionizing the way social media marketing, advertising, and user experiences are conceived. Amplify's adaptive nature and exceptional self-learning capabilities enable it to orchestrate interactions across behemoths such as Facebook, Snapchat, Instagram, Twitter, WhatsApp, and YouTube. With the force of a technological titan, it powers over 750 million interactions per quarter, paving the way for revenue-generating opportunities while heightening user engagement. In an astonishing parallel to industry leader OpenAI, Amplify's meteoric rise mirrors a valuation reminiscent of OpenAI's monumental $23 billion benchmark.
Empowering Brands and Influencers: Triller's Unrivalled Role
The numbers speak for themselves—Triller's community boasts over 2.2 million creators and partnerships with a staggering 25,000 brands. The platform has successfully streamed more than 3000 events. However, the crux of Triller's prowess lies in its exceptional ability to foster brand engagement and forge connections. Its identity as a unique brand tool is further bolstered by an engagement rate that soars above 41%, an opt-in rate exceeding 36%, and an average message open rate that stands tall at 85%. The click-through rate paints a similarly impressive picture at 24%.
In the domain of influencer marketing, Triller's meteoric rise is undeniable. Its dominance in this realm is underscored by partnerships with top-tier influencers on a global scale. In the constellation of its achievements is Julius—a potent marketing platform facilitating collaborations between celebrity stakeholders and a sprawling network of over 2.2 million influencers. Boasting the stature of a virtual marketplace, Julius upends the traditional influencer-brand dynamic, solidifying Triller's status as an industry frontrunner.
Triller's Multi-Faceted Strategy: Beyond Expectations
Triller's reach extends far beyond its social media footprint, stretching its arms into the realm of combat sports and beyond. The watershed moment was the 2019 Tyson VS Jones Pay-per-View event—an event that resonated as the most successful digital PPV in history. But Triller's ambitions don't halt there. The acquisition of BKFC and fight.tv underscores its audacious goals. In fact, BKFC is poised to match the formidable valuation of the UFC, standing at an impressive $10 billion. Additionally, fight.tv challenges the status quo of platforms like DAZN, boasting a valuation exceeding $4 billion.
Triller: Redefining the Landscape of Engagement
Triller's unique approach is a testament to its innovation. Rather than setting out to eclipse social media giants like Instagram and Twitter, Triller enhances their worth. The company's modus operandi centers on "onboarding" users—550 million registered users, to be exact—onto its platform, while simultaneously encouraging them to maintain their routine activities across other social networks. Here, Triller's AI comes to the fore, seamlessly bridging brands and customers across diverse platforms. Rather than locking users within its walled garden, Triller's AI flourishes by collaborating with other social networks, allowing it to unleash its full potential.
Valuation Insights: Unearthing the Potential
In the realm of valuation, Triller's potential offers an intriguing saga. The acclaimed AI-based tool ChatGPT commands a market valuation of $28 billion, a testament to its widespread adoption. Likewise, Amplify, the "ChatGPT for brands," shares the same potential. Triller's impending public offering assumes a position of grandeur, drawing parallels to giants such as UFC ($10 billion) and DAZN ($3.5 billion).
A Vision Beyond Horizon: Triller's Odyssey
Triller's aspirations transcend the confines of social media and combat sports. The company's shrewd understanding of the influencer landscape cements its position as a torchbearer in the digital age.
In essence, Triller is the vanguard of the future of digital interaction, harmonizing sports, entertainment, influencer marketing, and AI-driven technology. As the platform takes center stage with its NYSE debut, the magnitude of its endorsements, strategic acquisitions, and financial projections point to a trajectory that promises to redefine the very fabric of the digital universe.