Desiree is a baddie from Miami, and she's here to take the music industry by storm.
The singer, songwriter, actor, Youtuber, and influencer exploded onto the scene during the Vine days, building a social media presence with her breathtaking inner and outer beauty. In transitioning her talents to Instagram, Desiree began working with the elites such as King Bach and DeStorm.
The 23-years-old is a Leo, who loves to entertain. With her parents divorcing and her splitting time between her mom and dad's place, she grew up around so much diversity.
She states, "Miami is such a cultured city, that's what really impacted my musical taste and who I am as an artist. There's so much Caribbean culture in Miami, which is ultimately where this record with Bounty Killer came from."
Having resided in Los Angeles for 4 years now, Desiree recently unleashed the official music video for "One Time," reeling in the hottest Caribbean artist for a feature. Bounty Killer is a legend in the game, so Desiree flew to Jamaica to shoot a portion of the video. Under the care of Bounty, she was given all-star treatment making her first trip to the country one for the books.
With her forthcoming EP titled Have A Nice Life, Desiree injects all types of genres and styles, from reggae and R&B to Afrobeat and salsa.
AllHipHop: Who were your biggest influences growing up?
Desiree: It sounds cliche, but Beyonce. My first concert ever was her concert, I was 11. I love Beyonce, she can do it all. I loved her growing up, but there was also our local music. I don't think people feel like it is, but Miami's actually the South. It's really Southern. I've always loved Beyonce, Nicki Minaj, Drake. I've always loved the biggest artists because I wanted to be the biggest artist.
AllHipHop: At what point did you realize you could do music for a living?
Desiree: I'd been singing for so long but I recorded my first song in a studio when I was 10 or 11. My mom paying for some studio time for me finally, after me begging. I'm like "okay, I really want to do this!" I wrote my own song and continued to do it. It wasn't until I started meeting people and making connections where I thought I can actually go somewhere with this. I always knew I wanted to do this, it was always a thing.
AllHipHop: How did the collab with Bounty Killer come about?
Desiree: Honestly, I'd been sitting on "One Time." It had no feature, it was just my part. I sat on it for 2 to 3 months before you guys ever heard it. I knew I wanted a Caribbean record so I created the record. I didn't know who I wanted it to be, but I knew that I wanted a Caribbean feature. I was thinking, maybe a young Caribbean artist? I was racking my brain trying to figure it out and I thought of Bounty Killer. I didn't know if it was too far-fetched but you know what, the law of attraction. We gon' make this happen. I sent him the record, he liked it. He said he'll see what he can do and he sent his verse back.
AllHipHop: Just like that?
Desiree: Yeah, it sounds like a fake story. That's really how it happened. It all happened in the right timing, it worked out. There were a lot of artists I had in mind, I had contact with, but Bounty sent his verse and I'm like "this is it, perfect."
AllHipHop: How did yall get in contact?
Desiree: Instagram. Thank God for that!
AllHipHop: What was your reaction when you got his verse back?
Desiree: I was so happy. A lot of times when you collaborate with another artist, you might go back and forth 2 and 3 times before you get the verse that you want. His verse was perfect, you don't have to change a thing! He's a legend. Him being a legend, everything was perfect. He's so talented, I was really excited.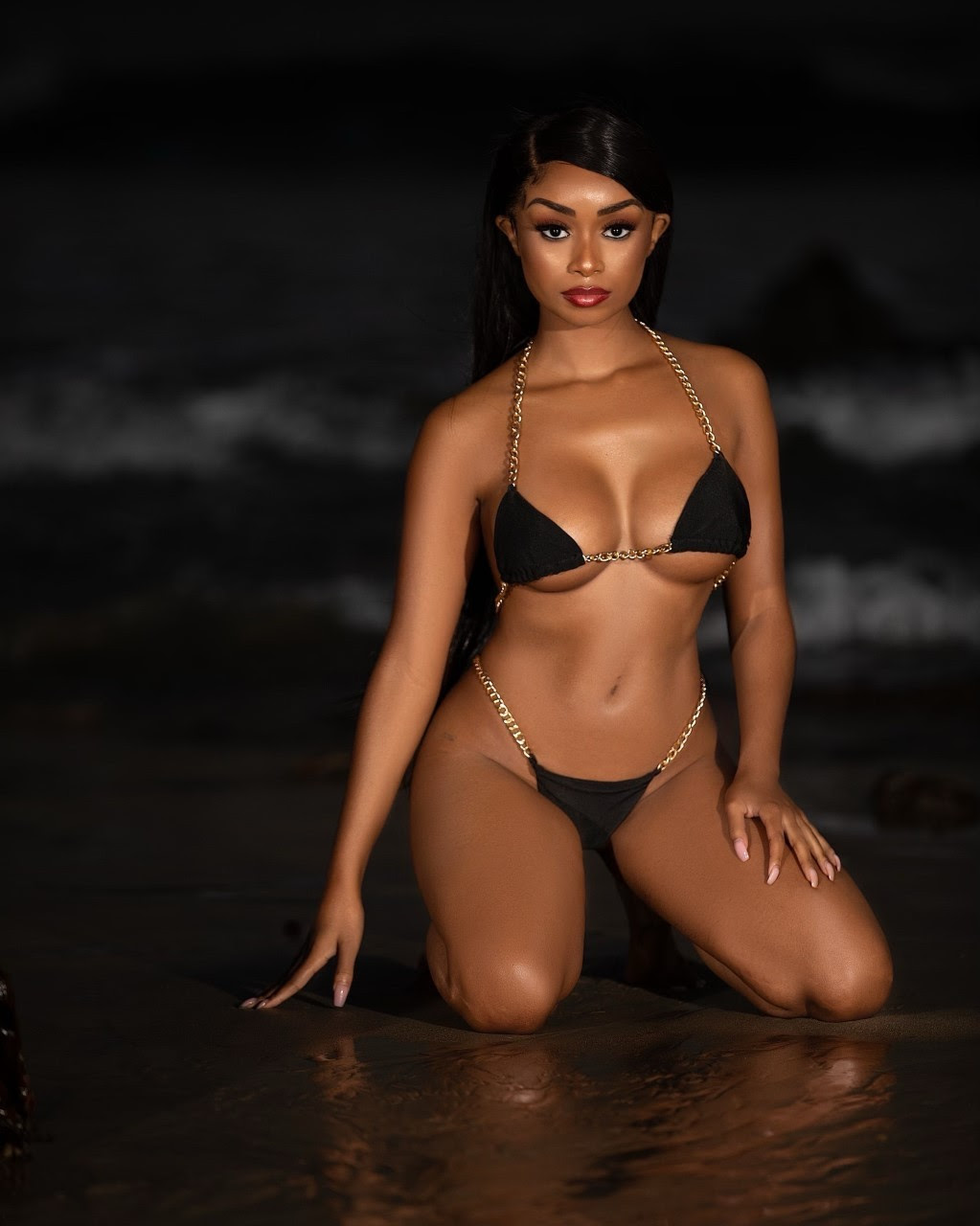 AllHipHop: Talk about half the video being shot in Jamaica, how was that experience?
Desiree: My birthday is actually August 16th. It was around then, we were in Jamaica for 3 days.
AllHipHop: During quarantine?
Desiree: Yes, during quarantine. Let me say this, Jamaica is very very cautious. Safer than the US. right now. When you come from the U.S. they're looking at you like ummm… [laughs] We did everything right. We followed all the rules, all the precautions, all their requirements. Our day of filming was August 7th to August 10th, our Jamaica shoot dates. We were very safe. It was very intimate, never more than 3 or 4 people in our space at a time. We shot the last part in Miami which is where I'm from, so it made sense. We did that on the 10th or 11th, it was bam bam bam. Land in Miami, shoot. That's my first time ever in Jamaica.
AllHipHop: How was your experience?
Desiree: Oh my god, paradise. Any time you're out of the US, you can tell you're out of the US. A feel of okay, I'm in a foregin country right now. Miami is obviously tropical, it's beautiful, but it's still the US. It's something about being not in America, everything looks different. You feel like you're on an island. You can't escape the island. Yeah there's a city, Kingston is a city, but it's still paradise. Everything's paradise. The beach, the mountains, everywhere around you is what you would imagine in a movie. To be there for the first time, wow. The most beautiful place I'd ever been honestly. Everyone has been to Jamaica, all of my friends said "let me know what you think, it's so nice." I felt late, I can't believe this exists in the world!
AllHipHop: What was the best memory in Jamaica?
Desiree: The people. Especially being in a foreign country, you don't know anybody. You want to make sure you're safe. Bounty hooked us up with his people, his driver. We were in good hands. People in Jamaica are so genuine, helpful, and nice. It's a unity in Jamaica that I don't think you get here in America. Everyone wants to help. Everyone has their different grinds. You see this person over here selling fruit, this person over there selling this. It's a unity I really love and never seen before. Being nice to a stranger, you don't really get that. I heard that's a Caribbean thing, you have a lot of manners.
AllHipHop: Were you nervous to meet him?
Desiree: I was but as soon as we met, it was instant chemistry. He's super chill, his mannerisms and aura is super chill. He's a chill dude, he sits back and relaxes. When the camera turns on, he turns up! It's a different person. He's such a star that he can do that at the snap of a finger. He's very easy to work with because he knew exactly what he's doing. He brought his part, now I had to match him. He brought it, every shot was amazing. In Miami, we did the party scene. A club scene, still keeping things safe and as intimate as possible. Honestly if it were up to me, I'd have a bigger club. But okay, let's keep it small. Everything was fun, like having a real vacation but working at the same time.
AllHipHop: What do you want fans to get from the record?
Desiree: I think I've gotten this, but I want support from the Caribbean. I've always wanted that because I'm from Miami, Caribbean culture is crazy out there. I really really hope that I did it justice. I want people to dance and have fun, it's really a dance record. I sing R&B most of the time. I'm singing about heartbreak, I love you or cry with me. But this one is dance, just feel-good. If it wasn't COVID, I'd want it played at every club. When COVID clears up, we'll do that.
AllHipHop: Do you miss outside?
Desiree: Yeah. I'm an introvert but alright, I'm over this now. I'm ready to get back to normal because I miss going to the movies. I miss going out to restaurants, which are opening up now but it's still not the same. Going to bars, that was my thing. I loved going to karaoke. I do miss outside and I'm ready for things to be over. I'm over it, finally done.
AllHipHop: 3 things you need in the studio?
Desiree: I need water. I need Hot Cheetos. I know that sounds crazy, other singers gon' be like "what?" [laughs] I need water, Hot Cheetos, and my phone.
AllHipHop: Do you write your lyrics on there?
Desiree: I do write my lyrics on my phone. I don't like handwriting at all, my handwriting is horrible. I don't handwrite, I'm a typer so everything's in my Notes.
AllHipHop: What can we expect next from you?
Desiree: This is all a part of an EP. You have "One Time" out now, then you have "Bad" I released a couple months ago. "Bad" features a female rapper named Daysha Taylor. She's from Atlanta, so that feel and vibe of that record is really Southern and really Atlanta. Next we're putting out another record, it's actually a slow R&B song. These last couple songs I put out have been really hyped so I'm excited to sing. Now you can hear me sing.
AllHipHop: Why'd you name your EP, Have A Good Life?
Desiree: The EP is a breakup EP. It's not crying over you, it's okay I'm over you now. When you're in the phase where you're over the person and you're done with them, you're good. Everybody has either said it to somebody or heard it: have a good life. Wish you well, bye! This EP is really about I've over you now. The EP's very very versatile. You got "One Time," you got "Bad," then this next record is a ballad. I wanted to be versatile. When I think of my music career, I think of Rihanna. What can't she do? My next record is called "Soul Searching," then we'll put the EP out.
AllHipHop: Anything else you want to let us know?
Desiree: You can follow me everywhere at @OfficalDesiree. That's my Instagram, my TikTok, my Twitter, literally everything. That's it.