(AllHipHop Editorial)  2016 WAS THE BLACKEST YEAR EVER. Yes. It was. I know, who am I – Chuck Creekmur – to say that? Just because – I said so. Yes, I know Black people have had some seriously high points like the rolling 60's where huge strides in Blackness were made. Malcolm. Martin. Ruby Dee. Huey P. Rosa. Angela. Issac. Stokely. Smokey. Stevie. Marvin. And so many more.
But 2016 had some stuff that the 60s and 70s did not. Namely the internet and social media. Blackness spread like a virus and word of mouth ate steroids after steroid after steroid. AND ROID RAGE WAS REAL. But it wasn't just tweets, Instagram and tumblr wisdom.
WE HAD:
Black Lives continuing to Matter greatly.
Colin Kaepernick. He stood up by sitting down. And he's still rich.
Kendrick Lamar at the Grammys performing "The Blacker The Berry" – crazy!
Jesse Williams damn near became the next Black civil rights leader during his BET Awards speech.
Chris Rock at the Oscars! He helped a Black Girl Scout Troupe sell $5,000 in cookies! Jada Pinkett-Smith even boycotted #OscarSoWhite.
Serena gave a black power salute at Wimbledon.
https://twitter.com/robinthede/status/751810150781050880
T.I. turned into a Black Panther. HOW??? Trap Muzik? No. Revolt Muzik! Rick Ross may EVEN catch a case for threatening Trump's life? In-cred-ible.
Dashiki's are back and hopefully will be a staple for here on.
Online business representing Blackness are EVERYWHERE.  Support us!
Black television at large made a huge comeback. From "Black-ish" to "Atlanta" to "Insecure"…"Power"…"Empire"…But it gets deeper than the sea floor traveled by the mantis. There was "Roots," and "Underground." And the movies. Nate Parker didn't get his just due with "Birth of a Nation but he still won on the money side. Meanwhile, we had "Moonlight," "Fences," "Hidden Figures" (got pushed back, but people still saw it) The narratives – like "The 13th" – are beginning to be told by us rather than for us. That in itself is an epic stride. Huge R.I.P. to "The Larry Wilmore" show.
I even went viral thanks to a single, well-placed question asked to Mr. Denzel Washington. Nas, Viola Davis, Pete Rock and many, many more shared this poignant, timely message of responsibility and manhood.
https://www.instagram.com/p/BOQxj1VjUky
Luke Cage, the first leading black super hero BROKE THE INTERNET AND NETFLIX!
Black Panther hit the screen in Captain America, Winter Soldier and stole the show like Rudy Giuliani's daughter STOLE $320 in Sephora make-up. Even Asian kids were dressing up as the fictitious African super hero. BP, BOO BYE YAY!
The real Black Panthers turned 50. Media ignored it. But we didn't. Even Beyonce saluted them. And White Folk Got MAD. OH WELL.
The Carolina Black Panther Cam Newton went to the super bowl and lost. That may have been pre-cognative cooning Karma working. Or perhaps the Illuminati put their hidden hand over the game and deemed Beyonce's halftime show enough.
Police Brutality Raged On, but it wasn't like the 60's. The media didn't HUMANIZE US like then, so we just got Blacker and Blacker. In fact, Black Twitter ruled everything around us. It kept them accountable even when nobody else would.
Black Girls Rocked The Olympics, the business world, lead the Black Lives Matter Revolution and set sapiosexual THIRST TRAPS ALL OVER THE WORLD. The Blacker the berry…the sweeter the berry. We ain't just out for the juice anymore!
Trump Got Elected. You think he just got elected? No, America selected him after Obama saved the nation from another Great Depression. Trump. Think about that. Mogul-Reality Star-Without A Lick Of Legislative Experience. President. I love it and hate it at the same damn time.
So what Trump won. Not only was Obama the best prez ever…he was Swagged Out AF. Michelle stunted on all these hoes. Melania has a a tall order in front of her.
Hillary whipped it, nae-nae'd: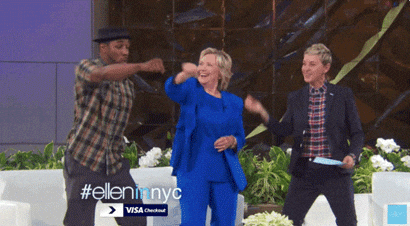 And dabbed: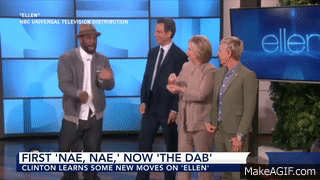 Let me tell you: Black people swag surfed at the White House during the first ever SXSL festival and then BET-and-nem swiped it later. 😉
View this post on Instagram
I PERSONALLY did the electric slide and my homie G-Rock did the BBD "Poison" dance with a vengeance.
DJ Beverly Bond spun Lauryn Hill, Nas and dead prez at the White House.
Countless BLACK stars went to the White House.
I'm talking:
Kendrick Lamar – jail house pose and all!
De La Soul – potholes in the white house lawn!
dead prez
Nas
Bell Biv Devoe – my homie G-Rock rocked to "Poison" in the White House
Common
Pusha T
Will Smith
Chance The Rapper
ME, ME, ME! Over and over and over – at the White House! I wasn't on the Christmas list like before though.
Nicki Minaj
Ludacris
Rick Ross – UGH!
Talib Kweli!
J. Cole
Wale
D-Nice
Fabolous
And that doesn't even mention class acts like Alicia Keys and Janelle Monae! AND MORE.
LISTEN: Trae DA TRUTH WENT TO THE WHITE HOUSE!
Drop the Mic.
There were even more examples, however one of the most telling indictments that this was the Blackest Year EVER was the rise of the cooning, a true reaction in the AGE OF DARKNESS.
You know who you are…maybe.
What does 2017 hold? Increased coonery or increased revolutionaries? Only time and Trump will tell.
HAPPY NEW YEAR! And feel free to add on other instances of Blackness in 2016 in the comments section!