50 Cent is known for his business acumen, social media hijinks, rapping career and, well, suing people. But every once in awhile, the tables get turned and the television exec is forced to defend himself. As 50 Cent's battle with MedSpa continues, he has another legal battle to settle. In 2021, a former drug kingpin, Corey "Ghost" Holland Sr., filed a billion-dollar lawsuit against 50 Cent, Courtney Kemp and the STARZ network. He claims the popular Power drama is based on his life.
50 Cent's legal team dismissed those claims, saying at the time, "[Holland] fails to state any claim upon which relief can be granted. More specifically, [Holland] fails to identify any defamatory statements made about him in connection with the fictional television series 'Power.' He fails to allege that his name, portrait or picture was used in connection with 'Power,' or that any such use was a prohibited advertising use."
But, the war continues. According to court docs obtained by AllHipHop, Holland, who's representing himself, alleges 50 Cent—real name Curtis Jackson—came to his home not once but twice in an attempt to settle the score. He says the incidents occurred in either July or August 2021.
"A few days later 50 Cent shows up about a half mile from plaintiff home, and plaintiff sees the same truck that pulled into his driveway at the 50 Cent event," he writes in the docs. "So plaintiff realizes it was either defendant Jackson or his Entourage who decided to 'Pull Up.'
"When you looking for a confrontation your honor, this is what people say, nowadays. Up to this point, plaintiff had ignored a lot of 'subliminal attacks' on him online, but now 50 Cent is bringing the drama right to plaintiff front yard, so plaintiff responded to 50 Cent they way any normal person would respond to a possible threat, plaintiff prepared himself for whatever was go happen."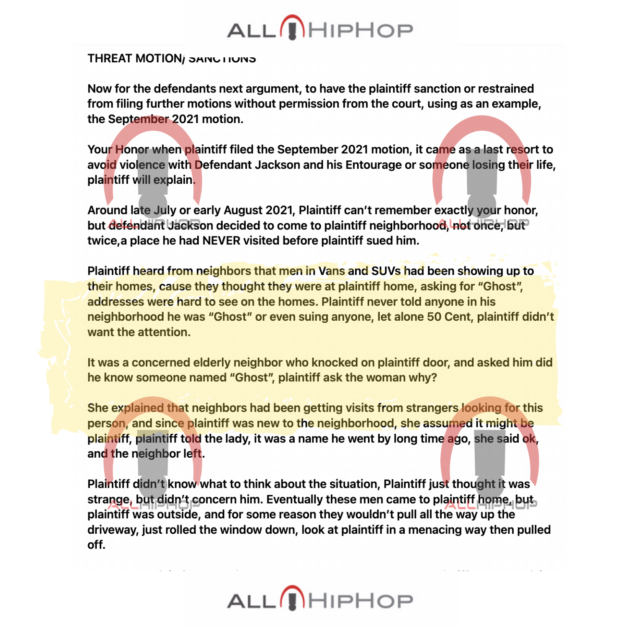 Holland continues, "Plaintiff wanted to know why 50 Cent came to his home, but plaintiff couldn't get past 50 Cent security. The men in the truck returned, repeated the same intimidation tactic and left, but this time they appeared to be armed.
"So plaintiff family ARM themselves, cause defendant Jackson, came back to plaintiff neighborhood for a second time, but once again security protected him. Plaintiff again tried to get to him and ask why is he coming to his home and neighborhood, but security prevented that, it's clear your Honor, he was seeking a confrontation, and came very close to getting what he came for."
Holland maintains the seven acts in his Blasphemy CD are identical to the seven seasons of Power and first two seasons of Power Book II: Ghost.
In 2007, Holland said he mailed a copy of his CD to Kemp's dad. The CD had an autobiographical song where he raps about being a "drug lord," falling in love with his Puerto Rican "teen crush" and finding out from his white drug trafficking partner she now works in law enforcement.
Holland insists his motions aren't "frivolous" and is seeking a resolution. But 50 Cent's legal team says because the last episode of Power aired in February 2020 and Holland filed his lawsuit in April 2021, his claim is barred by the one-year statute of limitations under New York law.
They contend, "It is evident that the characters in 'Power' are entirely fictionalized and therefore, no reasonable person could rationally believe any character in the series is based on [Holland] or his life."